Hong Kong is a growing city where skyscrapers seemingly rise straight out of the waters edge and old China fuses with the modern cityscape. The remnants of a British occupancy expelled in 1997 leaves the city easy to navigate with excellent Chinese / British signage. For British citizens, a six-month stay is allowed visa free for Hong Kong (HK) and with cheap flights from London matching those of Bangkok around the £350 mark, Asia's international city is seeing more and more backpackers stop by on their travels.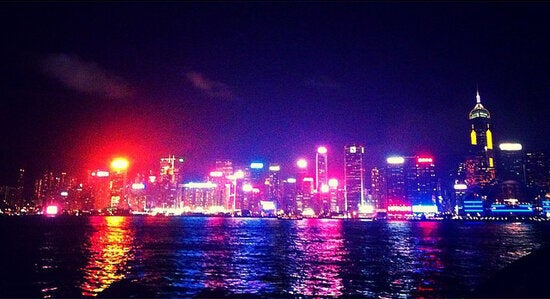 Without a doubt accommodation in HK is where you will see most of your budget disappear. Aircon is pretty standard throughout the city and a basic double room with a modest private room is likely to set you back around 400HKD (roughly £31) a night. Once your accommodation is covered it's easy to make back some costs with many of Hong Kong's sightseeing activities being free or at least cheap. Travel on the MTR and buses is very reasonable whilst a noodle pot lunch or evening beer from HK institution 7eleven will set you back less than 10HKD (approximately 77p). A main meal will vary in cost depending on how fancy you are feeling and whether you're craving Western cuisine but if you decide to sample the nightlife of Lan Kwai Fong or most bars your looking at about 48HKD (£3.69) for a bottled beer and that's during Happy Hour until 9pm.
Most backpackers congregate in the entertainment district of Tsim Sha Tsui, with an almost infinite number of guesthouses filling up the misleadingly named Chungking Mansions on Nathan Road. There are better and worse places to stay within the undoubtedly cramped mansions so find a place online, book only a night or two and take a look round once you get there to see if you've got a good deal or not. Whilst places do get very full and prices go up about 50HKD if you check in on the weekend it's almost implausible the place would ever completely fill up so don't worry about booking in prior for your entire stay.
The Good: ChungKing Deluxe
The biggest room of three we stayed in at the mansions it was third time lucky when we chanced upon this 'deluxe' accommodation. The room was clean even if its contents were a little tattered and broken and the shower ran hot. Soaps, fresh towels and toothbrushes being provided were a bonus. We checked in on a Tuesday for one night at 350HKD.
The Bad: HK Hostel Downtown Backpackers
If you enjoy a bed that touches nearly all four walls of your room, broken air con and plenty of roaches then this is it. Whilst the staff were pleasant and helpful the hostel epitomises HK overcrowding playing an excellent game of sardines. At 400HKD a night we quickly moved on.
The Bedbugs: Harbour Guesthouse
Perhaps it is unfair to single out a single guesthouse with a bedbug problem but guesthouse number two certainly had them. An otherwise lovely guesthouse with free tea and cold water where you could also use the fridge, we weren't so keen on bunking with bedbugs for too long. With more space and facilities than Downtown Backpackers though you definitely got more (if a little too much) for your 400HKD a night.