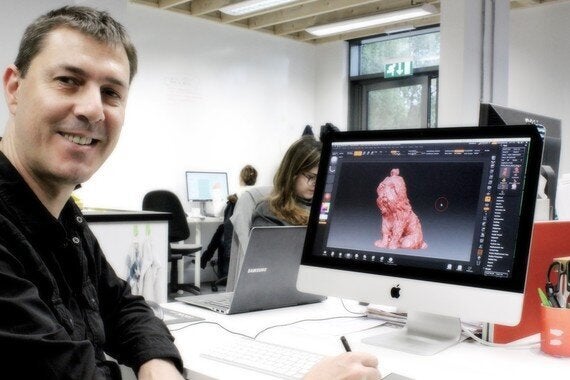 3D artist and modeler Dimitris Fotiou re-located from Athens to join 3D printing specialists Arty Lobster to support its strong growth in the UK and abroad.
Dimitris, who uses technology as a medium to create art, studied sculpture at the Athens School of Fine Art and achieved his Masters in Fine Arts in Sculpture from the Wimbledon School of Arts in London.
He recently completed groundbreaking work for the Museum of Paleontology in Athens, where he 3D modeled ancient animal bones and artifacts. He is a Knowledge Expert at Shapeways, the world's leading 3D printing service, community and marketplace for which he creates beautiful and unique 3D bracelets and other jewellery.
The artist's work takes 3D tech to the limits by creating items that are truly bespoke and unique to the individual. Dimitris is recognised as an international expert on 3D art and has exhibited internationally. He has also spoken on contemporary art and Internet art at conferences around the world, as well as staged two solo shows. Since 2004, he has been a collaborator with the Web Biennial - a Biennial on the World Wide Web and since 2010 he has been a member of the organising team.
Lars Andersen, Founder and MD of Arty Lobster, says:"Dimitris is a truly exciting 3D artist who is very well-known for his ground-breaking work in the industry.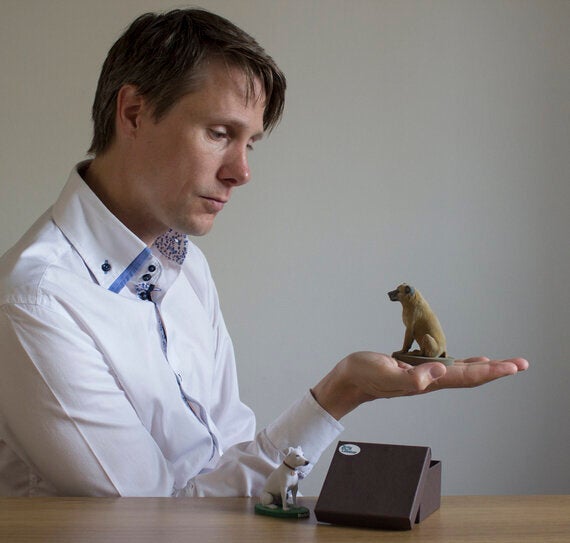 "Pet memorials represent a significant part of our customer base. As our pets are becoming members of our family, we also increasingly want a memento of them to cherish forever.
"3D printing is still in its infancy, and as the technology continues to improve and artists like Dimitris continue to push the technology to the limits of what's possible, we anticipate significant additional growth in the market."
I was delighted to speak to Dimitris about his fascinating background and his inspirations.
MC - Where did you learn to be a 3D artist?
I am self-taught. 3D printing was either unknown or inaccessible to art institutions when I was a student. Unlike today where dozens of tutorials and resources are available online, the learning curve wasn't that easy when I started in early 2008 and I had to resolve almost everything myself. Small steps each time, lots of failures, but I managed to print my first sphere in early 2009.
MC - Why is it so exciting to be a 3D artist today?
The term 3D artist consists of many subcategories of working areas such as modeling, lighting, rendering, animation, coding, where usually someone specializes and excels to one field.
I am a 3D artist specialising in 3D printing which is the next revolution after the Internet and social media.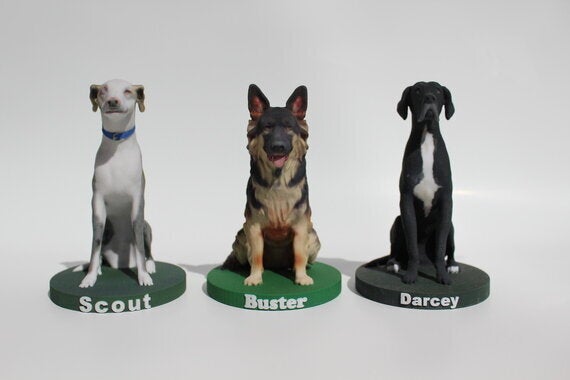 MC - Is the UK leading the way in 3D? If so, why?
Historically, the UK has made a significant contribution and has been a pioneer in various areas such as film, music, fine arts, research and much more, so why not 3D as well?
However, I consider 3D printing more as a social good, similar to Internet access or even electricity and not as a patent limited to countries and local communities.
MC - What are the main differences about working in 3D here compared to Greece?
In technological developments, such as 3D, Greece is lagging behind in developing new technologies as well as in importing and properly exploiting technological advances being developed abroad.
When I started working in 3D, in 2008, only a few people were aware of what 3D is and how it can be used in sculpture. Conversely, the UK is among the pioneers in emerging technologies.
MC - Why do you love what you do?
I am an artist who comes from a sculptural background and a lot of studies in the field of Fine Arts. The ability to 3D print a sculpture of any shape, perfect in terms of accuracy, with no accidental errors, only by using computer software as a tool and nothing else is a challenge for a sculptor.
MC - How do you feel about specialising in pet sculptures?
I enjoy working on pets. There are moments that I have the feeling that animals, especially our pets, are superior in their behavior in comparison to human beings. For example, I watched recently on Facebook horrible cruelties being committed by humans, such as the stoning to death of a young girl. I don't think that I will ever forget this.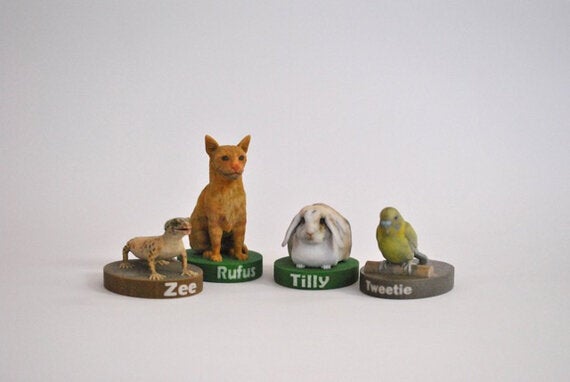 MC - Are you perfecting new techniques in 3D sculpture at Arty Lobster?
Whereas 3D has mostly been used for the creation of prototypes or art, we are one of the first companies in Europe to make a consumer product using 3D printing.
MC - What are the three best things about working at Arty Lobster?
I very much enjoy the fact that I am working as a 3D printing professional for an already successful startup.
We are a nice team, in a lovely working environment, talking about interesting and inspiring topics all the time, about how we can improve and get even better, while every day is a new challenge and every pet is different and unique.
MC - What inspires you most in your work?
I seek inspiration from the world I live in, politics, the economic crisis, the Internet, mathematics, or even nature. Speaking of inspiration, I tend to avoid being only concerned with aesthetics.
MC - Where do you see the future of 3D generally?
3D now has the potential to revolutionize the way we make almost anything. 3D has already been embraced by many areas such as film, education, medicine, fine arts, architecture, engineering etc.