Do you consider yourself a fashionable and stylish bride-to-be who loves keeping up with the latest trends?
Do you want to have a wedding that reflects your fashionable self?
If the answer is yes to the above questions, then you will want to know what the 2015 fashion trends that I believe will translate into the world of bridal.
Before you dismiss it as a colour that is not for you, think again. From the palest lemon shade to saffron and marigold, believe me, there is a shade that you will adore. Yellow is THE most fashionable colour for 2015. Despite the gloomy weather at the Golden Globes 2015, Naomi Watts dazzled in a yellow Gucci dress.
If you don't like the idea of your flower girls dressed head to toe in yellow, you could just consider adding a yellow sash to their ivory or white gowns.
I also like the idea of yellow when it comes to wedding flowers as it is such a 'happy' 'sunshine' colour. I think daffodils would be perfect for a spring wedding.
Here are some yellow ideas to inspire you...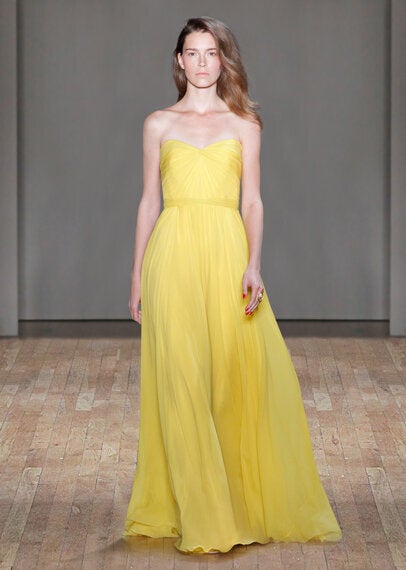 How gorgeous is this yellow dress, which is part of Jenny Packham's spring/summer 2015 collection?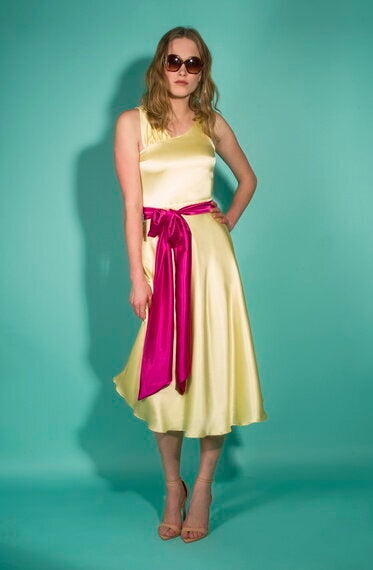 I love this 'Portia Midi' with sash by Belle & Bunty.
Black and white may not be a 'new' trend, but it was big news on the catwalks for 2015, and is set to continue to be big news in the world of bridal. I think black and white always looks sophisticated and glamorous and is perfect for stylish brides-to-be who are planning a black tie wedding.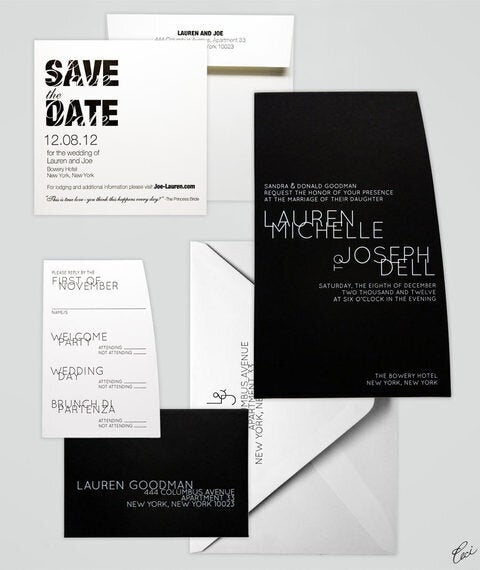 The most stylish black and white invitation by Ceci New York.
Lace has always been popular in the world of bridal, but it was everywhere on the spring/summer 2015 catwalks. From lace mini dresses at Louis Vuitton and Chloé to a modern interpretation on Victoriana at Erdem, lace reigned supreme. Thanks to The Duchess of Cambridge who wowed the world in her stunning Alexander McQueen wedding dress, lace is set to be big in bridal in 2015 and beyond.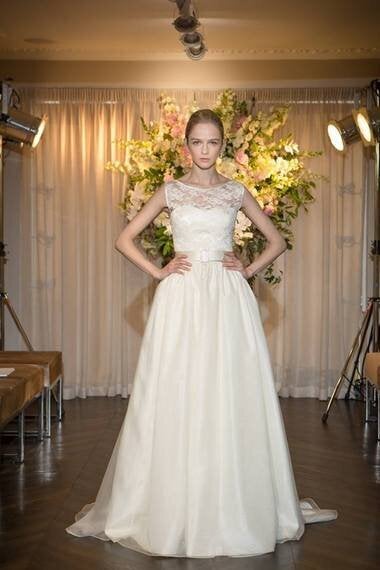 The most incredible lace 'Love and Affection' wedding dress by Stewart Parvin. Photograph by David Burke.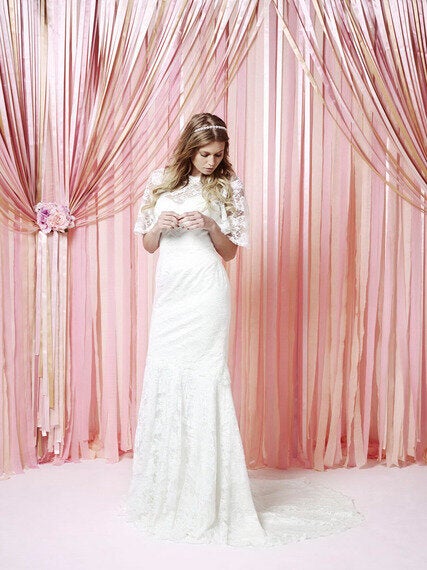 The prettiest 'Marina' dress by Charlotte Balbier.
It goes without saying that white is always fashionable in bridal, but it is set to be even more of a trend in 2015. Think white when it comes to your bridesmaids, flower girls, flowers and reception styling.
There were some serious stylish white looks on the spring summer catwalks. From Victoria Beckham to Ralph Laure and Donna Karan, it would appear that many designers were discovering their love of white.
Years ago, wearing 'white' to a wedding or dressing your bridesmaids or flower girls in the colour was considered 'not the done thing' but it couldn't be more fashionable now.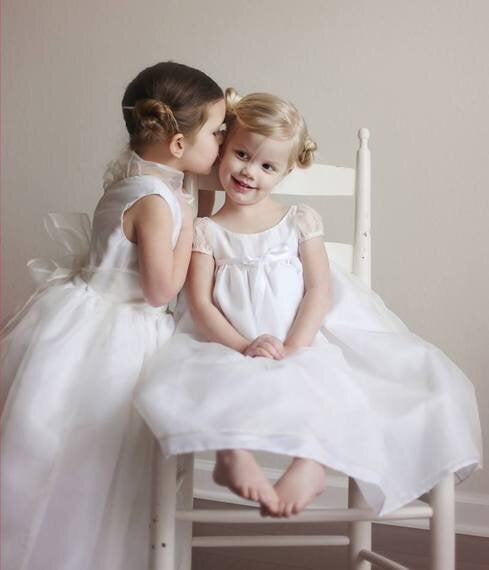 How cute are these flower girl dresses by Little Eglantine?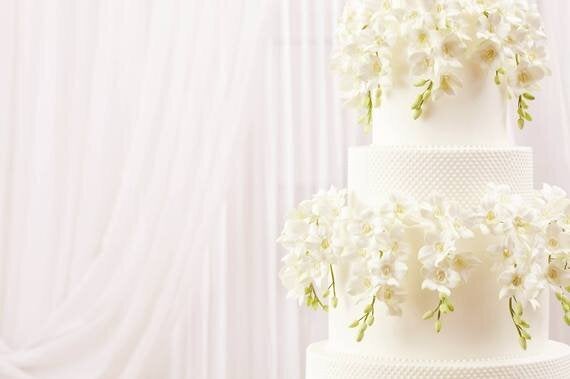 A sublime 'Timeless Orchid' wedding cake by Peggy Porschen. Photograph by Georgia Glynn Smith
Polka dots are perfect for you brides-to-be who are looking for a fashionable and fun wedding look. Marc by Marc Jacobs sent models down the catwalk in their spring/summer 15 show in outfits with big bold black polka dots. Go for black and white polka dots if you want to create a strong fashion statement at your wedding or for a softer look, opt for polka dots in more pastel shades.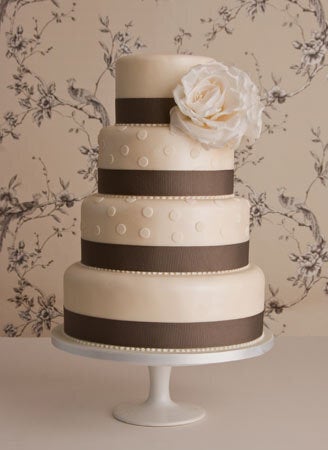 This gorgeous 'Polka Dot' wedding cake by Maisie Fantaisie is very elegant.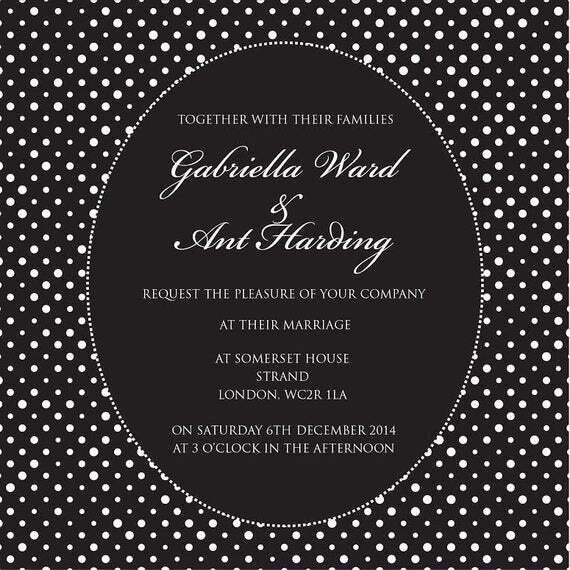 A stylish polka dot wedding invitation by Ananya Cards