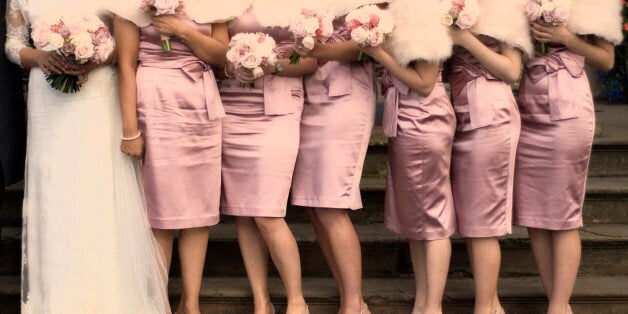 Choosing dresses for your bridesmaids isn't rocket science, surely?
Isn't it as simple as picking a colour, fabric and style that you and them both love?
Well, I would like to say yes, but this is often not the case.
Remember, it is all very well to tell an eight year old girl that you have chosen her flower girl dress (and often this is not easy!), but try informing twenty or thirty something adult bridesmaids what you would like them to wear for your wedding without consulting them! Believe me, they will not be happy!
OK, before you make the mistake of not thinking it is worth asking your best girlfriends to be your bridesmaids/maid of honour etc because you can't bear the thought of arguments, think again. Here are my top ten tips on ensuring you find the perfect bridesmaid dresses that you adore and they can't wait to wear!
1. If you have been a bridesmaid before and not liked your dress, remember back. How did you feel? Upset? Just as you want to look gorgeous on your wedding day, your bridesmaids will want to look amazing too! Although it is YOUR big day and not THEIRS, by involving them in what they will wear will keep them happy/you happy/ and avoid arguments.
2. Remember the rule, every woman has a different figure. OK, you can't keep everyone happy, but there is no point in choosing a dress that will only suit one of your bridesmaids and not the rest. Nowadays, it is incredibly popular to choose a colour and then opt for dresses in the same colour, but different styles. Your bridesmaids will feel so much more comfortable in a dress that flatters their shape.
3. Your bridesmaids' dresses should complement your own gown. Before you say this is an obvious point to make, believe me, it is isn't. I can't tell you the number of times I have seen brides opt (for example) for a very glamorous dress and then chosen pretty/girly dresses for their bridesmaids that don't suit the look and feel of their own gown. If you go for a modern gown, make sure you choose modern dresses for your bridesmaids. If you, on the other hand opt for a classic dress, ensure the dresses you choose for your bridesmaids are classic too.
4. If you are having four or more bridesmaids, don't make the mistake of leaving someone out from your circle of girlfriends. I know it is imperative to remember that you can't keep everyone happy, it is also not worth falling out with someone if you can afford to have one or two more bridesmaids.
5. Think carefully about the season you are getting married in. You may have fallen in love with a particular style of bridesmaid dress, but is it really practical for a winter wedding? If you are getting married at Christmas, think about wraps/boleros for your bridesmaids. The last thing you will want is for them to be freezing cold in a strapless dress and strappy heels in the middle of Winter.
6. Don't make a decision too quickly. There are so many styles out there for you to choose from that it would be a huge mistake to decide on a style/colour immediately without deciding on the bigger picture for your wedding first. In the early stages of wedding planning, it is very tempting to rush out and buy bridesmaids' dresses. However, what you think you want for your wedding may change dramatically as the months pass by.
7. Remember that it is your wedding day and theirs. I am all for involving them in choosing their dresses, but the ultimate decision lies with you and not them.
If you need some help in deciding on dresses for your bridesmaids, here are some of my favourite designs at the moment...