South East Asia is one of the world's most beautiful regions, with its spectacular coral reefs, abundant wildlife and rainforests dating back 130 million years. Unfortunately, it's also a part of the world developing fast under the pressures of consumerism, rising populations and intensive farming.
Arguably the best way to experience the region is by staying in an eco-hotel. You'll experience nature at its most thrilling and least spoilt, and you'll sleep soundly at night in the knowledge that you're helping to keep things as they are, rather than contributing to the environmental damage.
Here are five of the very best - and most authentic - eco-hotels in Asia.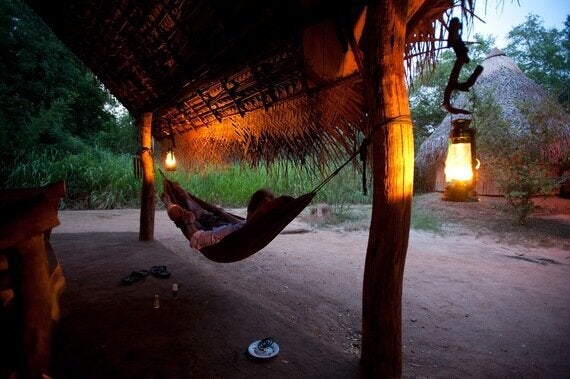 The Mudhouse - Anamaduwa, Sri Lanka
The Mudhouse (pictured above) doesn't sell itself as an eco-hotel - it is just naturally, uncompromisingly, beautifully so. Miles from "civilisation", with no electricity, and bungalows that are built from dried mud, anyone who can't manage without a hairdryer will be better off elsewhere. But if retreat is what you seek, and you feel nothing but relief when you imagine being lulled to sleep by bamboo windchimes after a day of cycling, wildlife spotting, perhaps a little kayaking or yoga, lazing about in hammocks, helping on the farm, showering under the trees... then you will probably fall in love with this place. The ethics here are impeccable, with every effort made to run the enterprise in a sustainable, community-based manner.
Rainbow Lodge - Tatai, Cambodia
Situated between the Cardamom Mountains and Peam Krasop Wildlife Sanctuary in Cambodia's Koh Kong district, the Rainbow Lodge is authentic, one-of-a-kind, and surrounded by some of Cambodia's richest - and in some cases most vulnerable - habitat. The entire place functions on solar power, and serves up beautifully prepared, locally sourced seafood, seasonal veggies, and fruit, all washed down with safely filtered rainwater (don't fret - there is also a well-stocked bar). Some produce is grown on site, and excellent recycling/composting policies ensure that waste is minimised. The Lodge does fantastic work with the nearby village school, and is even popular with eco-aware honeymooners.
Abai Jungle Lodge - Kinabatangan River, Borneo
Only accessible by boat, north-east Borneo's Abai Lodge is known for its excellent wildlife spotting. Human neighbours are few and far between, leaving the area (squawks and chirps aside) remarkably peaceful, with some of Borneo's most famous species - including orang-utan, hornbills, langurs, proboscis monkeys - roving right up close to the Lodge. Abai's wooden chalets sit on stilts in the undergrowth, ringed by a network of viewing platforms and raised wooden walkways that extend into the rainforest, providing superb access to the habitat and its residents. Accommodation is basic but well presented with private bathrooms, and the Lodge works carefully with local villagers to ensure they benefit from its presence.
Elephant Hills Rainforest Camp - Cheow Larn Lake, Thailand
It's hard to resist the chance to stay in a floating safari tent, deep inside Khao Sok, one of Thailand's most spectacular national parks, especially if you can keep a few creature comforts. Tethered to the banks of Cheow Larn Lake, these raft-mounted tents provide an astonishing level of luxury (they even have ensuite bathrooms) and their location is superb, with animals such as wild elephant, Asian ox, numerous monkey species, gibbons, hornbills, kingfishers, eagles... all frequenting the lakeside. The Elephant Hills Rainforest Camp is solar and wind powered with an innovative waste management system, and its excellent range of activities includes a hands-on elephant experience, kayaking, safari, and some modest spelunking.
Muang La Resort - near Oudomxay, Laos
Oudomxay, a regional town in Northern Laos, has been described as uninspiring, but the superb tribal landscape around it offers some of the best trekking and most peaceful nature trails in Laos - with the Muang La Resort (pictured below) supplying the perfect base to explore from. Tucked away on a riverbank outside town, this stylish, conscientious little hotel sits alongside a natural hot spring, which feeds its open air spa. The ten fan-cooled guest rooms are uniquely and beautifully decorated with locally produced fabrics and artworks, in buildings that were created using recycled or sustainable materials. Muang La uses only a small proportion of the spring water, leaving the rest for the villagers, and can organise all kinds of excursions to explore the countryside and meet its inhabitants.