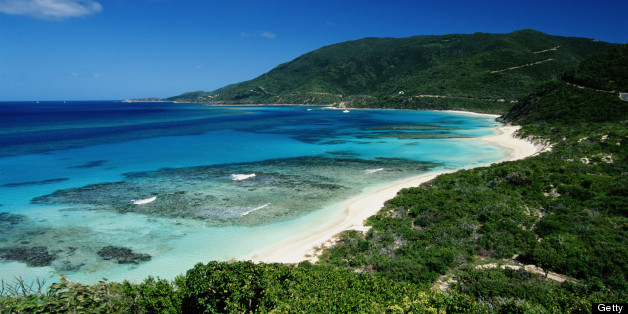 Getty
By their nature, private islands tend to be discreet. You only hear about them when they hit the news: when a pregnant Duchess of Cambridge is photographed in a bikini on a beach in Mustique, or when Kate Winslet helps rescue Sir Richard Branson's mother from a fire-ravaged Necker Island.
There are thousands of private islands across the globe, many available for rent, and they tend to fall into three categories. Firstly, the genuinely one-party islands that remain the preserve of the uber-wealthy. Many of these come fully staffed and catered and can cost hundreds of thousands of pounds per week to rent.
Secondly, there are private islands that allow individuals to book rooms. Necker Island (pictured above) in the British Virgin Islands, holds Celebration Weeks when you can book a room and join an upmarket house party. It's a similar story at North Island in the Seychelles, where Prince William and Kate Middleton went on honeymoon (though obviously they had the place to themselves).
Thirdly, there are islands like Mustique in the Caribbean, which is privately owned but has scheduled daily flights from Barbados and St Lucia. If you have enough cash you can rent a villa or stay at the island's only hotel, the Cotton House. Stroll down to Basil's Bar during the high season and there's a chance you'll rub elbows with the likes of Mick Jagger and Pierce Brosnan.
Despite the economic downturn, private tropical islands are doing well, with "new" ones appearing regularly, including Azura in Mozambique, Ariara Island in the Philippines and Song Saa Private Island in Cambodia.
Tom Marchant, co-founder of the luxury tour operator Black Tomato, says: "Demand for private islands and one resort islands remains strong. Our most popular islands include Peter Island and Petit. St. Vincent in the Caribbean and Amanpulo in the Philippines. Closer to home, Isla de sa Ferradura is popular - a little island close to Ibiza."
Sir Richard Branson's Necker Island is the quintessential rich man's playground. Guests can enjoy trips on his luxury catamaran, Necker Belle, and explore the deep in a mini submarine. It accommodates up to 28 guests, with a week's stay including all meals and drinks costing around £16,650 per couple. Flights are extra.
North Island in the Seychelles claims to "turn back the ecological clock" by creating luxury villas from felled trees, though for environmental campaigners its green credentials sit uneasily with prices that exclude all but the super-rich. Five nights all-inclusive in a villa with private plunge pool, return helicopter flights from Mahe and international flights costs from £13,498 per person with Elite Vacations.
Closer to home, Tagomago Island lies half a mile off the east coast of Ibiza, a ruggedly beautiful private island covered with pine trees and scrub. At its heart lies a chic white villa with a stunning pool and a couple of deluxe tipis, evocative of the privileged boho hippy vibe that Ibiza does so well.
Unusually for Ibiza, this five-suite villa is available year-round and has easy access: guests can easily head to the clubs of Ibiza for a night of partying. Rental of the island costs from €100,000 per week (rising to €250,000 per week in July and August) for up to 10 adults, fully catered with resident staff and private helicopter transfers or boat ride from Santa Eulalia, Ibiza.