Days ago, from a conference center perched on the edge of the bustling mountain city of Quito, Ecuador, delegates to the Convention on Migratory Species made an urgent and unprecedented call to end the live capture of whales and dolphins. This is the first time that any international body has called for this cruel and unnecessary threat to cetaceans to end.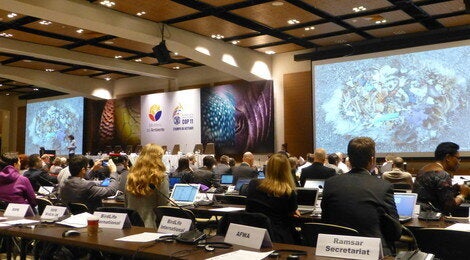 The great meeting hall of the CMS Conference. Credit: Mark Simmonds/HSI
Like most international bodies, CMS makes its decisions in the form of resolutions and the one that enshrines this call acknowledges "increasing global concern for animal welfare in relation to the live capture, transport and keeping of cetaceans." The resolution notes that some 18 countries have already established total or partial prohibitions of live captures in their national waters. However - and this is key - it then calls on those member states of the convention that have not already done so, 'to develop and implement national legislation... prohibiting the live capture of cetaceans from the wild for commercial purposes.' Significantly, the resolution encourages Parties and non-Party States to 'actively discourage new live captures from the wild for commercial purposes.'
For many years, like others working in this field, I have had to view an almost continual stream of information and distressing images of these terrible hunts in Japan and elsewhere in which cetaceans are rounded up, family groups broken up, and suitable candidates stolen from the sea to be sold to waterparks around the world. Now, in addition to the concerned individuals and organisations that have protested and called on their own governments to act, the signatories to this major United Nations treaty have spoken out and sought to encourage further international collaboration on the issue, something that CMS is very well-placed to facilitate.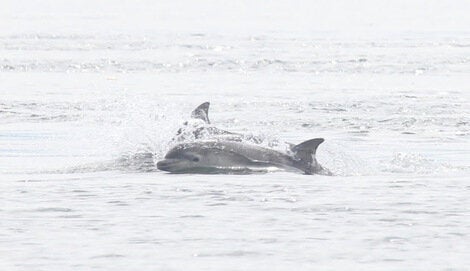 Credit: Mark Simmonds/HSI
Will it make a difference? I think it will, and the development has been widely welcomed. Nothing will end overnight, but as understanding and awareness build concerning the suffering these hunts cause, and their threat to conservation, so more effort will be put into ending them.
Inherent in all of this is a better understanding of the animals affected and here again the CMS conference at Quito approved a ground-breaking resolution to integrate the social biology of animals, particularly cetaceans, into its conservation work. To conserve a species you need to take all aspects of its biology into account but, most usually, this does not include whether the animals concerned live in social groups, including cultural units. In a notable move, two of the world experts on culture, Hal Whitehead and Luke Rendall, authors of a new book on cetacean culture, wrote to the conference to encourage adoption of the resolution.
As a prelude to its vote at Quito, CMS organised a workshop on 'cetacean culture' at the Linnean Society in London (the workshop report is available online). The workshop defined culture as 'information or behaviours that are shared by a community and acquired through social learning from conspecifics' (meaning animals of the same species). Having reviewed information from some cetaceans (notably orcas and sperm whales) and also from elephants and primates, the workshop concluded that there is 'strong evidence for the importance of taking culture and social complexity into account for the conservation management of socially complex mammals'.
As I highlighted in my prelude to this conference, many other marine matters were on the CMS agenda, including the proposals to put 21 species of sharks and rays on the appendices of the convention. These were all agreed by consensus, as was the listing proposal for the polar bear and much more besides. You can find full details on the CMS website.
On a down-note, I was disappointed that only a relatively weak resolution on marine debris came forward. Hopefully it will be enough to allow work to continue within this convention linked to other international and national work-streams, but the CMS parties really need to wake up to the significance of this threat. As I said during the conference, this is no longer just a matter of aesthetics on the beach, this is a full-blown multi-faceted threat to all marine life.
Leaving the great halls of one of these big international meetings is always a bittersweet experience. Months of preparation precede such meetings. Experts and expertise from all over the world help to inform decisions but, at the end of the day, strong resolutions and plans only result and become effective if countries really want them. Environment and animal welfare are still a long way from being at the centre of political concerns. However, for the marine species this meeting was a big one and we can celebrate the success of the two cetacean initiatives and much more besides!
Related