When you think about going to watch a Football Match, how often do you plan the trip around what the toilets are like. Would you believe that The Emirates Stadium has over 370 metres of urinals (Thats Over 3 Football Pitches)
Wemberly Stadium has more toilets than any other venue in the world at 2,618 toilets.
Yet for around a Quarter of a million Disabled Fans, non of these toilets are of use, and they face the choice of crossing there legs and trying to #HOLDITIN, or not going at all.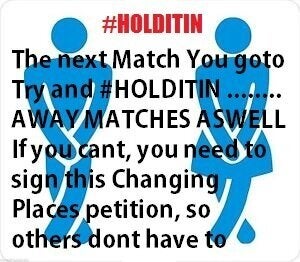 The next time you go to a match, from the moment you leave the house door i want you to try and Hold It In. Thats right, dont go to the loo, from the moment you leave the house to the moment you return. Why?
Well There are thousands of children and adults with incontinence and mobility needs, who simply cannot attend matches, and if they do are faced with the indignity, unsanitary and inhumane reality of having to have nappies changed on a dirty toilet floor (Would you lie of a toilet floor on a match day?).
Many who choose not to lie on the floor have to sit in their own waste for long periods of time, often until they get home. As a result of this, many fans simply dont goto the game.
The Introduction of Changing Places facilities at Football Grounds would make it possible for these Football fans and there families to attend games and enjoy the whole day.
Yet only Three Clubs in the Premier League (Arsenal, Liverpool and most recently Manchester United), and even less in the Championship have Changing Places Facilities.
What is a Changing Places Facility?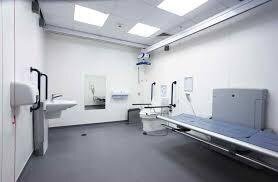 Changing Place is a special toilet facility that includes a height-adjustable changing bed and ceiling tracking hoist, as well as additional space and a peninsular toilet with space for carers either side.
Why not use a Disabled Loo, thats what there for isnt it?
Standard accessible toilets (or "disabled toilets") do not provide changing benches or hoists and most are too small to accommodate more than one person. These often cant accomodate a large electric wheelchair. Without a Changing Places toilets, the person with disabilities is put at risk, and families are forced to risk their own health and safety by changing their loved one on a toilet floor.
What the #HolditIn Challenge Wants
The Premier League is the Richest League in the world. Every club in the Premier League made a pledge that they would comply with the Accessible Stadia Guide by the Start of the 2017/2018 Season. Yet this is a Document that is now nearly 14 years old. Just after the Pledge was announced by the Clubs the The Sports Grounds Safety Authority, issued an annendment called the Accessible Stadia supplementary Guidance It states:
"Installing a Changing Places toilet may enable a disabled person to attend an event who might otherwise be unable to without their assistant having to resort to using the toilet floor for changing purposes....Such facilities are not designed for independent wheelchair users, and should not replace existing accessible toilets, but enable disabled people with complex needs to attend and enjoy events. As such, clubs should, wherever possible, consider installing a Changing Places at their stadium."
Sadly as the wording suggests this is a suggestion, and in this modern world of football, sadly recent history shows that many Football clubs only carry out changes to grounds when they are required by the League or Regulatory Body.
Hopefully the #holditin Campaign will gather pace, and make the decision makers at football clubs realise that with the introduction of Changing Places, more fans can access the Matchday Experiance, which provides a great Business model for a stable future.