With men behind the ball and visitors Chelsea struggling to carve out many clear cut opportunities, Steve Bruce may have been confident of another clean sheet at the KC Stadium as the sides approached the hour mark on Saturday. It took some tidy build up play for the Blues to finally break the deadlock, and an exceptional strike from a man that they will be desperate to keep ahold of in the summer.
When Ashley Cole's neat flick found Eden Hazard on the edge of the box it was clear what the Belgian had in mind, though Hull were unable to do anything about it. Cutting inside, the recently turned 23-year-old burst past two defenders, with a superb feint enough to fool Alex Bruce and give him the space and angle to fire a low shot into the bottom corner.
It was a moment of magic that have become common place in Hazard's time with the London club of late, reportedly leading to interest from the money bags in PSG, keen to take the winger back to France. It's a rumour that will likely unnerve Chelsea fans, though manager Jose Mourinho was quick to suggest that Hazard's value of £40m when signing for the club back in 2012 has at least doubled since. The worry is that the Ligue 1 outfit are one of few clubs in world football that can splash that sort of cash.
His goal at the weekend was his ninth of the campaign, equalling the tally from his first season at the Bridge and taking him three clear of Oscar, the side's second top scorer in the league. When you throw in the fact that he also leads the way for the club in terms of assists (5) it's abundantly clear why his WhoScored rating of 7.61 is the best in the side by a considerable margin.
Nevertheless that excellent figure still falls short of his final season in Lille (7.84), when Hazard netted a remarkable 20 league goals and picked up 16 assists - only Mesut Özil (17) managed more in 2011/12 in Europe's top 5 leagues. Mourinho's claims that his value has soared quite so high are perhaps a little brash then, and were no doubt meant as a deterrent to keep suitors at bay, but Hazard is certainly proving himself on a grander stage now.
The time was right for him to move when he did, with WhoScored's resident Ligue 1 expert Andy Brassell speaking on the player's development, "I think there is something in Mourinho demanding a bit more from him, as he did with Joe Cole, but Hazard has never been afraid of hard work. It's fair to say that the step up was needed, as in his last half-season in France there was a sense that he was just too good for everyone else.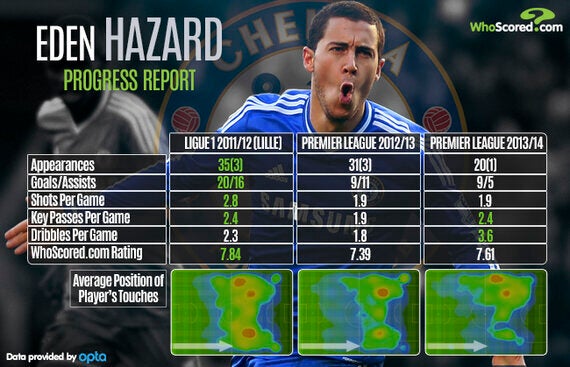 "His finishing has definitely got better this season, and he's found a way to get into better goalscoring positions without playing as a real forward - his hot streak in his final few months at Lille was partly due to him playing as a sort of false nine."
There's no real question over his development whilst at Chelsea, with the confidence that comes from the sort of goals that he has been scoring encouraging the Belgian to become more of a show horse. Last season his dribbles per game average dropped to its lowest since 2009/10 (1.8) but that figure has doubled in the current campaign (3.6), with Hazard's total of 76 almost twenty more than his closest challenger in the league.
However, despite stealing the limelight on a number of occasions this season the winger has by no means become more of a selfish player. Although he produced a team high of 11 assists in the league last season to the five he has managed this, Hazard has created more chances per game under Mourinho than he did in the previous campaign (2.4 to 1.9). Meanwhile his shots per game figure has remained the same (1.9), meaning that his conversion rate this time around is at 23% - a significant mark up from 14% last season.
Emerging as one of the very best player's in one of the very best leagues - with only Luis Suarez picking up a superior rating than Hazard's 8.04 since the start of December - Mourinho was bold enough to suggest that the 23-year old can become one of the best players in the world.
With Messi and Ronaldo to compete with it's one hell of a tall order, but Hazard has a lot in his favour. He stands at a diminutive 5'7" - the same as Messi - and he has the low centre of gravity that allows him to beat opponents in tight areas, or draws fouls from them at the very least. Meanwhile he has real power in his legs, perhaps not to the degree of Ronaldo but it certainly makes for a useful combination within the role that he plays.
When asked of the validity of Mourinho's prediction chief football writer at the Daily Mirror, Martin Lipton told WhoScored, "Asking Hazard to out-shine Messi and Ronaldo is a big demand. Expecting him to be compared to them, though, is a question of evolution. He is flourishing and growing almost by the week, making himself Chelsea's 'go-to' player, leaving an impression on every game. This is the mark of a class act and Hazard is probably the first Chelsea name in every opposing manager's team-talk."
The Blues faithful will be hoping that he remains their 'go-to' guy and that his stay in London isn't a fleeting one. His development at the Bridge is unquestionably evidence enough that if Hazard is to become one of the worlds greatest he has the capability and resources to do so with Chelsea.
Can Hazard compete on the same level as the likes of Messi and Ronaldo? Let us know your thoughts in the comments below.