Many people ask me what makes Peruvian food so exciting? My answer is always different as there is so much to draw on and it depends on who you are as to what will tickle your fancy and make you agree with me that Peruvian food is the best in the world.
I have many weapons to use when answering this question but they can be condensed into six key areas, which i intend to talk about in my column over the next few weeks....
Our culinary history is long, dating back thousands of years. I won't attempt to write it here, but suffice to say that the many indigenous tribes and cultures, some that became Inca, some that did not, were superior cooks of their time. Pots, cooking utensils and a variety of dishes have survived to tell the tale. Spanish conquistadors brought recipes in the 1600s which were then adapted and evolved. African slaves brought to Peru by the Spaniards and Italians created new dishes and then the Chinese in the 1850s and the Japanese in 1899, brought their cuisine, ingredients and culture and were seduced by local produce and recipes. They were also probably forced to adapt to what was on offer, thus evolving their cuisine.
Five hundred years of fusion have taken place creating sub-categories of unique Peruvian-Japanese cuisine (Nikkei), Peruvian-Chinese (Chifa), Andean (these are subcategorized again within regions and even towns), coastal cuisine, Amazonian and more. What we have now is the world's number one country with the most national dishes (491) as per the Guinness Book of World Records. Variety, lots of it. With many flavours, ingredients, cultures and history. Behind every one of our dishes there is a story and many more are being created every day across Peru and around the world.
Nikkei for example is one of Lima's hottest cuisines right now. At Ceviche in London we love it and are constantly creating new dishes. Inspired by my love for Japanese food, a few weeks ago we created Wasabi Ceviche.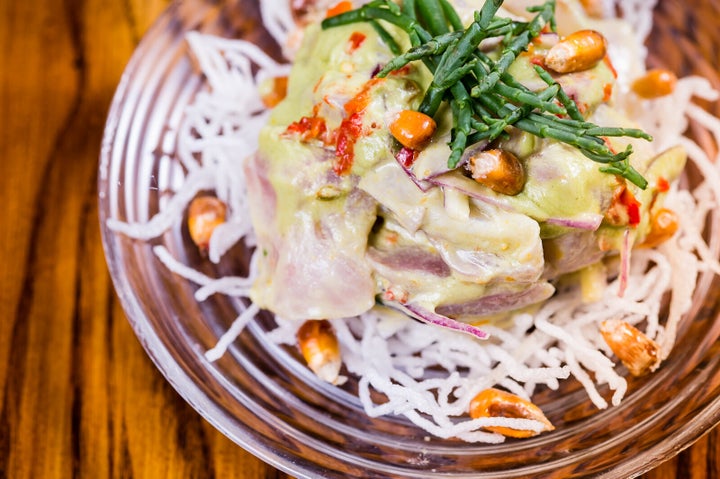 It's bold, it's full of flavours and brings Peru and Japan together like one big kiss. It's a real one night stand. Unforgettable... we hope. In a good way.
But my favourite Nikkei dish on our menu is Sakura Maru. A sophisticated tiradito of salmon with our own Nikkei tiger's milk marinade that melts in your mouth. This is the true Peruvian-Japanese marriage with ingredients from both sides that live harmoniously and deliciously together. It's that tasty, and that's why it has been on our menu for 12 months and is a favourite among our customers. It's in our new cookbook and its so easy to make that I think it will be a favourite outside of our restaurant too. Sakura Maru is our ultimate Nikkei dish; its name comes from the name of the first boat that brought Japanese migrants to Peru in 1899 setting sail from the port of Yokohama. Our dish pays homage to that voyage.
History is very important in our cuisine. I have always revered our heritage and treasured our past as it gives us a grounding about where we came from, and where we are going. It helps us understand the reason behind what we are doing, why we are doing it and gives us a guide. We can repeat it in our recipes, but we can also be free and create from it as a starting point.
That's why I say that what we do as cooks is evolution, not revolution. So many treasures still lie in our history and tradition that my mission is only at the beginning. I believe in 'creativity' as you will read in future posts, and consider myself a creative, but we are merely scratching the surface of what our Peruvian cuisine offers and through my work at Ceviche I am excited to be presenting many facets, dishes, historical projects that I know you will love and that I too have yet to discover.