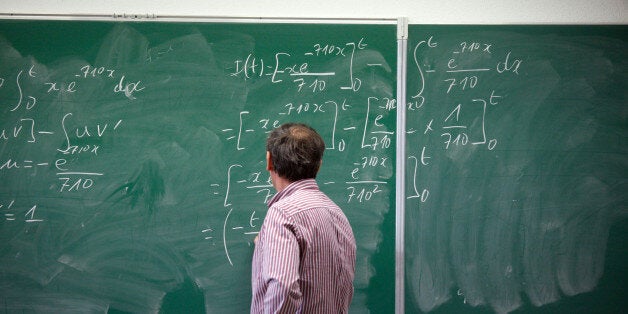 When was the last time you had a 'goosebumps moment' at work? By that, I mean a sudden feeling of satisfaction and fulfilment - rather than a chilly point when the air conditioning was too high. Be honest, when did you last feel that you'd made a real difference? Was it this month? Longer ago than that? Over a year? How about when you first got the job? For many people it's not something they remember because it happens so rarely. In fact, in a recent survey on behalf of the national Get into Teaching campaign, a quarter of the general public said that they've never experienced such a moment in their working lives.
In contrast, as a teacher those special moments are part and parcel of the fabric of daily working life for my colleagues and I. I love my job and those lessons when students just 'get it' are priceless. That's what gives you goosebumps in the classroom. As a science teacher, my job is about giving the students pieces of a huge jigsaw and then you get to support them as they put those pieces together to see the bigger picture. Helping them to do this is a privilege, and you get to see the impact your work is having first hand.
As a teacher, I can give my students the tools to understand how complex science all fits together, and seeing that 'lightbulb moment' gives me this incredible feeling of pride that I can facilitate and be a part of. Of course, students can be challenging sometimes, but seeing some trickier pupils turn around their behaviour as they grow into young adults is something I love. It's not just the students who make this job special either - I get to work alongside old and new teachers who bring such passion for their subjects, which rubs off on everyone else, and makes for a great working environment.
It's moments like these that happen every day which make teaching so worthwhile. After all, I get to work with young people and improve their scientific knowledge, whilst also seeing them mature into adults. That's why the Get Into Teaching campaign was able to say that teaching topped a 'goosebumps scale' with three quarters of teachers enjoying a satisfying moment like this in the previous eight weeks, ahead of other sectors including health, media and marketing, charity and law.
Last week, while I was leading a presentation evening, I was so encouraged to see how the students and parents were completely on board with the value of education. Many parents showed such pride in their children being at our school, which was very rewarding to hear as a teacher there. It's moments like that which mean I never doubt the value of what I'm doing, and that isn't something everyone gets to say.
It's also why I am vocal about encouraging others to get into teaching - whether they are due to graduate from university next year or are currently stuck in an unfulfilling career. Of course teaching is not without its own challenges, but there are also many benefits and rewards that make the hard work worth it. I go home at the end of each day knowing that I've made a difference. Is that something you'd like to feel too? If so, there's loads of help and advice available on the Get Into Teaching website.
To me, I can't see how other professions or careers could match up or make people feel the same way that teaching can. If you've ever wondered what life as a teacher is like, visit the Get Into Teaching website and join me in enjoying what you do, and feeling proud of the difference you get to make. You could be having your very own goosebumps moment in a classroom close by in 2017.
Mat Galvin is a Senior Leader and Chemistry teacher from Firth Park Academy in Sheffield.
Related