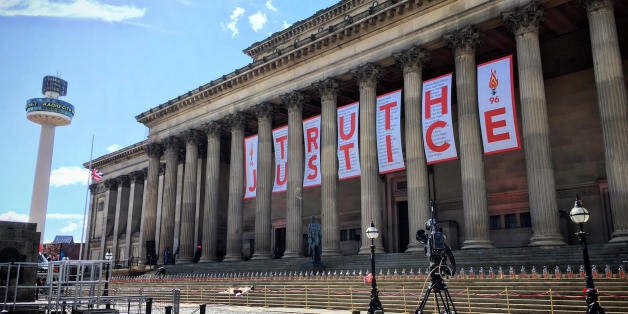 I was 12 years old on that sunny Saturday of 15 April 1989 and I was a Liverpool fan. My father was, and is, ambivalent about football, but my staunchly Catholic grandfather, from Wallasey in Merseyside, was a Red, and would talk about going to watch them at Anfield, even through the barren period of the late 1950s and early 60s in the old second division.
By the time I was born, though, he'd long since left the area, via Chester, where my dad and his eight siblings grew up, and moved to North Wales. We even called him "Taid", Welsh for grandad. Even so, the Scouse accent always came back strong when Liverpudlian hero John Parrott was playing snooker on the telly, or a Liverpool match was on. It certainly rubbed off, no doubt helped by their dominance in the 1980s.
Ian Rush and John Barnes were my favourites, and I knew all the words to the Anfield Rap they recorded for the 1988 FA Cup Final. Liverpool may have sensationally lost it to Wimbledon, but as the semi-final against Nottingham Forest approached the following year, there was a sense they would soon make amends.
Despite my dad's lack of interest, his three younger brothers were fervent Reds (and occasionally took me to the famous Kop). Two of them, my Uncle Paul and Uncle Simon, travelled to the match at Hillsborough.
We happened to visiting my grandparents that day, and were in the car with the radio on when the match kicked-off. It wasn't long though before something was clearly wrong. While I remember that moment, I'm not going to pretend it is all vivid now. Suffice to say, my Nanna was very worried for her sons, and it took an awfully long time to find out if they were okay (they had tried to phone as soon as possible, but every phonebox from Sheffield to Manchester had a queue). Eventually, word came through that they were, having been in the fateful Leppings Lane end where the crush happened.
I now know they had been stood together, from 2.20pm in the lower stand behind the goal, slightly to the right of the right-hand post. The surge from behind that followed pushed them apart, to opposite sides of the pen. In fact, that's all I really know, other than they somehow survived. The next hour, they don't want to talk about. They haven't even talked to each other about it.
The phrase "compression asphyxia" is being cited as a reason for all but three of the 96 who died because of that day's events. Knowing that, and trying to imagine the scene, you can understand their reluctance to remember it. Paul says he thinks there are many like him who survived who also won't talk about what they saw.
Yet, here I am, more than a quarter of a century later, a journalist on a train to Liverpool Lime Street, to report the reaction to the inquests' conclusion that the 96 fans who died that day were unlawfully killed. This should have happened while I was still in school. The time it has taken is scandalous, and is now being called the greatest miscarriage of justice of our times. Unbelievably, it's not really over.
It has taken this long to confirm what mums, dads, friends and relatives of those who died already knew. It wasn't their fault. What feels like the conclusion of an epic, tragic tale is really only the end of a chapter filled with other people's disastrous mistakes. It is now the turn of the criminal justice system to continue the story.
Matt Barbet presents Hillsborough: Justice at Last. A Five News Tonight Special, live from Liverpool, at 6.30pm this evening on Channel 5.
Related