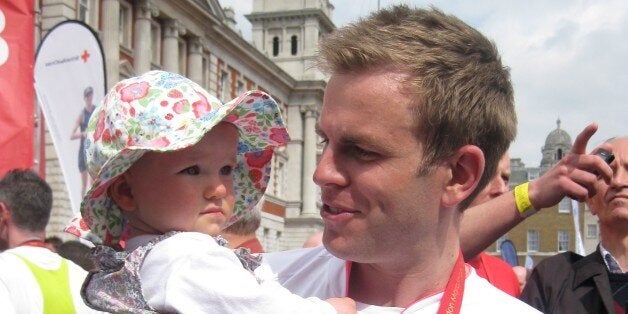 The stabbing pain, like a hot poker in the side of my right knee, suddenly kicked in at around the 17-mile mark. Physically, it was agony, but mentally, I suppose I was expecting it. Up to that point, I had done pretty much everything wrong.
I was running the London Marathon for the deaf-blind charity Sense, and the occasion simply got the better of me. I'd trained fairly well, diligently racking up the miles in the previous weeks, through all weathers. It was 2010, and so I was a fairly fit 33-year-old father of one. Even so, the atmosphere at the Green start was intoxicating, almost euphoric, and as we set off, the faster runners overtaking me were too much of a temptation. I foolishly lifted my pace beyond what was sustainable.
Not only that, I'd made that schoolboy error of overly-anticipating dehydration by drinking a lot of water beforehand and soon had to stop to let it out. I was also lured by water in another form - the run-through showers, set-up to cool people down. Something I had never done before, but the novelty again proved irresistible and I went barrelling through them, getting soaked to the skin.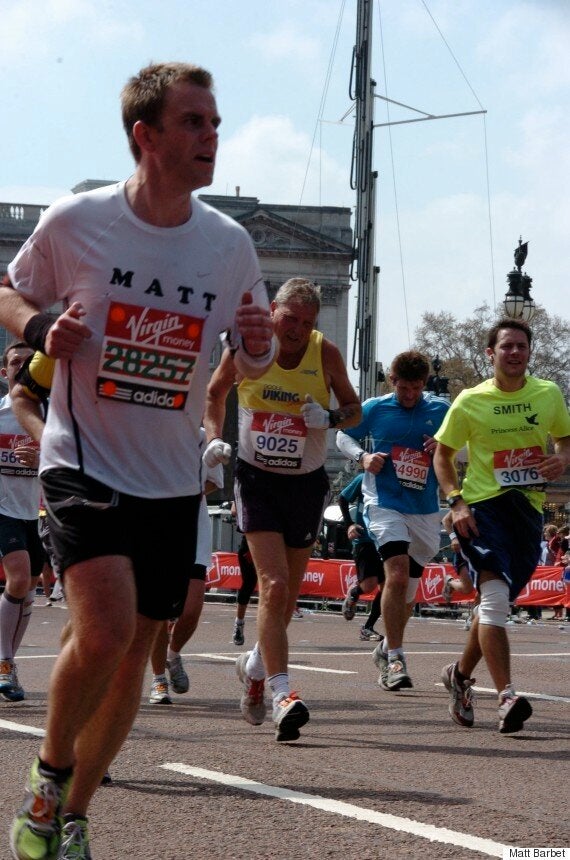 Me running the London Marathon in 2010
I was aiming to go under four hours for the whole thing, figuring that would be a respectable target for a non-athlete trying his first marathon. I managed to get to halfway in around one hour 50 minutes, which was also unwise to say the least, while soon after that point my wife, family and friends were waiting to wave me on.
I didn't actually feel too bad, but later found out that the sight of her drenched and pale husband so upset Katie that she thought I was about to keel over. With that in mind, the failure soon after of my IT band (a common running affliction) was a lot less disastrous than many alternatives, but it still blew my chances of a sub-four.
I gingerly walked/ran to the end, only managing to up my speed for a big finish on The Mall, and crossed the line in four hours, 12 minutes and six seconds. Not exactly the time I really wanted to boast about, but at least I finished and raised a decent amount for charity. Still, I never have to do it again, I thought. How wrong I was.
That feeling of unfinished business would haunt me every subsequent April, and so, last year, when small charity Educate for Life offered me their only place in this year's Marathon, I really couldn't say no. The fact that I'm a patron of theirs, and have seen the difference the school they have built makes to the lives of children in one of India's most impoverished areas, meant it was time to get pounding the streets once again.
I've reacquainted myself with the foam roller, called up the chiropractor, banned the booze (mostly) and committed to a much more varied regime than simply upping the mileage. In the winter, when a triathlete friend mentioned a book called Run Less, Run Faster, I was sold on the title alone. Three runs a week, of different intensities and distances, combined with two bike rides, has been my programme, and I think it has worked. On the whole, I feel better than I did last time.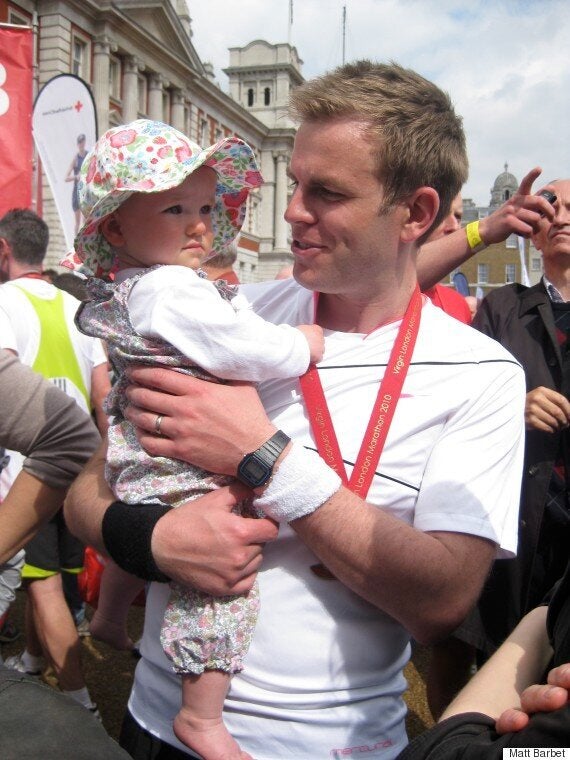 Celebrating with my daughter after crossing the finish line
There are also more pitfalls and pressures now though. The baby daughter who I held after crossing the line last time is now six, and has a four-year-old sister. As well as presenting Five News Tonight during the week, I also co-host the Saturday Show on Channel 5 with Gaby Roslin. It's meant the training has been even more of a juggle. I'm 40 in a few weeks too, and the aches and pains of training take longer to go now, meaning I hobble around like an old man in the morning far more than is dignified.
Still, here I am, hours from returning to that start line once more, to confront those demons. Every little niggle right now is a big worry. Every sneeze from one of my girls a potentially run-threatening cold I could catch. Ben, the director I work with on Five News, has run something like 16 marathons, at a blistering pace, and tells me he has only got it right on two occasions. Despite the warning, I'm determined to learn from my own mistakes. So, if you see me on Sunday, please shout my name. If you see me running towards one of those showers, shout at me even louder, will you?