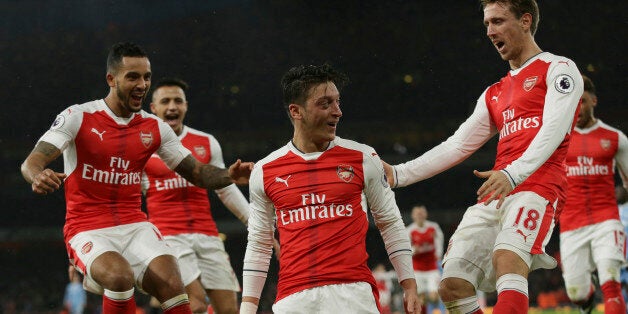 What's a certainty in modern society? 'Death', 'taxes' and 'watching The X Factor makes you feel like dying while paying your taxes' seem to be the big three - however, Arsenal meeting Bayern Munich in the Champions League knockout rounds is certainly staking its claim to be lumped in the same category.
There was a sense of inevitability when Ruud Gullit reached down into the glass bowl in front of him during the Champions League draw on Monday, that Arsenal would be the team unveiled once the small piece of parchment was unfurled. Fate would not be denied once again - Arsene Wenger's Gunners will face off with their dreaded nemesis when Europe's premiere club competition awakens from its winter slumber.
Bayern's Twitter account had predicted it earlier; once Arsenal were confirmed as winners of Group A - unexpectedly pipping Paris Saint-Germain to the post - they tweeted a GIF of Franck Ribery descending from a plane with his thumb up. The caption read: "Should we just book our travel to London now?"
Arsenal fans, you'll be seeing Ribery's wry smile once again, but there is reason to believe that this current crop of Gunners can wipe the smile off the face of the Bayern players for the first time.
While the memories of being devoured by Pep Guardiola's relentless Bundesliga machine in the Allianz Arena last November are still raw for the likes of Mesut Ozil and Alexis Sanchez, there is enough in the form and composition of both sides to suggest this will finally be the year Arsene Wenger ends his most harrowing European hoodoo.
While it is true that Carlo Ancelotti's Bayern still bristle with strength in pretty much every department and retain much of the devastating cutting edge that Guardiola oversaw, Arsenal look to be a significantly more cohesive unit than the collection of individuals that fell apart in Bavaria a year ago, a cohesive unit that are unbeaten on their travels this season.
Beginning at the back, the hope is that Arsenal will not be as threadbare as they were in that previous tie. Hector Bellerin did not travel for that game, leaving Mathieu Debuchy - his replacement - on his knees against the imperious Douglas Costa.
Arsenal also sorely missed Laurent Koscielny, their rock and natural leader, who suddenly pulled out at the last-minute having warmed up as normal with the squad. As such, Gabriel Paulista was thrown into the shark tank and was at fault for Robert Lewandowski's opener, after which Wenger admitted Arsenal's defensive game-plan disintegrated.
Wenger's vision of February's game will begin with a more convincing defensive display, something that should be made more likely with the presumed involvement of both Koscielny and Shkodran Mustafi, the £35million summer recruit who possesses the nous, discipline and aerial ability to nullify Bayern's considerable threat.
Yes, on the face of it, the prospect of a Koscielny-Mustafi rearguard is instantly more reassuring than Gabriel and Per Mertesacker who, despite vast experience, looked lost during that 5-1 defeat. Let that be one boost of confidence.
How Arsenal's defence will hold up against Bayern's myriad attacking talents is one thing, but producing a harmonious, free-flowing display in attack will be key in unlocking their tormentor-in-chief's defence. Munich have only conceded nine goals in the Bundesliga this season, but their defensive fragility has been exposed by Atletico Madrid and Rostov in the group stage.
While the Russians sent reverberations around Europe with their 3-2 victory over a somewhat weakened Bayern, Atletico showed the Gunners exactly how to emerge victorious when they won at the Vicente Calderon in September.
While Bayern dominated possession, Atletico richly deserved their win thanks to stout defending and a clever counter-attacking strategy that wreaked havoc on the Germans' defence.
With the blistering pace of Sanchez, Theo Walcott, Alex Iwobi and Alex Oxlade-Chamberlain as options - supplementing Mesut Ozil's endless ingenuity - Wenger certainly has the personnel to emulate Diego Simeone's masterplan.
At this stage, Wenger knows what to expect. Bayern will look to assert their authority in the first-leg at the Allianz but, if the Gunners can demonstrate the same character and spirit that has defined their impressive sequence of results since the opening day 4-3 defeat to Liverpool, they may finally topple Munich over two legs.
There has to be a first time for everything, right? Besides, according to Wenger - who has accepted the blame for Arsenal's European under performance in recent years - Arsenal have the bible on their side.
"Look, the last six years we have not come past the last 16," he said reacting to Monday's draw. They said that God made the world in seven days and this is the seventh day for us! So we have to get a special day."
That's certainly one way of looking at it.
For more fan views or to join the conversation visit www.90min.com