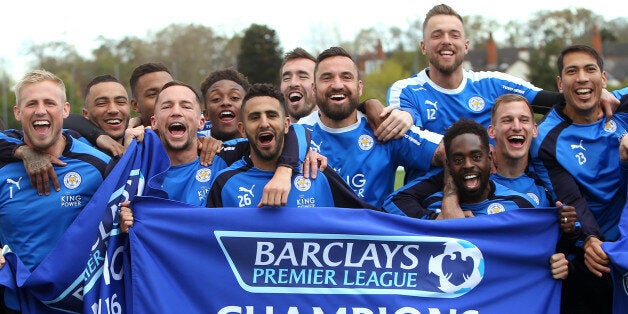 ​As we prepare for the end of what has been a year rich in the most fantastical football stories, let's rewind back to February. It was a piercingly cold midwinter afternoon in Manchester, but Claudio Ranieri's Leicester City were a stubbornly blistering force that scorched through another examination in their hunt for Premier League supremacy. So hot, in fact, that they steamrollered past a sorry Manchester City - their opponents this Saturday - reducing a lavishly assembled team containing Sergio Aguero, David Silva and Raheem Sterling to a shuddering mess.
Yes, the Foxes had convincingly negotiated their toughest test of the season - an away trip to their supposed greatest title rivals. Instead, riding the crest of a most exhilarating wave, this electrifying band of upstarts from the King Power Stadium made a mockery of the game's billing as a titanic tussle between two title favourites. And it was Robert Huth, he of the mighty 'thou shalt not pass' school of defending, who became the Fox in the box for the visitors, scoring twice en route to a momentous 3-1 scalp.
Revisiting that match, one is instantly reminded of what a potent, cohesive force the Leicester of nine months ago were. Jamie Vardy may not have scored, but he still gleefully terrorised City's fragile defence comprised of a bumbling Martin Demichelis and Nicolas Otamendi, who still did not look like a defender comfortable in the Premier League climate. Let's not forget Riyad Mahrez, Leicester's untouchable PFA Player of the Year recipient, who left City's defence in ruin as he danced through to score a second. And then there was N'Golo Kante, duly buttressing his reputation as the division's most efficient ballwinner in the centre of the park.
Now, though, as Leicester prepare to welcome Pep Guardiola's Manchester City experiment, ​to the King Power, the team who offered up the most triumphant sporting story of 2016 find themselves glancing precariously over the shoulders. Onlookers of a certain vintage - in other words, those who lived through Blackburn Rovers's triumph in 1995 - knew this season would present the real challenge for Leicester, offering prophecies of their demise not long after the league's most miraculous narrative had concluded. Indeed, the challenge of staying at the top has proven a step too far for Ranieri.
Their tally of 13 points from 14 games is officially the worst title defence in Premier League history. At this stage last year, they had already amassed 29 points and were forging their own destiny as genuine title contenders.It's impossible to look beyond such a stark contrast. Now, Ranieri desperately needs a win just to banish gloomy talk of the unthinkable: relegation. They have delighted in Europe, yes, but it's the Championship as much as the Champions League that represents a heavy burden on Ranieri's weary mind.
Last weekend's defeat to Sunderland at the Stadium of Light was perhaps the nadir of a recent slide down the table, leaving them teetering two points above the relegation zone. Unsurprisingly, Ranieri's verdict was damning: "We miss everything from last season, including luck," he said after watching his men fall 2-1 to the Black Cats. "Everything is wrong," he added ominously. It's on Ranieri, a likeable coach with vast experience, to put things right.
Alan Shearer offered his own withering assessment in his column for ​The Sun, suggesting the Foxes have rested on their champions' credentials recently. "If they had the same application this time around, they would not be in a position where the manager had to give up on defending the title a fortnight ago," he wrote scathingly.
Looking through the squad, it's difficult to disagree. Vardy remains a grimacing silhouette of the player who seemingly scored with every chance last season. Against David Moyes' side, he spurned three presentable chances - chances he would have turned to goal last season.
​Ranieri quipped earlier this season that the Champions League anthem ringing out at the King Power serves to wake Mahrez up, yet he remains strangely peripheral at weekends.
Ranieri also exercised caution when he discussed the signing of Daniel Amartey in the summer, warning not to expect a surefire replacement for Kante. Luckily for the coach, the Ghanian hasn't come close to drawing comparisons to his predecessor's combative displays last season (the side's 34% rate in tackles won this season reflects poorly on him). Finally, Ahmed Musa and Islam Slimani, acquired for a combined fee of £46 million, have mostly failed to create new attacking dimensions to Leicester's play.
Leicester have flourished in Europe, but they have flailed in the league they conquered so delightfully. Ranieri faces the daunting prospect of saving Leicester's domestic season from descending into ruin. The Champions League has been a thrilling distraction, for sure, but the focus must now turn to arresting their decline in the league. If they can't recapture some semblance of last season's brilliance before long, the question of 'will they become the first defending champions to be relegated in 80 years?' shall become ineluctable.
For more fan views or to join the conversation visit www.90min.com