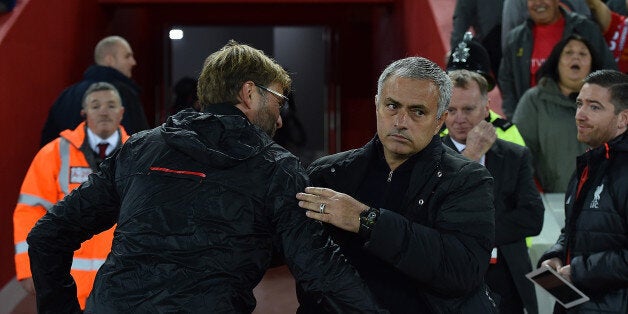 When Liverpool hosted Manchester United at Anfield back in October, what promised to be a Premier League blockbuster ultimately became one of the season's duller, more uneventful games.
A scoreless stalemate and a point apiece for Jurgen Klopp and Jose Mourinho was the end result but, this Sunday, both managers are acutely aware that at this point in the season, neither can afford a repeat of that match.
If Chelsea travel to Leicester City and get back to winning ways following their blip against Tottenham, Liverpool will be eight points behind Antonio Conte's men by the time they meet United in the Anfield tunnel.
Eight points. Yes, a margin that seems somewhat insurmountable given Chelsea's insatiable appetite for winning. The truth is that it's not insurmountable, but Klopp knows that edging out United is the best way to maintain his side's momentum and keep hopes alive that this season, after 27 years of torment and frustration, will finally see the league title return to Merseyside.
For Mourinho, his side is simply required to repeat what they have been doing over the last month. They host Liverpool on the back of nine successive victories in all competitions, the club's best run of form since Sir Alex Ferguson's reign, and assuming that Zlatan Ibrahimovic recovers from illness, they will fancy their chances of making it a perfect ten against their oldest foes.
Apart from a truly exceptional save from David De Gea to deny Philippe Coutinho a spectacular strike, the clash at Anfield was a drab affair that failed to live up to the billing. Under the floodlights, the Kop remained strangely subdued that night but one is predicting that Old Trafford's Stretford End will be in full voice on Sunday to back their rejuvenated team.
For Mourinho, who has taken a step back from his erratic behaviour at the start of the season, when he could be heard publicly criticising officials and his own players, this is the time to make a statement.
The frustrating thing for United has been that, while they've continued to win, the teams above them - notably Arsenal and Tottenham - have duly responded. While it's probable that the two north London clubs will beat Swansea and West Brom this weekend, overcoming Liverpool will keep United within striking distance of their rivals and, notably, just two points behind Klopp's men.
After affording him a couple of starts against Reading and Hull City in the two cup competitions, sentimentality is certain to go out the window for Mourinho with regards to picking Wayne Rooney. The striker equalled Sir Bobby Charlton's scoring record on Saturday before reminding everyone on Tuesday night that his game still lacks sharpness, being hooked off after 60 minutes as Mourinho grew tired of that particular hunt for goal 250.
Doing it against Liverpool - the team that boils Rooney's hatred more than any other - would be a remarkable way to etch his name into United history but it's likely that he'll only be afforded a cameo by his manager.
Meanwhile, Paul Pogba is expected to play a central role for United once again. The wonderfully gifted Frenchman has upped his game admirably following headlines from the Anfield game that read: "Pogba fails to live up to price tag in the draw at Liverpool." He continues to concede possession, but Pogba has shown off his immense range of passing more often than not in recent weeks and will be keen to act as a spark once again after answering his doubters.
For Klopp, it's beginning to dawn on him that this season may propel him into the pantheon of Liverpool managerial greats, alongside Shankly, Paisley and Dalglish, if he can hold firm when others - namely Benitez and Rodgers - have cracked.
With Coutinho poised to return from injury, he will set about silencing the Stretford End with one devastating attacking weapon replacing another, now that Sadio Mane has departed to the Africa Cup of Nations. With Roberto Firmino and Adam Lallana in tow, Klopp knows he has the tools required to unlock United's defence and deliver a crushing blow to Mourinho's aspirations this season, but executing it is another matter.
It is definitely worth noting, though, that Klopp has an impressive head-to-head record against the other top six clubs this season, winning three and drawing two out of five. Can Mourinho break his counterpart's unbeaten run?
Yes, while we may still only be in January, the magnitude of these games should not be understated. Even with almost a half of the season left to play, events at Anfield on Sunday may go a long way in shaping the title race.