You'll have heard the story by now. On Sunday, an Englishman was helped out of a tight spot by a Welshman. I like to think there's a certain poetic quality to having the 'dragon' being the good guy on St George's Day, but this is not a tale of nationality, but one of sportsmanship and human kindness.
Matthew Rees, from Swansea Harriers, was 300 metres from the end of his London Marathon effort when he spotted David Wyeth struggling to reach the finishing line. Actually, struggling doesn't really do it justice. David's body was shot. He'd given everything and his limbs really could do no more. Without assistance, he'd have become a human road bump. Fortunately, assistance was on hand in the shape of a fellow runner.
Matthew had already completed over 42,000 metres and had been struggling with an injury himself when he spied his fellow athlete in distress with a short distance left to run. As the TV pictures showed, a number of runners ran past David before Matthew helped out. Many of these runners may well have been blinkered by the sight of the end approaching and many more may have underestimated David's plight.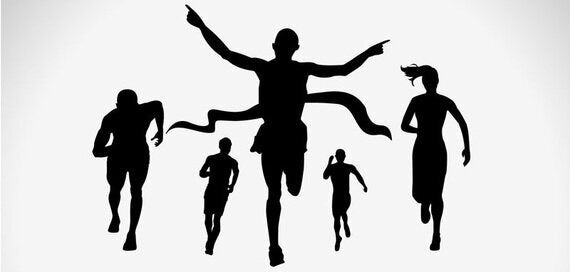 I'm not suggesting that any of the other runners were remiss in not lending a hand and would absolutely echo everything that's been said about Matthew's selflessness, as well as about the community spirit that evidently exists within the sport. David said in interviews afterwards in fact, that he wasn't surprised to receive help as runners tend to look out for each other, adding that the cameras caught an act of kindness that wasn't unusual to those in the running fraternity.
There is no doubt that Matthew acted selflessly and deserves the attention and credit given to him. Like many, I found this story more inspiring and of more interest than who won overall. What I find interesting is that an act of kindness like this is considered exceptional. So, where strangers are concerned, at least, is kindness uncommon?
The commentary could have run something like this, "There's a runner really struggling here, it's not looking good for him to finish the race with only metres to go. Oh, but there's another runner stopping to help him get over the line. Well done." Aside from being proof that I would make a lousy commentator, my point is that this could have been all that was said, just a simple acknowledgement of everyday altruism.
I can't pretend to know what I'd have done myself, had I been in Matthew's shoes. I would like to say I'd have stepped in and helped out.
But would I have done so? Would you?
We can all say we'd behave in this way or that, but if tested, it would be fascinating to see how we'd really behave. That's the thing, you see. We rightly praise Matthew's sportsmanship, but we notice and highlight it because it's unusually positive behaviour. If we were all as helpful as we could be, we wouldn't notice stories like this (except of course this one happened so publicly)
Are we to think that acts that (I would believe) fall into the common decency category are in fact examples of going 'above and beyond'? The exception, rather than the rule? And if being kind is exceptional rather than expected, does this elevate selflessness to the point where it's considered 'normal' behaviour for us to be more self-involved and therefore behave less thoughtfully?
Clearly, Matthew and David's marathon story is not a common occurrence that we call relate to directly, but I would hope that my metaphorical neighbour would lend a hand if it were needed and that I would do the same in return. And not only should kindness be forthcoming, it really shouldn't be as surprising when it is.
In short, it's important that kindness continues to be rewarded and recognised, particularly in an increasing inward-looking, isolationist world, but it would be good if being kind to one another was normal rather than news.