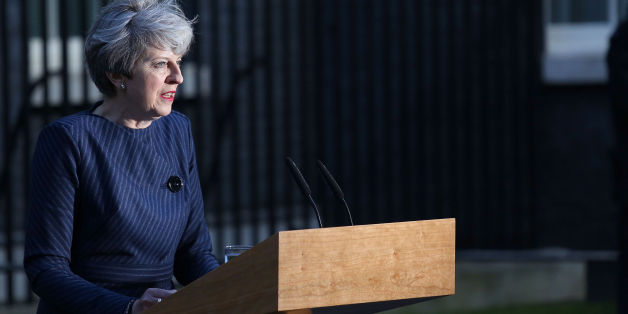 Theresa May enters this general election campaign with the largest lead of any Prime Minister in living memory has had at the beginning of the campaign - this amounts to leads in excess of 20% in some polls. It is a near certainty that the Conservatives will win a bumper majority on 8 June - so why is Theresa May refusing to take part in debates with her rivals Jeremy Corbyn and Tim Farron, as well as the SNP, Ukip and the Greens?
Televised debates in British elections are rather new, having only been introduced for the 2010 election, but they now seem a given when you realise that the last two General Elections and the EU referendum featured high-profile debates. Despite teething problems, even David Cameron took part in a seven-way debate in 2015. With Theresa May's approval ratings approaching nearly 50% - and Jeremy Corbyn sitting on below 20% - I can't help wondering what the Prime Minister is afraid of. If she really does so emphatically eclipse her Labour rival in the voting public's estimation of the two - why shirk the convention of televised debates.
This refusal, this snubbing of what has rapidly become standard practice in our democratic discourse, can only reflect badly on Mrs May. Arguing that doing PMQs will suffice when the country is going to the polls (because of Theresa May) for yet another nationwide vote, simply won't cut it with voters. We have grown accustomed to televised debates, and I for one would not be at all surprised if Theresa May does another U-turn (just as the PM has on National Insurance contributions and the holding of an early General Election) and is cajoled by public pressure to take part in debates after all.
What May's refusal to take part in debates smacks of is weakness, weakness, weakness. Yesterday's announcement that a snap election would be held in June was peppered with the word 'reluctant' - as if the Prime Minister is already beginning to struggle in her plans for Brexit talks, and the calling of this election is a sideshow, a smokescreen, and a diversion. The Prime Minister has "reluctantly" called this election, and is now "reluctant" about debating her rivals. Not only does it suggest the Prime Minister is more fearful of her rivals (chiefly the Liberal Democrats, stalwart as they are in their support for a soft Brexit) but that the Prime Minister really cannot defend her government's Brexit strategy.
And that, to me, is the crux of it. This is a Prime Minister who did not want Brexit, and is now seemingly coasting with only rhetoric for a raft. The PM cannot, will not, go on live television to defend her Brexit strategy - this says much for the level of confidence we should have as she enters the negotiations. This whole election would appear to be a delay, while someone somewhere scribbles Brexit 'plans' on the back of an envelope. This is a Prime Minister whose "Brexit means Brexit" rhetoric is unlikely to transition into a smooth exit from the EU.
Moreover, May's effective snubbing of the debates provides the opportunity for those 'progressive' parties that oppose what is seemingly shaping up to be the hardest of hard Brexits. While Theresa May is substituted by a literal empty chair - the debates provide a platform for Labour and the Liberal Democrats, as well as other 'progressive' parties to put forward an alternative vision, one which will only gain traction with Theresa May being absent from the televised debates.