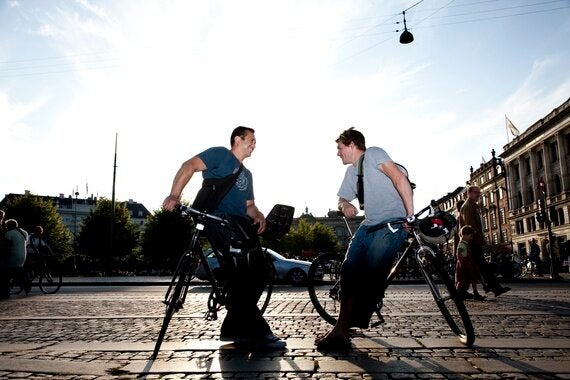 Photo credit: Nicolai Perjesi
The Danish summer has brought out the inner Cougar in me (yes I am a woman of a certain age!). The summer sunshine arrived this week and with it what seems like a new shipment of hunky Danish men. Perhaps I don't notice them in the colder months as they are bundled up in winter coats -- but a bit of sunshine brings out the tight t shirts and smart but sexy shorts. And they are everywhere, cycling, roller blading, shopping, pushing strollers, eating ice creams, walking hand in hand with lucky ladies or carrying kids on their shoulders. And that is just on the way to my local supermarket.
There is also a sense of pleasure in life and humbleness that makes them seem more attractive. Take the current Instagram sensation, Lasse Matberg, a Norwegian Naval officer who's Scandi outdoorsy good looks and humble manner are attracting many female followers or the image of an unnamed Danish policeman playing with refugees children on the motorway that went viral last year. It wasn't just about these guys' looks but the way they acted.
You may accuse me of being a bit sexist but we hear a lot about how attractive Danish girls are (1980's au pair stereotypes anyone?) but let's not forget Danish men. I have lived here a while and perhaps I stopped noticing Danish men but last autumn I had some English friends come and visit me for a girls' weekend here and they kept observing how good looking Danish men are. In fact we walked past a coffee shop and they said it was like a gorgeous man shop, with every window featuring something even better than the last. I kind of shrugged and then thought I had obviously stopped seeing what was around me.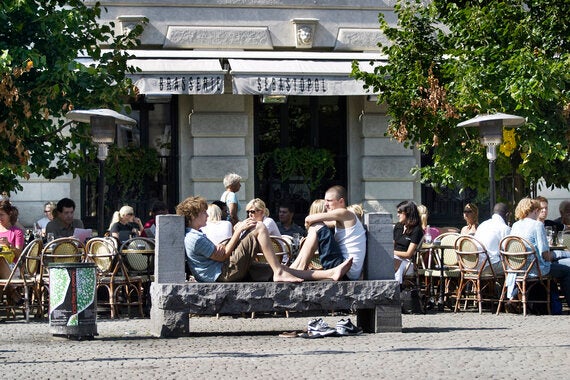 Photo credit: Morten Jerichau
So in the spirit of research I started to look at Danish men with an objective eye. I began to wonder if they are in fact better looking or just better dressed and turned out? I decided that it was a bit of both, the Viking gene pool certainly helps.
Many men here take time and thought on what they wear, how their hair is and how neat their beards or man buns are but not in an overly off-putting way. And it rubs off on other nationalities living here. There is an innate sense of style and taking care of your appearance. You don't get a feeling of vanity but more of pride in how they look, which makes even an average man look good. A simple T shirt and shorts doesn't have the sloppy look it could have. Men run and work out but according to many Danish men I know this is simply to feel healthy and to be able to enjoy what they eat and drink without thinking too much about it.
And the Danes don't take this potential of objectifying of men too seriously, the gender equality here is pretty good and you regularly see articles such as Denmark's Top 20 Tastiest Men in the women's magazines and it's just a bit of fun (as is this article!).
Melanie Haynes is originally from the UK and has lived in Copenhagen for eight years. She writes about life in Copenhagen on her blog Dejlige Days and after experiencing relocation to Copenhagen and Berlin, she runs a settling-in service aimed at helping expats called Dejlige Days Welcome.
Related