Meron Semedar is a refugee from Eritrea who was granted asylum in the United States at the end of 2013. Meron has been advocating for the Human Rights of migrants and refugees for the last six years.
In my speech at the One Young World Summit in Bangkok, I urged world leaders not to be afraid of resettling refugees, as has been the case in the recent changes since the Paris attacks. Refugees are peace loving people and they migrate seeking safer places, they just want to find a place that they can call home. They have dreams to fulfill, just like you.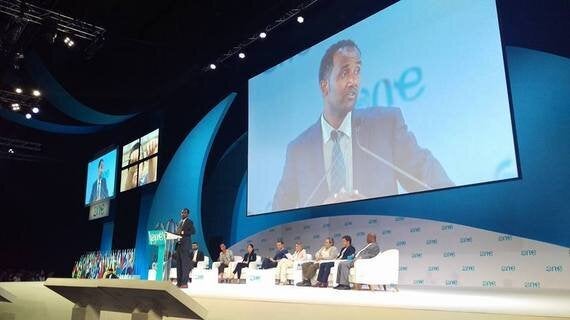 Meron Semedar delivering speech on migrant and refugee rights at the 2015 One Young World Summit
If we do not accept refugees, they will have to make their own way in to the country of their dreams, making it difficult to trace or recognize new arrivals. The world cannot turn a blind eye to refugees, if we ignore them, the impact will be much more catastrophic. What is the point of having the 1951 refugee convention if we do not honor it? In fact, many nations have been actively involved in the crises which have led to the migration of millions around the world and these Western nations should take responsibility. As for the protection of refugees, only a few nations like Lebanon, Turkey, Jordan and Germany have shown compassion for refugees. The current situation leaves us with many desperate people at door steps looking for help and more needs to be done.
In recent days, the political rhetoric towards refugees has shifted dramatically after the Paris attacks. In the Paris attacks, one person was believed to have been a migrant of Syrian origin, while the rest of the attackers were all citizens of other nations. I believe that if nations act fast in determining the status of migrants and improve their resettlement programmes, they can eliminate any fear that society might have.
Do we have to wait for another catastrophic event like the drowning of hundreds in the Mediterranean or some heart breaking, harrowing image of refugees to keep us awake every now and then? If so, we have sold our humanity.
I think we are not reflecting enough on history. World War II created many migrants and refugees, many of which set out to the US and became the back bone of the country. However, we do not think of these migrants and refugees in the same way - nations should think of them as an asset not as a burden. Even in the face of terrorism, nations and society should be much more responsible and compassionate towards refugees.
The US and EU needs to step up their efforts in resettling as many refugees as possible. In doing so, their story, not religion, should be the defining factor when assessing asylum seekers. As a beneficiary of asylum in the US, myself, and as an advocate for the rights of refugee and migrants, I urge the US politicians to refer to their own history and resettle as many Syrians and North African migrants as possible.
People will continue to migrate for many years, and it is very important for world leaders to review the old tradition of prevention and protection which was set under the United Nations Higher Commissioner for Refugees (UNHCR) that were built after World War II. Since then our world had changed a lot, but the approaches have remained the same in the interest of national security.
If we do not set out to help refugees and migrants, we have sold our humanity and that is a very worrying phenomenon.
You can find Meron Semedar's speech advocating for the human rights of refugees and migrants, that took place at the 2015 One Young World summit in Bangkok, Thailand.
Popular in the Community