There is a terrible human cost to the government's immigration policy orchestrated by home secretary Theresa May.
Thousands of families are being torn apart and forced to live in separate countries as a result of a new £18,600 salary requirement for bringing a foreign spouse from a non-EU country into the UK.
This is more than almost half the population earns and if the couple have children, the salary requirement rises by thousands of pounds.
These new rules, introduced in July 2012, have played havoc with the physical and mental health of many Brits, their partners and children who are separated from each other or threatened with separation.
This July, a High Court ruling urged the Home Office to adjust the income requirement, though stopped short of striking down the legislation.
I spoke to five people affected by the rules about the suffering and health deterioration they have undergone as a result of enforced separation from their families.
Emma
Emma*, 25, from Dartford faces having both her husband and son taken away from her.
She met her Moroccan husband Driss, 31, in the international departures terminal of Eurostar when she was working there as a store manager.
Driss taught her French, she helped him with English, and they moved to Morocco and married there in July 2011.
But not speaking the language, Emma found life in Morocco lonely. She returned to the UK in January 2012 and, discovering she was pregnant, Driss joined her for the birth.
After the pregnancy Emma was diagnosed with severe arthritis, which doctors said could be caused by labour complications during pregnancy coupled with the stress of Driss' visa problems. She now cannot walk properly, grip anything or even feed herself.
Because Emma could not hope to earn over £18,600 due to her disability, the couple applied for leave to remain based on Driss being Emma's full-time carer, but it is far from certain that their application will succeed.
If they are refused and Driss has to leave the country, social services will take their 11-month old son Aymene into care as Emma is too disabled to look after him alone. The state will also have to foot the bill for Emma's care.
Due to her condition, Emma would be unable to travel to visit Driss and there would be no visas available for him to even visit the UK. The couple therefore face potentially eternal separation.
Emma's depression has been exacerbated by the looming separation and she is undergoing weekly counselling.
"Driss is everything to me and I wouldn't hurt myself because of Aymene, but I'd be in that frame of mind.
"Some days I just don't even get out of bed. There's just nothing. If you wake up it's just bad news. You've got Theresa May on the news. If someone came along and took the child away from me I'd have nothing left to live for."
Josephine
Josephine Makaga Head's father was too scared to come round and visit his own daughter because of her erratic behaviour.
Since her husband Loic Makaga, 38, from Gabon was forced to stay in his home country, Josephine found herself obsessively cleaning, dusting and hoovering the house until as late as midnight to cope with the stress. She now recognises this as a manifestation of obsessive compulsive disorder (OCD).
The 31-year-old conservation biologist met Loic in Gabon when she worked alongside him at an NGO.
They originally applied for a visa for Loic to come to the UK in May 2012, but received a refusual in September on the grounds that they were not in a legitimate relationship. Josephine had been living apart from Loic in Germany, but the couple had seen each other often and remained in a relationship despite not living together.
The couple appealed in September 2012 but the decision wasn't overturned until the following April, which resulted in a lengthy enforced separation. The only time Josephine saw Loic was at their wedding in Gabon in December 2012.
Loic is now finally living with her in Cambridge, but is on a six-month fiancee visa and is studying to take the required English test.
Josephine said she had never experienced OCD all her life until the separation.
"At the time I don't think I realised it was totally reated to Loic not being here, but literally within five days of him arriving I lost any concern about the cleanliness of the house, so I guessed then it was probably related to that," she said.
"I think probably for me it's a reaction to wanting to be in control of something when I feel I have no control over my life. I felt completely helpless. My entire life was in the hands of some faceless person in an office somewhere who didn't give a monkey's about me.
"It always felt like I was being treated like a criminal - someone forcing you to live your life in a certain way. Living in the UK you don't expect to be treated like that.
"I do feel there's a difference between someone from any part of the world wanting to live without any ties here. I just think if someone is a family member or a partner of someone in the UK it's a breach of human rights to not allow that person to come. I was really shocked, as it hadn't really occurred to me that he might not be able to come here. They're causing so much heartache for no real reward."
Dee
Dee Seckin may be forced to move her severely dyspraxic son from the UK education system to a school in Turkey if she wants to be with her husband.
The 35-year-old teaching assistant for special needs children from Hemel Hempstead married her Turkish husband, Ozan, 29, in August 2011.
The couple were refused a spouse visa and Ozan is now stuck in Turkey. The last time Dee saw him was in February. They have a nine-month-old daughter along with the twelve-year-old son from Dee's previous relationship who suffers from dyspraxia.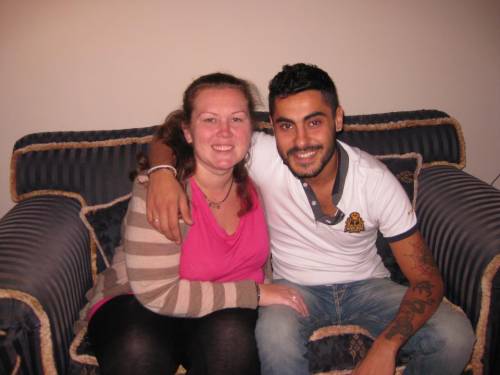 "It's upsetting to take my son out of an English education system and put him in one which doesn't have any idea about his needs," she said. "I wouldn't even consider putting him through that."
"My son is constantly upset and stressed out. He says, 'Why can't things be normal for us? Why can't I have my dad?' For all intents and purposes Ozan is his dad. They met when he was eight years old and that's all he's known."
Dee herself has a gall bladder infection as a result of stress from the separation. She was also put on anti-depressants after the birth of her nine-month-old daughter, whom Ozan has only been able to see once.
And because of her dyslexia, adapting to life in Turkey would be difficult.
"I can speak a little bit of Turkish," she said, "but to write it... I find it hard to write English. Same for my son.
"At the end of the day I'm English born and bred. I've paid my taxes for the past ten or fifteen years. I have my right to take what I need out of the system...But my husband doesn't want to take anything out of the system and I'm a great believer of what you put into the system you should be able to take out."
Dilay
Dilay Sonat Gamal, 38, is 35 weeks pregnant and faces the prospect of giving birth alone while suffering from gestational diabetes.
Her husband, Mahmoud Gamal, 28, is currently managing a private school in Port Said, Egypt, after the couple were refused a spousal visa.
But Egypt's recent political turmoil means Dilay, living in Islington, London, fears for her husband's safety every day.
"It's not secure in Egypt at all and I'm not sure if it will get secure," she said. "Every time I'm talking with my husband I'm hearing gunshots.
"They're all scared for their lives and every time we talk we talk like maybe we won't see each other or talk again. Every time I finish talking to him I cry."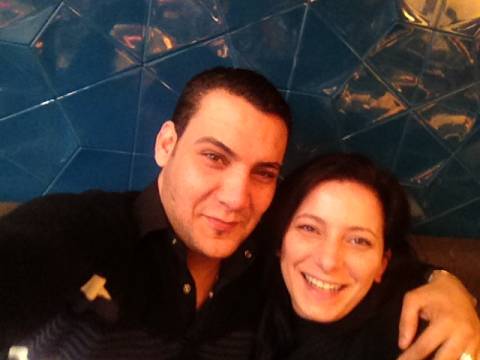 Dilay is disabled from being hit by a car several years ago. The accident left the muscles in her left leg weak and she is unable to sit down for extended periods and uses crutches to walk. Her right arm is also damaged from a separate accident.
She said she wants to have the baby in the UK with her husband by her side.
"My children from my previous marriage want to share the joy as well, but because it's my husband's first baby he's going mad there [in Egypt]. I'm torn into parts."
They previously lived in Egypt together but when the couple, who have been married for three years, found out that Dilay was pregnant they decided to apply for a UK spouse visa. However, they were refused in May 2013.
Dilay then began to suffer complications with her pregnancy and she was diagnosed with gestational diabetes after her husband was forced to leave.
"I wasn't eating properly and I was just worried," she said. "Until the refusal, I didn't have anything wrong with my pregnancy. My sugar levels are not going down and the midwife said it could be because of stress. Every time I go to the hospital my blood pressure is very high.
"Until I was pregnant, I was using painkillers my whole lifetime, so I'm just in pain. The stress of being apart from my husband is not helping as well. I'm worried about the aftercare if he's not here for the birth and I'm worried about flying to Egypt with the baby. Also I'm thinking about if he's safe there."
Wesley
Wesley Simpson, 50, from Northern Ireland has paid his taxes all his life but is unable to return to the UK from the US to have his polycystic kidney disease treated by the NHS.
He met his American wife Rebecca on the internet and the couple were married in October 2005. They have lived happily in West Virginia since then, but now want to return to Northern Ireland.
But because Rebecca, who works as an assistant to the director of a mental health facility in the state, is the family's breadwinner, Wesley is unable to earn over £18,600 in Northern Ireland to sponsor his wife, whom he needs to look after him.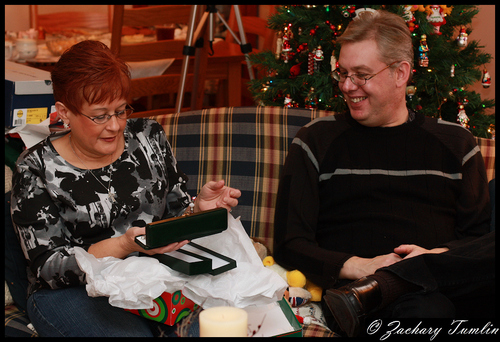 "We're just people looking to have a nice life," said Rebecca. "We're not trying to take advantage of a benefit system... It's so insulting after years of working hard to say 'you didn't work hard enough'."
Rebecca says the cost of a transplant in the US would be "horrendous". The immunosuppressant drugs required after a transplant cost around £15,000 per year and Medicare would only foot the bill for three years' worth.
Wesley, who was 42 when he came to the US, feels he deserves the NHS treatment his taxes have funded.
"I've paid my taxes. I've paid my National Insurance. I just want to be able to go back and if I have to use [the NHS] let it be, but it's not my primary reason for going back. It's just an easier pace of life as well. More relaxing. Pretty much easier to get around. You don't have to drive. You can walk anywhere. The weather's better.
"It just feels like I'm stuck here now pretty much. It's like I'm being punished for having left really. It's different for a younger person. As you get older, you have to think about your health and you just want to have a quieter way of life."
*Emma declined to have her last name or a photograph published due to pending legal proceedings regarding her situation.