I decided at a very young age that I wanted to be involved in storytelling. From as early as I can remember my identical twin brother Paul and I have been making up stories, characters and worlds. We were lucky enough to grow up with people who spurred on our imagination and allowed us the freedom to express ourselves creatively. We have spent a large part of our lives entertaining each other. When we were teenagers, we realised that this creativity could reach out of our little twin world and include others. People liked what we had to say, or would laugh at our silliness, or were moved by things we had created. An emotional response from friends, family and strangers on this level helped us see that we could, if we wanted, move towards a future where storytelling was all we did. We have dreamed of Hollywood for a long time. We would spend long summers talking about what we would do if we were working there. These conversations were tinged with a sense of sadness, of desperation. How could two young teenagers from a working-class town in the North-West of England ever hope to reach Hollywood? How could they show the world what they were capable of? How many sleepless nights, how many wild daydreams whilst working at temp jobs, how many mornings where I would stare at the ceiling and cry in frustration because the opportunity I needed, despite working extremely hard, had never come? How the fuck do you overcome the odds in a world where opportunity seems reserved for a small elite?
Well, after years of hard work, my opportunity has arrived.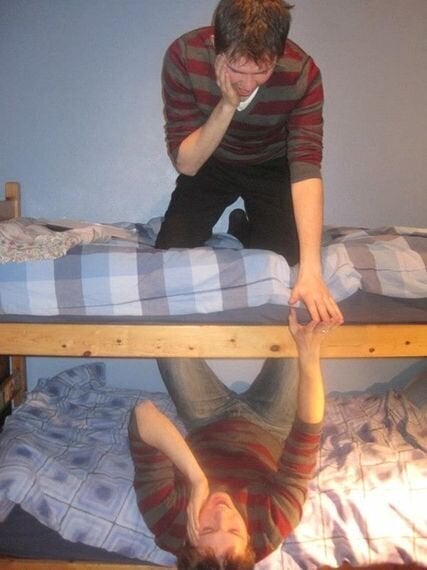 Fun twin mirror image games.
I've been offered a place at the world's top film school in Hollywood - the University of Southern California (USC). USC is the most prestigious film school in the world and has launched the careers of top Hollywood talent like George Lucas (Star Wars) and Bryan Singer (X-Men). I am the only British student offered a place in the class of 32 from over 10,000 applicants. Holy shit.
I come from Bolton in the North-West of England. When I mention this to people, two things happen: 1) 'Garlic bread' is mimicked in an array of good to bad imitations of Peter Kay or 2) all they can imagine of my home-town are chimneys and coal pits.
Bolton isn't this. It's a large town that has produced some incredible things and people: Ian McKellen, Danny Boyle, Warburtons, Reebok, the guy who designed the feet of the Statue of Liberty (random), Lord Leverhulme. It has a combination of town life and country life, with the moors just a 20 minute walk from most people's homes. It offers a setting where children can grow, knowing and tasting what urban life is like whilst escaping and playing in the woods, the beautiful forests and enchanting landscapes that feed the imagination.
A strong pride tinged with sadness is felt in the town whose identity, once incredibly powerful, has faded into a sleepy reverie. My roots run deep into this town, even though I moved away from it in 2006 to head down south, first for University and then to settle in London. Beneath the sleepiness lies an untapped ambition and creative well which my twin and I call upon and use to strive forward in achieving what we want to do.
Growing up wasn't easy. Our mother, who died of cancer when we were 17, spent a long time as an alcoholic. It's hard to write this, as I don't want people to think of her as a bad mother or woman. She had her demons, but she loved us. She worked hard and fanned the flames of our ambition and imagination. She decided to stop drinking when we were 13. The strength it took to do that was enormous. I have never known anyone as strong as her. She stopped drinking and life was golden. A few months later she found out she had cancer. She could have drank again. She didn't. She continued to fight her demons, and the cancer. She showed me what power an individual who really wanted to fight something had. After a few years, the cancer paralysed her. We transformed our living room to accommodate her, but ultimately it became her prison. She had to use a commode which we would empty. Ashamed, she would cry and tell us that we shouldn't have to be doing this as she was meant to take care of us. Eventually the cancer shut down her brain. Her final words to my twin and me: "don't let your work suffer". She was referring to our A-Levels, but it has become a mantra of ours.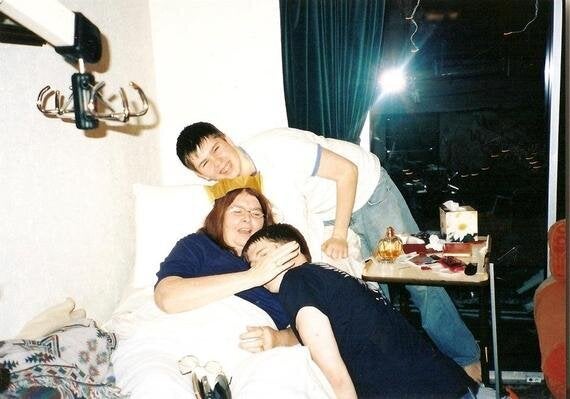 Paul is now working towards a PhD at Cambridge University in Physics and Chemistry after a stint as a nuclear physicist at Rolls-Royce. I moved to London and have worked on film and theatre, creating Death Ship 666! with my twin and best friend which went on to play in the West End with 5 star reviews.
I applied to USC because I knew it would allow me to take what I have done and move it to a level where those years of dreaming, those mornings of hot tears that were shed in mourning for a future I didn't know could ever exist, would evolve into something powerful and wonderful, transforming my life and all those around me. Against the odds, I got in. But I can't afford the course fees.
I HATE MONEY and the obstacles it creates in life. I've come to a canyon and the only way across it to the other side is to paste together a bridge made of these pieces of paper that shape the world. I don't mean to sound bitter, but I'd be lying to myself and you if I didn't admit that I was. I've worked so damn hard to get to this point and now an incredible future is in sight. But it's not enough.
My twin and I were recently signed by Independent Talent - Europe's leading agency who represent the likes of Ian McKellen and Danny Boyle. I've been awarded scholarships from BAFTA and USC. These world class institutes believe I have what it takes. My scholarships only cover a quarter of my fees so I've made a crowd funding campaign and now turn to the world for help. I'm currently at 55% of my target, but need to raise the rest in just over a week. If I don't, I won't be able to go.
I'm no different to anyone else. I don't think I deserve anything more than anyone else. But I have never wanted anything so badly in my life. Desperation is the word I would use here. I'm not going to dress it up. I'm not going to play a game and put up a cool façade. I have talent, ambition and perseverance. But no money.
If you can help, you would be enabling me, my twin and those we have had the pleasure of working with to go on to do what, for many people I know and have grown up with, seems like a fleeting fantasy. If I can achieve what I know I can at USC, I promise to create scholarships and help those who find themselves in a similar position to myself. But I can't do this without your help.
Thank you for taking the time to read this. I'll get back to California Dreaming and working hard to achieve my dreams.