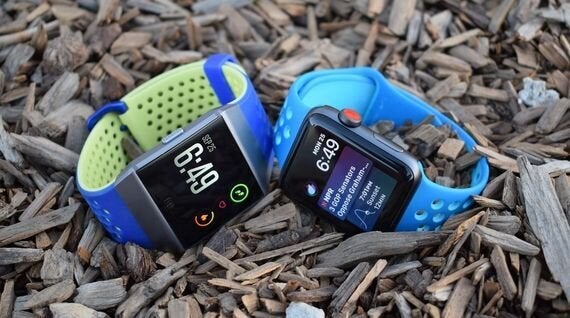 The experience of using both at the same time has been interesting to say the least. On the one hand (well, wrist), there's Apple's third generation Watch, which has come on leaps and bounds since the first one and is finally starting to provide a more compelling argument that iPhone owners need one in their lives.
Notifications have been a smartphone staple for what seems like forever and above anything else, this is what I've found myself tapping into most on the Watch Series 3. A glance at my wrist on a packed tube carriage or running on a treadmill in the gym. I don't tend to deal or respond to these notifications a lot of the time, but it's nice just to be aware of what's happening at work or knowing there's a WhatsApp group conversation I need to be part of. I know, a smartphone does this already, but normally when I grab my phone it means spending time checking in on Twitter, Instagram and a bunch of other apps. Basically, more screen time.
Apple's third smartwatch does a pretty credible impression of a sports watch too. It'll track my swims and runs and not leaving me waiting achingly long for a GPS signal to lock on. There's also something quite addictive about closing those Activity rings before my other Apple Watch owning friends. Until battery life gets significantly better though, I'm not sure it'll ever replace a dedicated sports watch, but for most, it does tick the boxes.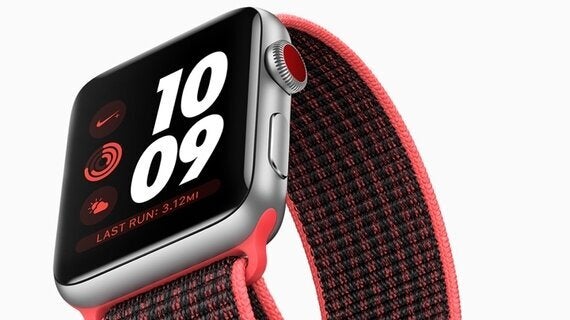 The big new addition of course is LTE, which has been available on smartwatches before, but means I can leave my iPhone behind and get a smartphone-like experience on my watch. Taking and making calls from my wrist or asking Siri about appointments in my calendar in public is just something I'm never going to get used to. But the notification support or the ability to stream music (which isn't available just yet) without having to remember to transfer new music over to the watch iTunes could persuade me to spend a little more for the luxury. Ultimately, though I still want my smartphone by my side. What happens when you want to grab a quick snap of something? A smartwatch just isn't cut out for that.
Then there's the Ionic, the only other smartwatch that has been talked about as much as Apple's. Fitbit has taken its fitness tracker DNA and put it inside of a design that is best described as Marmite. Some will love it, some will hate it. Unsurprisingly, fitness tracking is where the Ionic impresses most, but it does a decent job as a smartwatch too. Notification support is more basic than Apple's approach, but features like Fitbit Pay contactless payments work effortlessly and while there aren't too many standalone apps right now, the few that are there, work well.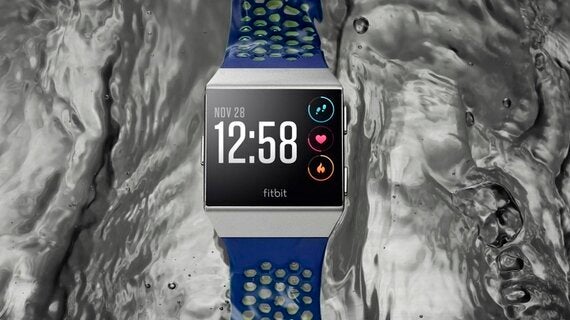 Fitbit's CEO James Park gave his reasons why the company didn't include LTE in its first smartwatch, and I'm inclined to agree with what he had to say on the feature for now. But there's a sense of inevitability that it will be on the Fitbit agenda further down the line. One of those reasons will no doubt have been battery life, one of the biggest differentiators between Apple and Fitbit's smartwatches and the reason the Ionic spends more time on my wrist. It just lasts longer (four days to Apple's day and a half) even with a super bright display and that's something Apple is going to have to seek to improve. Because if it does, then Fitbit will seriously have to raise its game.
The real litmus test for any piece of technology is whether it has the ability to stick around and when I mean stick around, I mean you are still using it for more than a few weeks after you first pull it out of the box. In the case of the Watch Series 3 and the Ionic, they will be sticking around. At least they will be for me. I've not really been able to say that about a lot of smartwatches before, but both Apple and Fitbit have gone some way to prove that smartwatches do have a future at a time when many still doubt it. Couple that with Google's more fashion focused approach to Android Wear through partnerships with the Fossil Group and Movado, or Garmin's ability to blend proper sports tracking with watch smarts, and it finally feels like smartwatches are going in the right direction.
Now there are strong options to choose from, options that offer different answers to what a smartwatch should be and what they should do. It finally feels like the benefits of owning one are starting to be realised and if the news that Apple is now the number one watchmaker in the world tells us anything, it's that it's time to accept that smartwatches aren't going anywhere.