My mission is to empower all women to dress for success by encouraging them to dress towards their body strengths rather than weaknesses and stop comparing themselves to others and playing the daily guessing game " does that look good on me".
I want women to create their own signature look and feel unique rather being a bad copy of someone else. I want to encourage women to invest in quality timeless style rather than fast disposable and unflattering fashion.
Dressing well takes strategy and it is all about understanding your body shape and then creating visual balance in your look. This introductory article shares the key concepts.
Knowing your basic body shape and understanding the types of clothes that will accentuate your good features (and minimise your less than perfect bits!), means you'll be able to dress in a way that really suits you.
Dressing right for your body shape has nothing to do with plus size as well fit doesn't equal suitability.
"The dress must follow the body of a woman, not the body following the shape of the dress." Hubert de Givenchy
The problem with understanding your body shape is that most women focus on specific area (i.e. problems zones such as the tummy, arms, bottom, thighs etc), which can cloud your judgement when it comes to seeing the whole picture. It's important to view yourself as a whole so that you can define your body shape.
" Fashion is like architecture- it is a matter of proportions". Coco Chanel
There is a dress for every woman to make her confident, look and feel good, but it is usually not the same one for all of us. We all have a unique STYLE DNA and need to follow a different dressing code to look our best.
The key to dressing right is to create visual balance in your look. Creating visual balance means recognising that each garment has different characteristics and does different things to our visual appearance. You can lengthen, slim and direct attention to exactly where you want to focus attention, and away from the places you don't, and, by doing so, you will be able to create a streamlined look that is flattering, balanced and that fits with your style personality.
A visually balanced body, regardless of weight or height, always looks more flattering than an unbalanced one. The aim is a neat hourglass figure (which is considered the perfect and most balanced figure of all body shapes)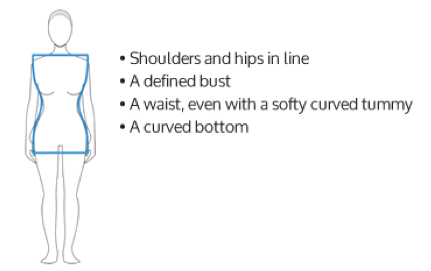 Also, it is It is important to recognise that fit does not equal suitability and just because something is available in your size it is not guaranteed to deliver an attractive visual balance in your look. It is best to choose clothes, which were designed with you and your shape in mind. The truth is that certain styles and product items simply don't work for all body shapes . Choose the styles that will create body harmony with your body shape.
" Size doesn't equal suitability".
Example: These women are all of the same size, but are completely different to one another in height, proportion, body features and body shape as a result the same dress in the same size will all look different on them and won't suit or create visual balance for everyone.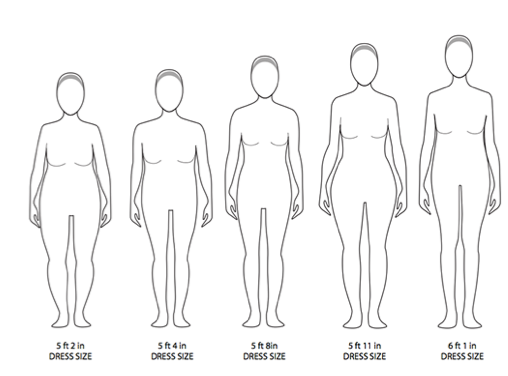 I recognize the diversity of women's body shapes and design dresses with their shape in mind. My dresses flatter the seven most common body shapes.