Awakening from sedation and finding yourself restrained by the neck and your limbs locked into a sealed case sounds like something from a Kafkaesque prison dystopia, yet this terrifying device is one of many tools used by researchers underplaying the suffering of animals inside their laboratories.
The BUAV is renowned for its undercover investigations which every time, without fail, consistently expose the brutal reality of life for animals in laboratories and serve to strengthen our request for transparency from the industry.
The lives of the monkeys held there are brutally controlled and manipulated in cruel experiments which are of a pure basic kind, with application to human beings highly speculative and far in the distance (if indeed it ever will have application).
Researchers wrongly claim that what the monkeys do is voluntary and use innocuous words such as "training," "sitting in a chair" and "positive reinforcement." The reality, however, is that monkeys were forced to take part in the experiments as a result of severe water deprivation and physical and psychological coercion. Amongst the many examples of this treatment, our film shows water-deprived monkeys imprisoned in chairs - with their heads held rigid by a surgically implanted post - inside dark, silent chambers and forced to carry out mundane tasks over and over for up to five hours a day, five days a week, month after month, in order to receive a small fluid reward.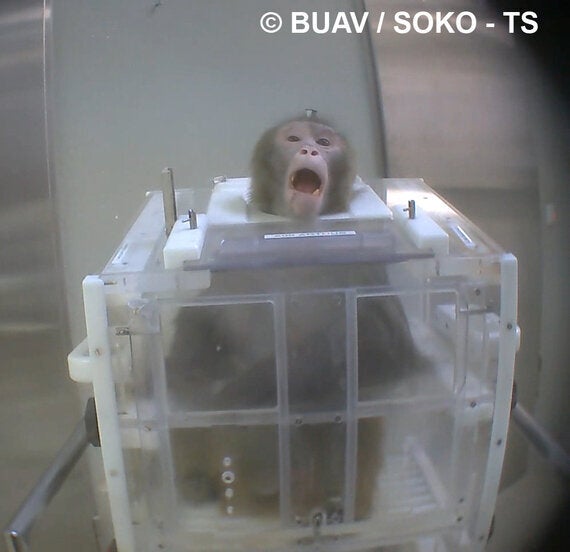 The monkeys subjected to major surgery to implant head posts and/or head chambers into their skulls were left unattended overnight after surgery, in a way that would be inconceivable with human patients. We also documented their bruised and bleeding head wounds and infections, including MRSA, which led to some early deaths because of the severity of the infections. A TB outbreak in 2012 resulted in the deaths of 26 monkeys.
We believe our findings will send shock waves across continental Europe and the UK, as several researchers attending the facility have been from our own leading academic institutions and some research has been funded by the UK's Medical Research Council, The Royal Society and the Wellcome Trust. Our investigation raises important ethical, scientific and legal issues which need to be addressed as a matter of urgency. It also demonstrates how the clever wording by those representing the research industry cannot be taken at face value as our footage clearly illustrates how misleading the researchers have been in describing the welfare and treatment of the animals in their care.
We believe that much more could be learnt from ethical studies involving patients and volunteers than subjecting stressed monkeys in highly artificial situations to experiments which are unlikely to mimic the human situation. This is particularly true of fMRI (functional magnetic resonance imaging), which is already being used heavily in clinical research. Similarly, computer-brain interface systems are also being used in humans. Clinicians are not waiting for the results of primate research to 'confirm' principles, but have developed prototypes which are already helping human patients.
The BUAV is therefore calling for all licences to conduct research on primates at the institute to be suspended pending an inquiry independent of the institute and the authority.