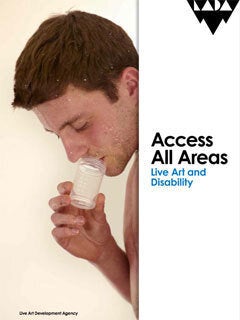 For several decades a growing group of highly talented artists have been honing their skills and developing their methods and techniques in their goal to create engaging, challenging, though provoking work that is also beautiful and stunning while leaving an indelible valuable mark on whoever interacts with it. This group are members of what is euphemistically called the Disability Arts scene, and they use their mediums to explore the issues that disability raises in our modern society. One major element of this groups methodology is the use of Live Art. Creating engaging interactive Live Art works enables practitioners to explore the questions around the barriers thrown up into the lives of disabled people by the wider society, as described by the Social Model of Disability, examine their personal journey through their experience of impairment and challenge the wider stereotypes of what it is like to live in a society that disables some of it's members. The Disability Arts scene has been mostly hidden away from the judging gaze of the wider arts community but all that is changing. This stunning book Access All Areas, Live Art and Disability, published through the Live Arts Development Agency, captures the creative explosion that took place at a two day event, called Access All Areas, held in London in 2011 that highlighted the very best in Live Art practice within the Disability Arts scene and exposed them to the public and the wider art world.
However to describe this book only as a document of this event sells it short. It is in fact a combination of a stunning collection of works by the cream of Disability Arts scene's Live Art creatives and a challenging piece of artistic work in itself that I feel will become an essential snapshot of a moment in the evolution of an new artistic force as it breaks through in to the mainstream. The book has captured the two day programme of the Access All Areas event in a manner that enables its reader to feel as if they had been there, and then guides them through the issues raised, all in an exciting and creative style. Made with the input of the artists it really is an amazing publication.
But it doesn't stop with the written word, as the publication is accompanied by two DVD's. DVD 2 captures essential video highlights from past works of the stars of the Disability Arts scene, all of which were screened at the Access All Areas event, and DVD 1 allows the viewer to virtually attend the event as it contains video taken through out the programme. It also has an audio version of the entire book and audio recordings of the dialogues and discussions held over the two days.
On an accessibility front this book/DVD package is one of the first accessible publications I have had the pleasure of interacting with. Printed in a cleverly laid out large font with the DVD's fully subtitled, fully audio described and very well thought out, Access All Area, Live Art and Disability demonstrates that the barriers that disable people can be removed in such a way to enhance the experience of all users. How many books have you read that allow you to actually interact with the research material? This accessibility also means that the publication will be an amazing resource for the academic study of Disability Arts, as it contains in a one stop shop such a rich collection of creative output, discussion of practice and the thought processes behind that creativity and the wider social issues that the artists wish to explore.
I am proud to have Access All Areas, Live Arts and Disability on my bookshelf. It's a publication that encapsulates the wealth of creative talent beavering away within the Disability Arts scene, contains the very best of their work, intelligent comment and discussion of process and practice, and looks great too. I believe it will become a seminal publication, not only for the Disability Arts world which it exposes beautifully but for the wider arts community as it demonstrates how make art books accessible. A must have for anyone interested in the arts and creative practice.
Access All Areas, Live Arts and Disability can be ordered by clicking here
Review by Mik Scarlet © 2013
"This writing was first published on Interface 30/10/13 www.a-n.co.uk/interface as the result of a book giveaway by Live Art Development Agency/Unbound".