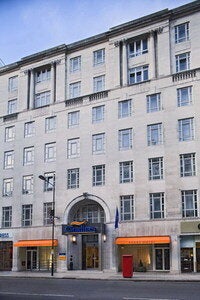 Clothes-lines, coffee and coat-hangers. They're small things when you're staying in a hotel or an apartment but it's usually the small things that either delight you or send you raving mad. One of my own pet hates is a sink which has all the elegant simplicity of a Philippe Starck design, but either doesn't have a plug or the plug doesn't seal properly and the water slowly drains out while I'm shaving. You know the feeling - has the person who designed this thing ever actually used it?
Needing an affordable place to stay for several days during World Travel Market in London, we booked into the rather lengthily-named Citadines Prestige Holborn-Covent Garden London (right). I was pleased to find that a lot of thought had clearly gone into making the rooms, and the whole set-up, as guest-friendly as possible, and saving me from tearing my hair out.
The first thing I noticed as I put my clothes away was that they had proper coat-hangers, not those half-hangers that are really annoying as you try to jiggle them in and out of their hooks. There was also an unobtrusive pull-out clothes-line over the bath, which we had no intention of using but if you were travelling on a budget or with limited luggage space, they're a boon. There was also some complimentary chilled mineral water in the fridge, both still and sparkling.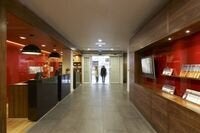 We also appreciated the fact that the receptionist made a welcome phone call to our room after about 15 minutes, to ask if everything was OK and working properly. A nice touch. It was also good to have proper coffee cups and not those plastic beakers that get so hot they burn your fingers. And proper wine glasses, rather than having to use the glasses from the bathroom and wash them out afterwards.
Most of this was because the Citadines - we'd stayed in one before, in Nice, and loved it - are apart'hotels. You get all the services of a hotel but your room or suite also has a fully-equipped kitchen. As there isn't a restaurant, other than for breakfast (which is free only if you have a Premier Room, otherwise there's a small charge), you can choose whether you want to eat out, cook for yourself, or bring in a takeaway and know you've got all the knives, forks, plates and other things that you'll need. There's even a small dishwasher to stick the dirty plates in.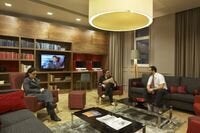 The Citadines on Holborn was perfect for central London too. We walked through Covent Garden to one of the cinemas on Leicester Square, walked to an exhibition we wanted to see at the British Museum, didn't think twice one night about getting a taxi back when it was raining, and Holborn tube was just a minute's walk away.
Another thoughtful touch was the information pack you're handed on arrival. It included several sheets on where the local attractions and shops were, with opening hours and directions on how to get there. The British Museum? Turn right out of the hotel and walk for ten minutes then turn right on Museum Street. Easy. What time do the nearby Waitrose and Sainsbury's open on Sunday? What time does the Pret A Manger across the street open, and what time does it close? It was all in the information pack and we referred to it a lot.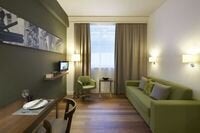 Another bonus was how quiet our room (right) was, even though we overlooked High Holborn, a busy street. We were on the 4th floor and heard no traffic noise, other than the occasional siren. There are six floors altogether, and 192 rooms made up of 152 studios for 1-2 guests and 40 1-bedroom apartments for up to four people.
Oh, and the coffee? Well, there was free coffee available all day in the guest lounge. The coffee machine even made a decent cappuccino. I also got a proper shave every day, and didn't curse the sink once. What's not to like?
Email: holborn@citadines.com