Black pudding, fat rascals, Slingsby's Gin and Harrogate fudge sauce. Harrogate in North Yorkshire is a spa town which boomed as an upmarket tourist destination thanks to its health-giving spa waters. The waters were discovered in 1571 and it became England's first spa town, even before the likes of Cheltenham, Malvern, Bath and Royal Leamington Spa. Yorkshire's spa attracted an elite group of visitors who would partake of the spa waters and, from 1897, also indulge themselves in the splendours of the Turkish Baths, an addition to the town inspired by what some of the spa towns of Europe were offering their visitors.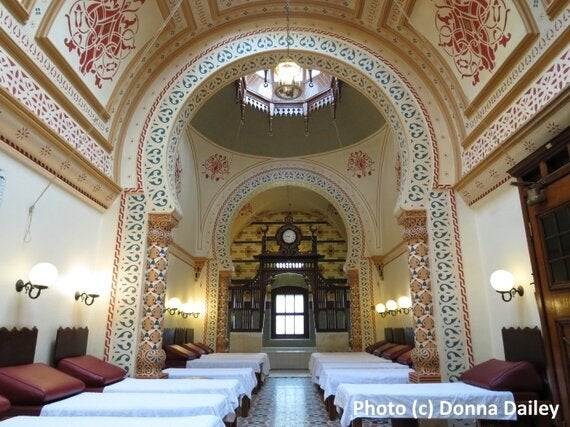 The Turkish Baths (above) are still one of Harrogate's star attractions, and you can sample the spa waters at the Pump Room Museum. I did do, once, several years ago, and if warm sulphurous water is your idea of a tonic then you're welcome to it. Personally I prefer the kind you mix with gin..
I was able to indulge my unhealthy activities at places like the brand new Spirit of Harrogate gin shop, the inevitable visit to Betty's Tea Room, and in the excellent restaurant at Harrogate's latest boutique hotel, just a 5-minute walk from Betty's, The West Park. Our stylish modern room offered a view over The Stray, Harrogate's magnificent park and gardens, and when the view disappeared after dark we could indulge instead in lolling in the bath while watching TV, the ultimate decadent hotel experience.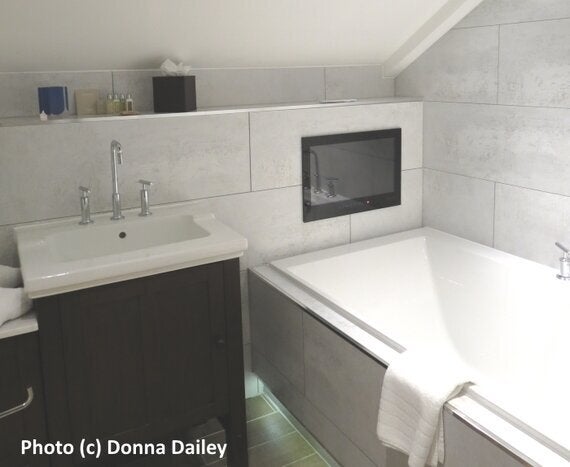 There was more decadence downstairs in West Park's bar and restaurant, which even on a Monday evening was buzzing with diners and drinkers, and we were glad we'd been able to reserve a table as hotel guests. The whole scene undermined Harrogate's image as a sedate spa town where elderly visitors want nothing more exciting than lunch at Betty's and a bit of shopping. The cocktail menu offered Pornstar Martinis, Margaritas, Long-Island Iced Teas and a Smokey Old-Fashioned, using quality spirits like Woodford Reserve Bourbon and Hendrick's Gin. For anyone used to London prices, cocktails were £4.50 during Happy Hour (Sunday-Thursday 5-7pm) - and who wouldn't be happy at those prices?
The quality continued with the food. My starter of black pudding and bacon salad with soft-boiled quail egg and watercress managed to be both light and full of contrasting flavours, and my wife raved over her baked queenie scallops with a garlic and parsley sauce and a cheddar and gruyere crust, one of West Park's signature starters.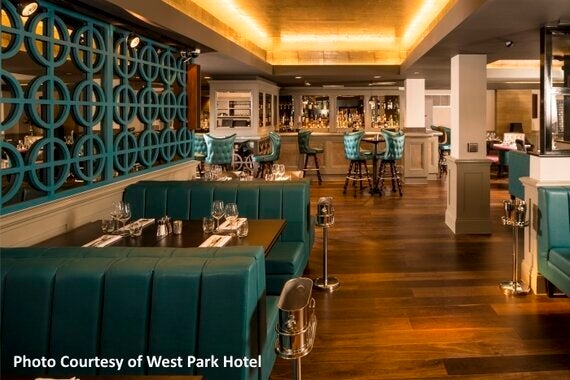 The mains ranged from simple things like burgers and steaks through to classier options such as honey and fennel glazed chicken breast or a charcoal-baked sea bass. We can never resist venison, though, and the seared venison loin with wild mushrooms, an unusual and yummy caramelised beetroot, crushed celeriac and a blackberry jus was an intriguing mix of unexpected flavours showing quality ingredients and perfectly tender venison.
There was no room for desserts but of course we had them anyway, my wife declaring her Bakewell tart the best she'd ever had, while my own sticky toffee pudding with Harrogate fudge sauce and vanilla bean custard may have been a familiar pudding option but was way above the quality you'd expect from a hotel restaurant.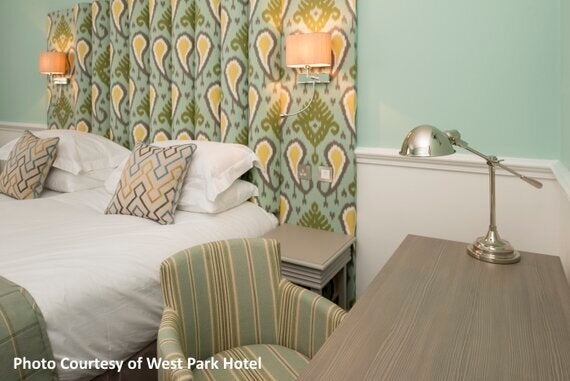 So, Harrogate a sedate and snooty spa town? Think again. Think classy cocktails and cuisine, and a cool new boutique hotel.