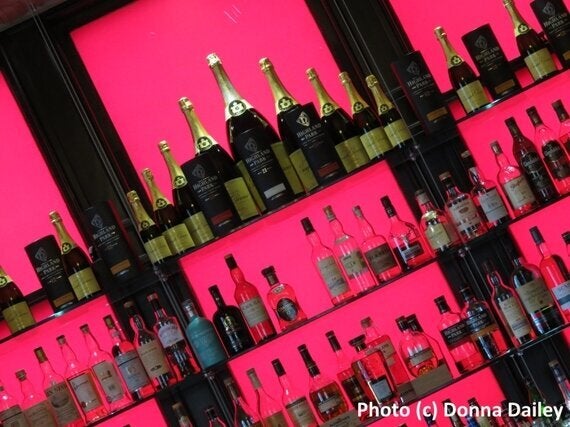 To be honest, we weren't looking forward to the Dunstane, a boutique hotel in Edinburgh. We hadn't stayed there before, but being up in Edinburgh for the wonderful Storytelling Festival we'd spent three nights in the city centre and had got used to walking everywhere. The Dunstane was - OMG! - all the way out in Haymarket, a bus ride away! How would we cope?
To make matters worse, we would have to check out of our previous hotel on Sunday morning to move our car and then throw ourselves on the mercy of the Dunstane long before it was officially time to check-in. It was raining, and Edinburgh's one-way system seemed reluctant to let us go. It was only as we drove along Albyn Place for the third time in the pouring rain that my wife spotted the right-hand lane we needed to be in to escape the clutches of the city. It was therefore a fraught and bedraggled pair who turned up at the Dunstane seeking succour.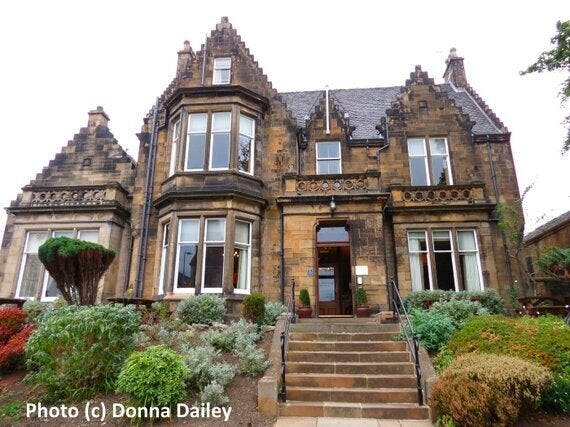 And succour we received. Our room wasn't quite ready but if we cared to sit in the lounge and have a cup of coffee while reading the Sunday papers, they'd concentrate on getting it ready for us. It's amazing how relaxing it was, when we'd been racing round the city from event to event.
Which, pretty soon, we would be again, but not before we admired our amazing room, complete with a four-poster bed. Ours was just a regular room, nothing special, and we saw some of the rooms at the front of the hotel also boasted four-posters when we caught a glimpse inside. We also appreciated the fact that there were two easy chairs, not the one that many hotels provide which have you arguing over who gets to sit in it. There was also a good-sized table to work at, and classy period-style furniture in this Victorian town house that has been converted to combine a classic feel with a contemporary style.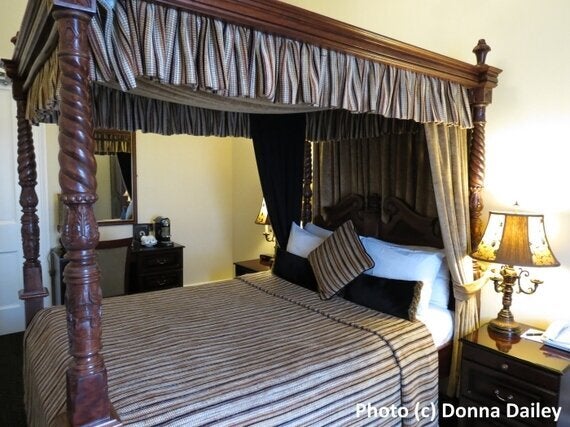 But what about getting into the city? In truth it couldn't have been easier. There was a bus stop almost outside, and regular buses going to Princes Street and elsewhere in the city. We bought a day pass when we boarded, and that was that. One day we caught the number 31 and it took us all the way to the south of the city where we'd arranged a tour of the Pickering's Gin Distillery.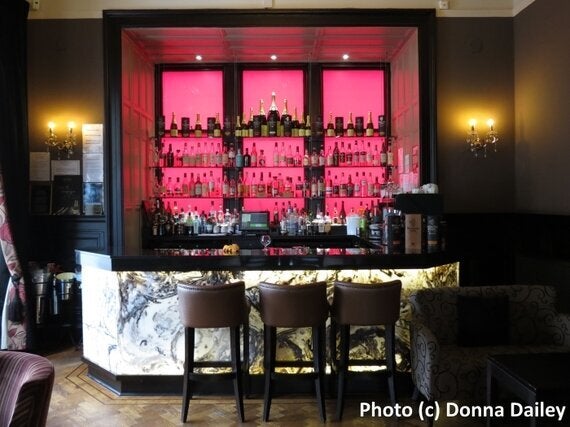 There was no shortage of Scottish gins in the Dunstane's cool Stane Bar, either, though they specialise in whiskies with over 70 on the list. These included both Highland Park and Scapa whiskies from Orkney. The hotel's owners are from Orkney and the corridor leading to the bar is lined with fascinating historical photos of the island, and we enjoyed Orkney produce in the hotel's Skerries Restaurant which specialises in Orkney and other Scottish cuisine. Starters included Orkney seafood chowder and a deliciously different beetroot-cured pavé of Orkney salmon, with main courses such as Orkney crab risotto, slow-cooked belly of Ayrshire pork and Orkney rib-eye steak. Having recently sampled steak on Orkney itself, I knew just how tender and tasty it is, and it was worth discovering the Dunstane just to know about the Skerries Restaurant.
It was hard to leave the Dunstane in the end, but it was also easy to leave too. Turn right out of the hotel and in ten minutes you're on the Edinburgh Bypass, or at Edinburgh Airport. Meaning, of course, next time it'll be easy to find the Dunstane and let the bus deal with Edinburgh's traffic.
The Dunstane is in the Haymarket area, on the western edge of the city centre. It's a handy 10-minute walk from Murrayfield, if you're going to Edinburgh for the rugby, and a 10-minute bus ride to Princes Street and the heart of the city.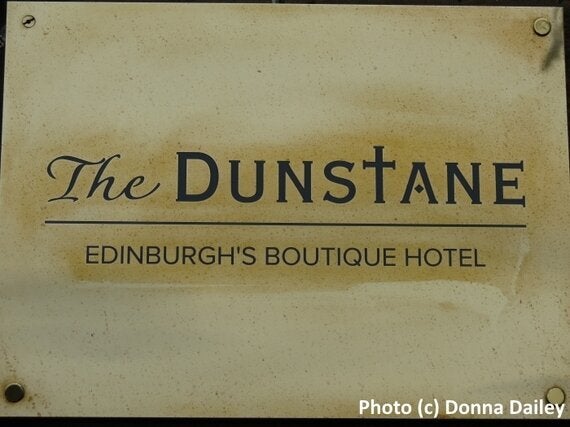 4 West Coates & 5 Hampton Terrace