'If there hadn't been an Elvis, there wouldn't have been the Beatles,' said John Lennon, and if there hadn't been the Beatles then life would have been infinitely more boring for me, growing up ten miles from Liverpool as a teenager in the 1960s.
Fast forward a few decades to the immigration queue at Chicago O'Hare Airport, where I'm transferring to a flight for my first (but not last) visit to Memphis. The cute young immigration officer checks my forms and notes the name and address of my first night's accommodation: Heartbreak Hotel on Elvis Presley Boulevard.
'Don't you go breaking any hearts now,' she tells me, handing me back my passport with a smile. I'd soon be walking in Memphis, going to Graceland in Memphis, Tennessee. For a music freak it's like going to heaven, heading for the Promised Land.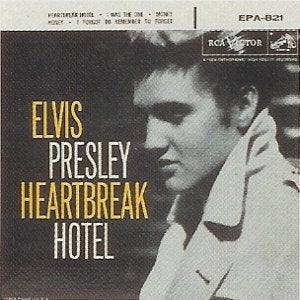 And after a night in Heartbreak Hotel, with its 24-hour Elvis movie channel, all I had to do was walk out the front door and book my tour of Graceland, which is right across the street. Tours are times and if you have to wait a while you won't have time to be bored. The surprisingly modest price also gets you access to the adjacent Elvis Presley Car Museum, a tour of Elvis's customised jets, and other changing exhibitions (new for 2013 is Elvis Live from Vegas.)
Elvis loved cars, and with his fame in the 1950s came the money to indulge himself. Here you can see the 1955 Cadillac Fleetwood that he had a neighbour spray-paint pink before Elvis gave the car to his mother, Gladys, despite the fact that she never had a driving license. Here too on display are Ferraris, Rolls-Royces, Mercedes-Banz cars, Harley-Davidsons, go-karts, dune buggies and just about every other form of transport Elvis ever used - right down to the John Deere tractor he used to drive on his Graceland estate.
Just along from here is another sign of the serious wealth that Elvis enjoyed - his two private jets. One is the Lisa Marie, named after his daughter, with its gold-plated seat belts, golden sinks, and other items added when Elvis paid $800,000 just to have it customised to his flamboyant style.
The real flamboyance is over the road at Graceland, however, where the tours are self-guided with headphones. You're encouraged to tour briskly, as this National Historic Landmark is one of the most-visited private homes in the USA, but there's no problem if you want to linger longer somewhere. This I did at the Jungle Room, with its indoor waterfall, and in the corridor where the scale of Elvis's fame really hits you. You turn a corner and there is the corridor, stretching forever with the walls either side just lined with platinum, gold and silver discs. It's a stunning sight.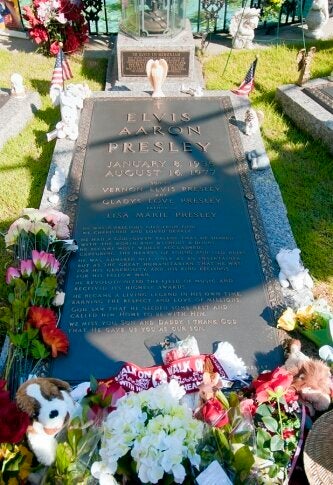 In contrast to the bling and kitsch of Elvis's taste in home decor is the simple grave (right) where he lies at the side of the house in the Meditation Garden. I'd never been a really big Elvis fan, and was more interested in the personal side of his life - how a shy and polite boy comes from a poor family in Tupelo, Mississippi, and turns into the world's biggest rock star. He didn't cope with fame and money very well, was easily manipulated by his manager, turned to prescription drugs, and died a bloated parody of the slim, teenage sex symbol he once was. It's a life and death that justifies the tears that took me by surprise as I stood in front of his grave, where he lies flanked by his father and mother, Vernon and Gladys.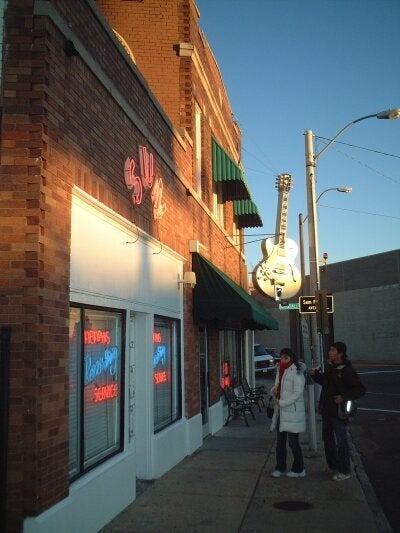 Eight miles north, in Central Memphis, is Sun Studio (left). It had been opened by record producer Sam Phillips in 1950, and in 1951 he recorded a song by Jackie Brenston and his Delta Cats, Rocket 88, which is regarded by many as being the first genuine rock 'n' roll record. The song's composer, a 19-year-old kid called Ike Turner, played keyboards on the record.
Two years later an even younger boy, the 18-year-old Elvis Presley, just out of high school, walked into the studio and asked to use their recording service to cut a record as a present for his mother. Given that the family was too poor to own a record player, it's more likely that the shy Elvis was hoping to be discovered. He was, though not overnight. Sam Phillips had been telling his secretary that if he could find a white singer who could sing black music, he would make a billion dollars. He did. Elvis Presley. But it was Presley who made most of the money when a bigger label, RCA, bought out his contract from the small Sun Records label.
Just how small is clear when you tour the studio, which is like touring a shoebox. There's the office where Phillips's secretary sat, the room where Phillips did the recording, and the surprisingly small recording studio itself. It's a jaw-dropping moment when the tour guide points to a microphone and explains that's the very same one that Elvis used when he recorded his first five singles. A dint in the floor was caused by Jerry Lee Lewis's thumping piano playing.
It was only in 1956, though, that Elvis had his first huge nationwide hit, after RCA Records had made Sam Phillips an offer he couldn't refuse, and bought out Elvis's contract. The record was Elvis's first to sell a million copies, and it made John Lennon's hair stand on end when he first heard it on the radio in Liverpool. 'This is it,' was his response. That one record also changed the lives of George Harrison and Keith Richards, they both later said, and it was called Heartbreak Hotel. Which is where we came in.
Fully-inclusive 9-day fly-drive holidays to Memphis are available from London, Manchester and Glasgow from £949 per person in August from America As You Like It. Other tour operators offering music tours of the Southern USA, taking in Memphis, include Key to America and Black Tomato.