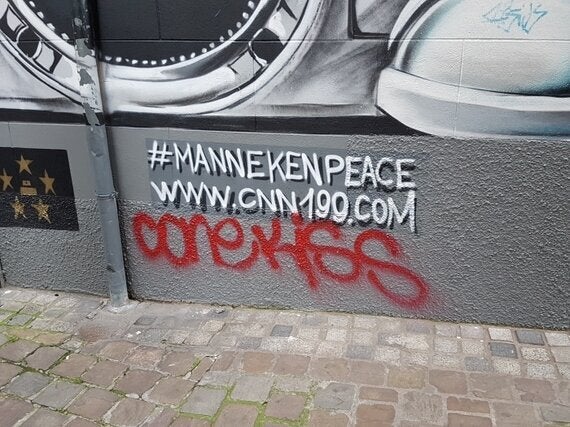 Every city has its emblem, which expresses something about the city itself. New York has the Statue of Liberty (the land of the free), and for London it's Big Ben (history). Paris has the Eiffel Tower (style) while Brussels... Brussels has a tiny statue of a little boy having a wee.
The Belgians have always had a quirky sense of humour. Think TinTin, think Magritte. And it is hard to imagine any other country taking to its heart a two-foot tall statue of a urinating boy. And there's a surprisingly big story behind the little man, which is what 'manneken' means. You can probably guess what 'pis' means.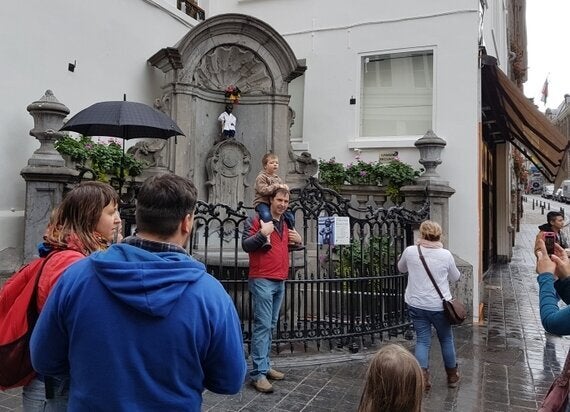 Unlike those other great monuments, you could walk right by the Manneken Pis and miss him, tucked away as he is on a busy street corner in a niche and behind some railings. You might, of course, hear the sound of running water as he permanently pees into a fountain basin, and more likely wonder why all those tourists are taking selfies.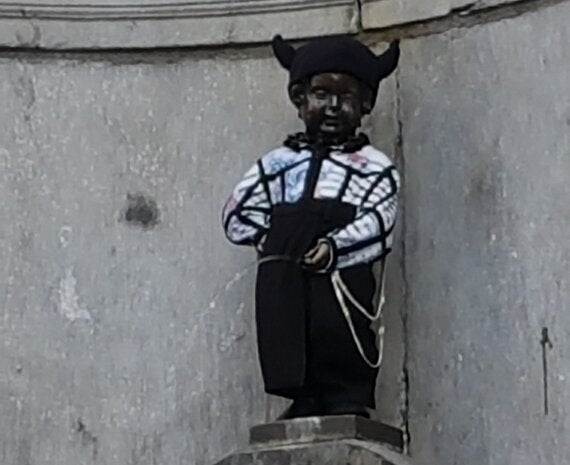 On certain days you might also wonder, as I did, why he is dressed up. I always assumed he was naked, but on the day I visited the little chap was weeing while wearing a costume designed by Jean Paul Gaultier. The striking black-and-white outfit with chains and devil's horns was to celebrate Brussels Fashion Month. They decided this year to dress up the world's most photographed male model in several of his more fashionable outfits, from the thousand or so he has available. It's that quirky sense of humour again.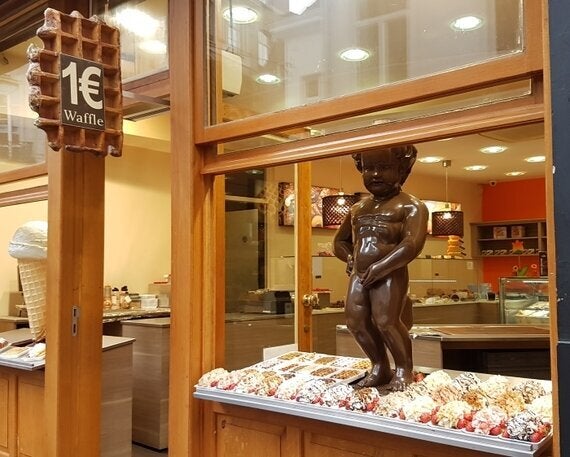 No-one really knows where Manneken Pis came from, although there's no shortage of stories. Historically accurate is the fact that this area of Brussels used to be where tanners practiced their trade, and liked to use urine to soften the leather. In Brussels they favoured the urine of small boys, and the statue might first have been put up to honour that fact.
Another story is that in a nearby house a witch used to live, and a young boy, and when he peed in the street he was petrified. Yet another legend involves the Spanish Hapsburgs. They put gunpowder barrels in City Hall, and a line of gunpowder along the street which they lit to blow up the barrels, but a little boy pissed on it and put it out.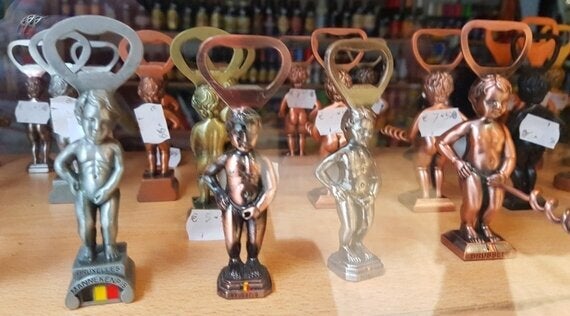 We know that the original statue was there in 1619, and this is now on display in the Brussels City Museum, but it's thought there was a statue here on this corner (rue du Chêne and rue de l`Etuve) for at least 150 years before that. A lot of water has clearly passed under the bridge since then, and the statue has been stolen several times, which is why those railings are now in place.
One man with a key to the lock on the railings is the official dresser to Manneken Pis. This important role was created by an act passed in 1756, and the civil servant job still exists today. It's an important and tricky task, perched on a stepladder in all weathers and manoeuvring the costumes off and onto the statue. The little boy's feet are attached to the base, with one arm attached to his side and the other to his, well, his little willie. There's also a hole in his back where the water comes in.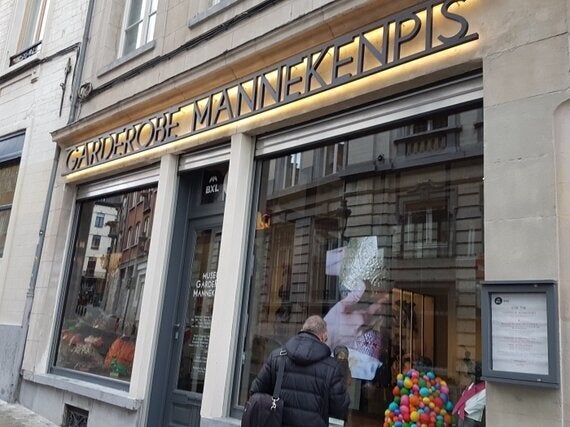 Anyone providing a costume for the Manneken Pis is given a template to work from, allowing for these very specific requirements. It's an amusing thought that someone in Jean Paul Gaultier's HQ, possibly even the great man himself, pondered over the design problems.
All this and more you can discover in a new museum, which opened in February 2017 just up the street from the statue, on rue du Chêne. Here they display about 150 of the Manneken Pis costumes, as a helpful guide explains.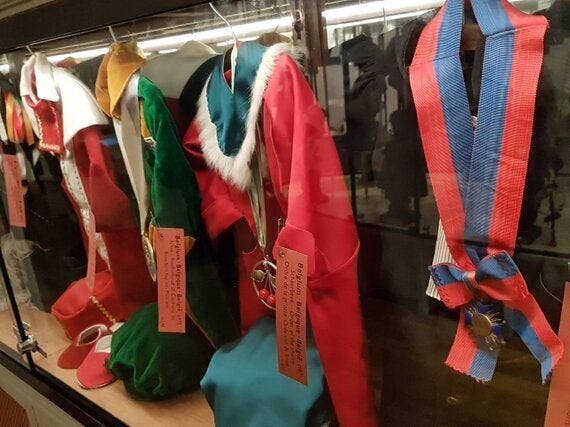 'He is dressed for about 130 days a year,' the guide says, 'but this is slowly increasing as we get more costumes. The tradition of giving costumes started in the early 17th century, about the same time as the oldest-known statue was there. He gets about 25 new costumes every year.'
The oldest costume is too fragile to be put on display, though you can see a copy. It was given by Louis XV.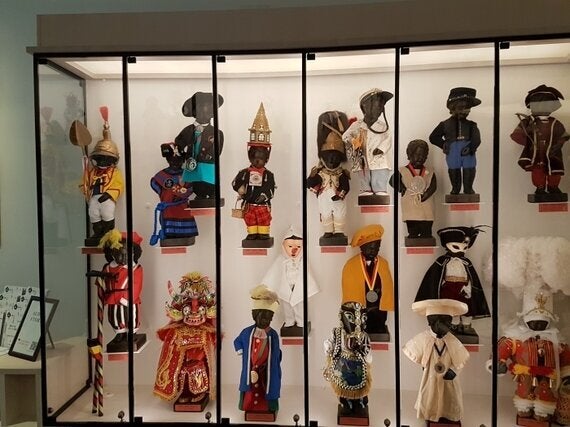 'In 1747,' the museum guide says, 'some French soldiers took the statue to have a walk in the streets. The King of France gave a costume in order to apologise for the actions of the soldiers. He also made the Manneken Pis a member of the Order of St Louis, which was a great honour in France. Because of that, from then on French soldiers had to salute the statue when they passed by.'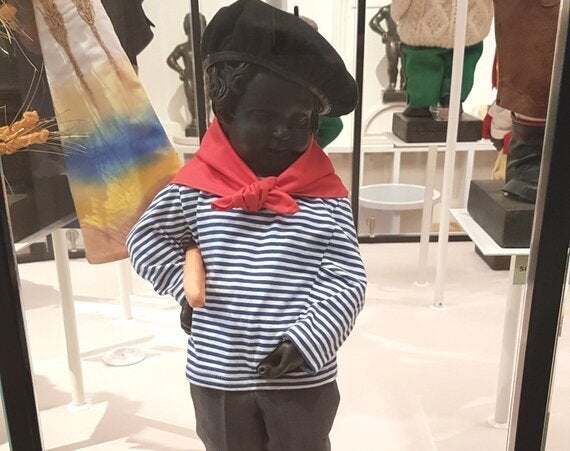 In more recent times the statue has received a costume from Elvis ('We call him Elvis Peesley,' says our guide), and from Barack Obama.
'This was given in 2010 after Obama had become President and it had his slogan 'Yes We Can!' on his hat but in November 2016 after Trump won the election they asked us to remove his hat.'
Thankfully they weren't asked to replace it with a 'Make America Great Again' baseball cap.