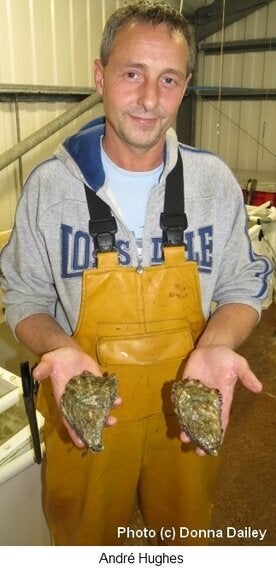 'I think oysters are at their best when they're nice and small, about 65-70gms,' says André Hughes, and he should know. André is the grandly-titled Despatch and Depuration Supervisor in Aquaculture at Loch Fyne Oysters, on the shores of Loch Fyne, a sea loch in Argyll and Bute in western Scotland.
André not only oversees the purification of about 20-30,000 oysters a week, he is also half of the despatch team. From a small table in the corner of the oystery, which is occasionally open to visitors (see below), André and just one colleague clean, check, pack and despatch the bulk of those oysters to over 40 Loch Fyne restaurants and other outlets all over the world.
'Yes,' says André, 'all the packing here is done by me and one other guy. Before packing them we always tap two oysters together. They should sound like stones, and be heavy, as they're full of water. If they can't hold the water in then they're not healthy. My dream is to have a machine that does this for me as that's a lot of oysters to tap every week!'
Loch Fyne oysters have a shelf life of 9 days, excluding the time spent refrigerated, and modern transport means they can be on the other side of the world in 1-2 days. André ships oysters to places including Hong Kong, Singapore and South Africa, though of course many just make the shorter 2-mile journey from the oystery on the southern shore to the original Loch Fyne Restaurant and Oyster Bar at the north-eastern tip of the loch.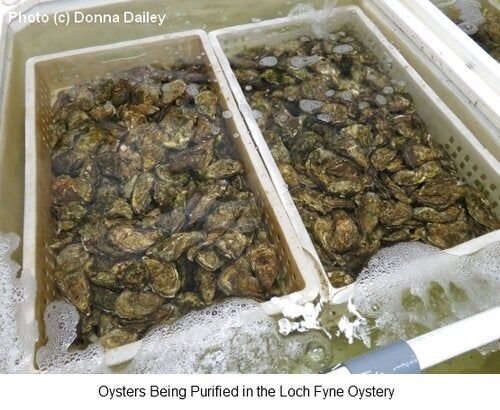 But what makes Loch Fyne oysters so desirable? In part it's the pure nature of Loch Fyne itself, which for 95% of the time is of Class A purity, the purity being measured by the local Health Authority once a week. Even so, the oystery puts the oysters through the purification process anyway, which takes about 42 hours. At any one time there are something like 40,000 oysters contained in 40 tanks.
Although Loch Fyne oysters are now known all over the world, the company was only started in 1978 and the oysters aren't native to the loch, though clearly they thrive here.
'The oysters here are Pacific oysters,' André explains. 'They always will be, wherever you buy. Our waters don't achieve high-enough temperatures for the Pacific oysters to breed, so we buy them from a hatchery when they're about the size of your fingernail. Our native oysters take twice as long to grow so they're not as commercially viable. They're very nice oysters, they're a bit meatier than the Pacific, which have a more delicate taste. But you'll pay twice as much for a native oyster because they do take twice the time to grow.'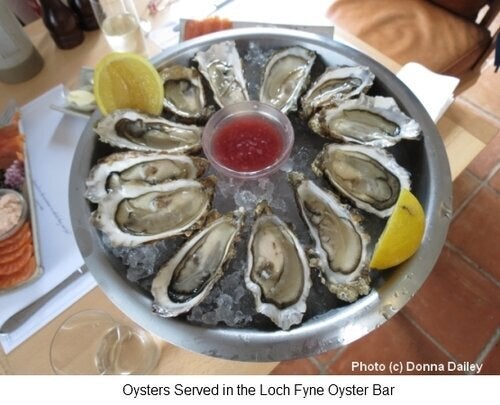 After so much talk about oysters, and advice from someone who is clearly passionate about his job, there's only one thing to do - head for the restaurant and sample a dozen of them. They're served with lemon, green tabasco, red tabasco, and a red wine and shallot salsa. We try each option in turn and although the salsa is a hit, we decide the oysters are so good they slip down best when au naturel. Oh, and with a glass of crisp Spanish Verdejo too. Who needs pearls when you've got oysters and a glass of wine?
The oystery itself is not normally open to the public but can be visited on their occasional Taste of Loch Fyne days. The next days are scheduled for 17th January, 21st February and 3rd October 2014.