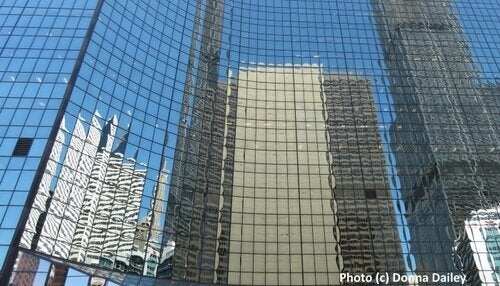 'Beyond the trolley bus you'll see a sign that says No Stopping No Standing. That's where we'll stop and stand.'
The guide on our architectural tour of Chicago's historic downtown, Cindy Schneider, has a way with words. Cindy is one of the 450 volunteer guides who work for the Chicago Architecture Foundation, several of whose city tours I've been on and which are a highlight of any visit to the Windy City. It's called the Windy City not because of its climate but because of its politicians - a fact I learned on the very first architectural tour I did.
Today we've signed up for 'Historic Downtown (North Loop): Treasures of Culture and Commerce'. It's an unwieldy title for a fun and fascinating 2-hour walk round downtown, enlivened by Cindy's sense of humour and sense of history. She pulls nuggets of information, including scandal and gossip (of which Chicago has more than its share), like rabbits from the hat of history.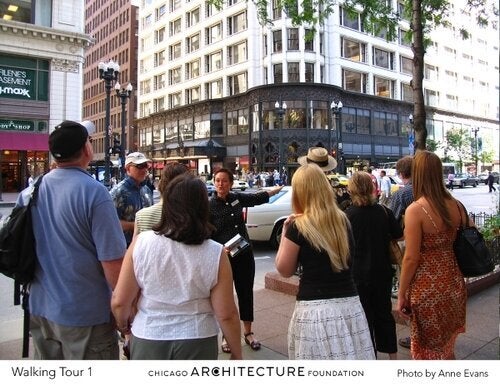 After meeting in the CAF's shop - a real treasure trove of gifts and souvenirs, by the way - our first stop is just across the street outside the city's hugely impressive Art Institute. Before we learn its secrets, Cindy explains to us the difference between the two basic building styles: masonry load-bearing construction and skeletal building construction. It was the use of metal frames on buildings that made skyscrapers possible. The first skyscrapers were built in Chicago, not New York, and it was only when Chicago's buildings failed to fall down that New York copied them.
'This is one of only two load-bearing buildings we'll see,' Cindy explains. 'This is in the Beaux-Arts style. It's like looking at a Greek or Roman temple. The sculptures either side of the columns are based on the Parthenon. What's important is that you have to know how to get into a public building. It also has to be symmetrical. It was designed to be the Art Institute but was first used for the World Colombian Exposition in 1892-3. In those days World Fairs were very important as it was the only chance most people had to come into contact with foreign people and cultures.'
Up the street on the other side of South Michigan Avenue is the University Club, built in 1907-9 and called the world's first Gothic skyscraper. 'This was designed in the Gothic style,' says Cindy, 'like many churches and colleges in Europe. It's more accurately called English Gothic. It was a men-only club and you needed a degree to join. It was for what we would now call networking. It has stained-glass windows, it has gargoyles, it has pinnacles like you would see on a Gothic cathedral. But on top of the building is an owl, not a cross, the owl being the symbol of wisdom.'
With a wise and savvy guide like Cindy, Chicago comes alive through its buildings and the people who designed and lived and worked in them. We learn about Montgomery Ward, the man who invented mail-order catalogues after years spent as a travelling salesman in the Midwest. According to Cindy, Montgomery Ward thought: 'Why don't I buy those goods myself and store them? I'll print out a few sheets of paper to show folks what I've got. Then I'll ship them so the folks don't have to come to Chicago to go shopping.'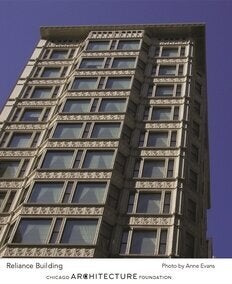 We learn about two more Chicago men who did want people to go shopping, and revolutionised the experience: Potter Palmer and Marshall Field. In 1852 Palmer opened a dry goods store on Lake Street. In those days it was men who did the shopping. Palmer wanted to encourage customers who had more time on their hands and more money. He wanted wealthy women to shop in his store. He encouraged them by opening a ladies' lounge. He greeted every new customer with a rose. He stopped the practice of haggling, which he knew women didn't like. And he introduced an unheard-of idea: if you didn't like what you bought you could return it.
When Marshall Field took over the store, one of his clerks suggested he extended the ladies' lounge into a lunch room. She cooked chicken pot pies at home and brought them in - and they're still on the menu. The store today is Macy's. Cindy takes us to the Estee Lauder counter and tells us to look up. Way above our heads is the most beautifully ornate Tiffany mosaic dome. It's like being in a cathedral of commerce.
We see the Reliance Building, built in the 1890s mostly from terracotta and glass and referred to by many architects as the first modern building. At the corner of Madison and State is a branch of the Target chain store. It's officially The Sullivan Center, built in 1899-1903 and designed by Louis Sullivan, regarded as the father of the skyscraper. We take a look at the Palace House Hotel, which has security doors designed by Tiffany. It's the kind of detail you could easily miss, hurrying by on the street.
With a final glimpse into the Georgian-style Symphony Center we're back at the CAF's store on South Michigan. We've been gone exactly two hours, and every minute was a delight.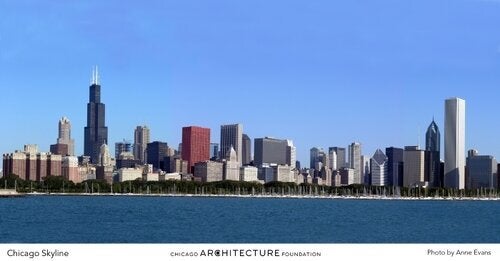 224 South Michigan Avenue, Chicago