This week's 'On the Street' is dedicated on more figurative works, that tackle the poetic, metaphorical and quite literal meaning of rising and falling in different nuance. Spaniard Borondo leads off with his newest wall of a man, fallen / hung in an upside down position.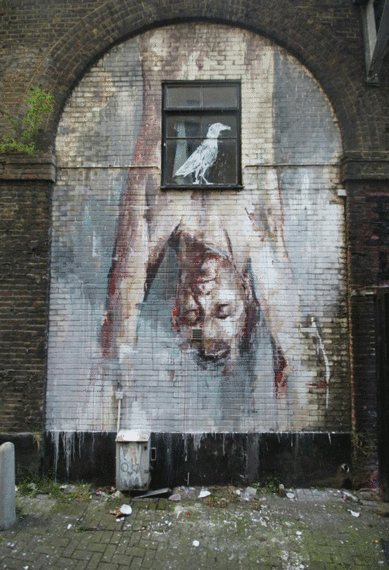 Image via monoprixx.
The new wall is painted in the artist's signature painterly style, unlike his last work (covered here).We are fascinated with Borondo's level of skills and expertise while using different surfaces and spaces as his canvases. The video below shows a glimpse of his glass- scratching technique, used in his Shoreditch piece. Take a look, it's beautiful.
Video by Fabiano Caputo
Other notable pieces come from Xabier in Villabona, Jetsonorama in Perth, Seth Globepainter and Kislow in Kiev, Sam3 in Villa Real, Fintan Magee in Sydney, Hyuro in Perth, Banksy -Cheltenham and Bristol and Escif in Valencia.
Spanish artist Xabier, who visually communicates through his vast array of techniques and subject matters, is now in the Basque Country, delivering this new mural- 'Eter'. The work, even though two-dimensional, looks very 3D. See for yourselves...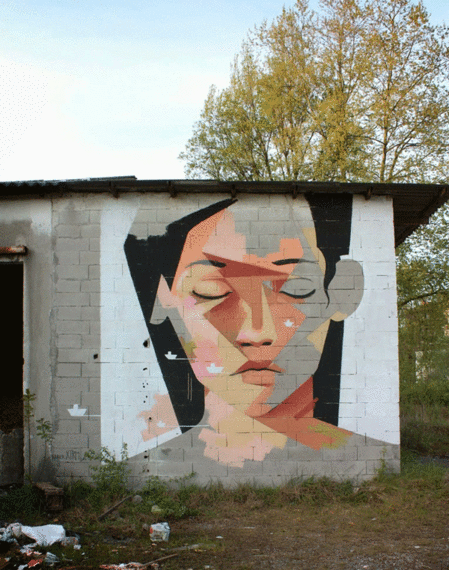 Image via the artist.
'Modern Family' - this is how street artist Jetsonorama portraits the notion of 'modern' in family, wheatpasted on the walls of Wolf Lane car park. We think they are beautiful and so important as they raise questions and try to facilitate understanding and growth.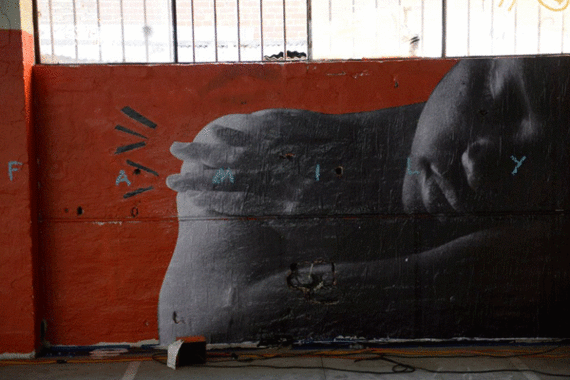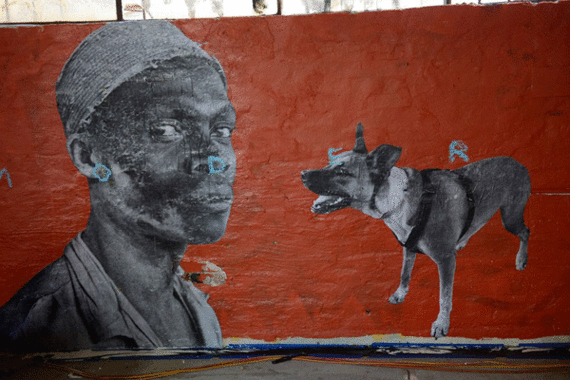 Images by David Dare Parker
In our previous 'On the Streets' review, we shown you a glimpse of Seth Globepainter and Kislow's collaborative work in Kiev, because we could not wait to share it. The mural is completed and it is glorious. Image via StreetArtNews.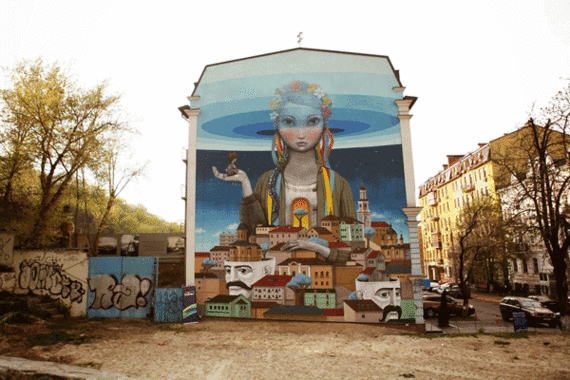 It has been a while since we saw any new streetworks from Sam3 and his new 'Voluntas' is rather inspiring. The mural, which name translates as 'The Will', features a signature figure in black, rising above the water depth. Image via the artist.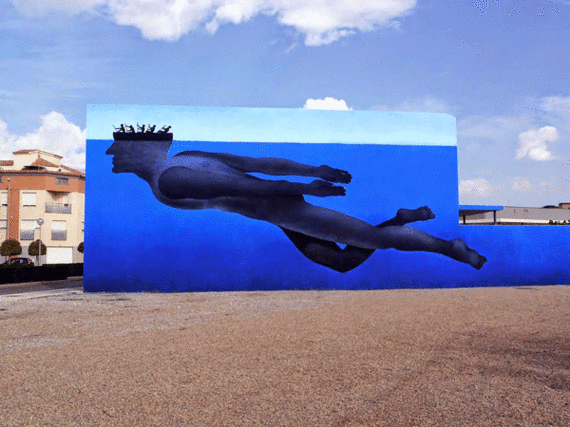 Australian artist Fintan Magee is in Sydney and his visit resulted in this impressive work, featuring a woman fighting off dark cloud. Image via StreetArtNews.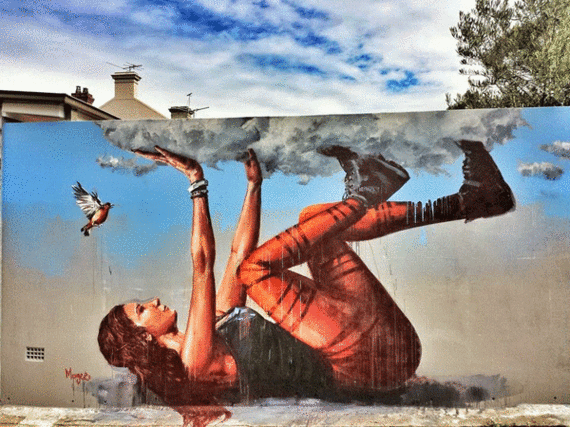 Hyuro took part in FORM's PUBLIC project in Perth and this large-scale wall is a true gift for the streets of the city. Falling at large never looked that good!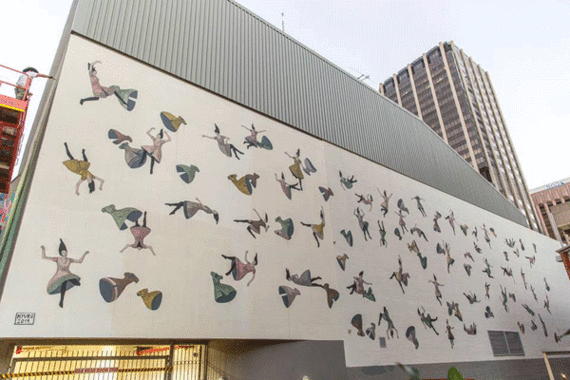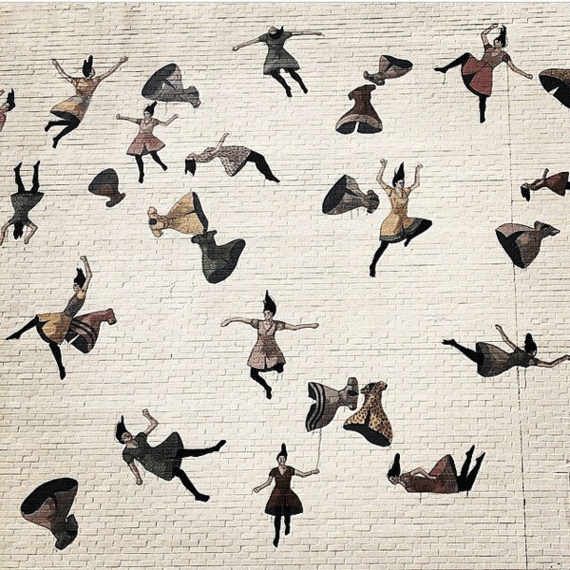 Images by FORM
We feel that there were enough comments, speculations and arguments around the two new Banksy pieces (Cheltenham and Bristol), therefore, we will leave the works below to speak for themselves for now. The message they send is loud and clear enough... Images via banksy.co.uk.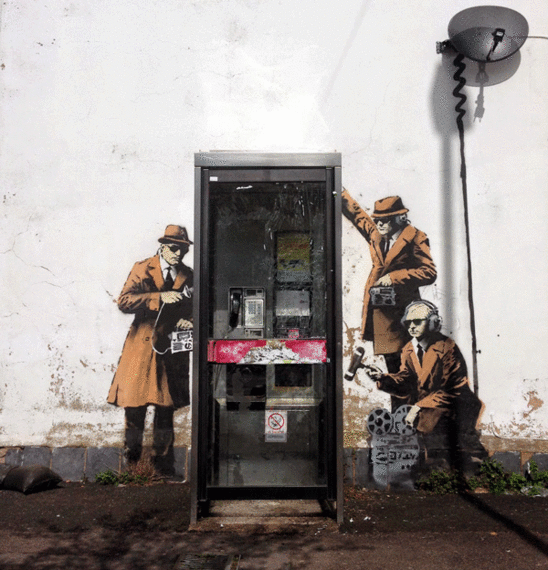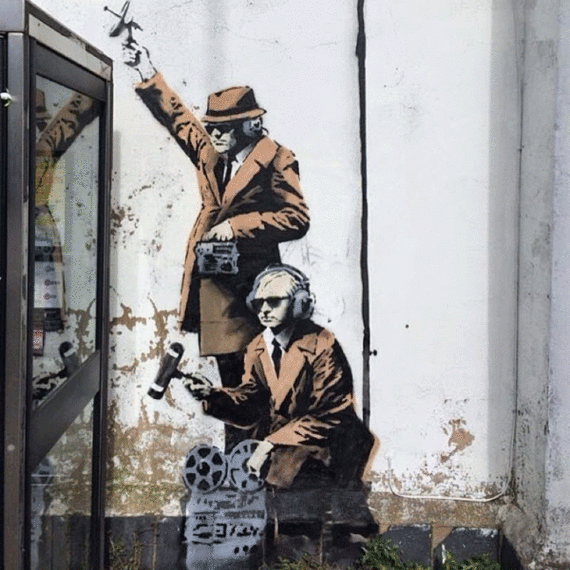 'Mobile Lovers', Bristol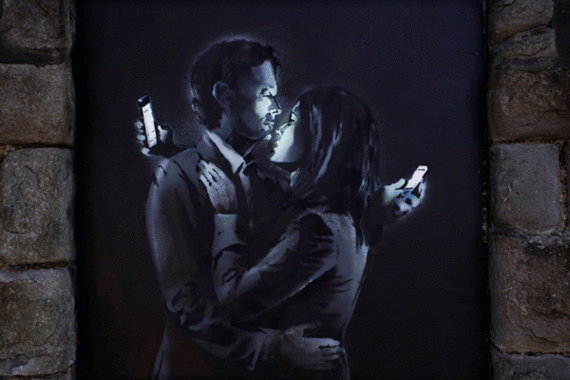 We finish off our review with Escif's clever depiction of Spain's current struggle for economic recovery, named simply 'Eclipse.' Image via the artist.