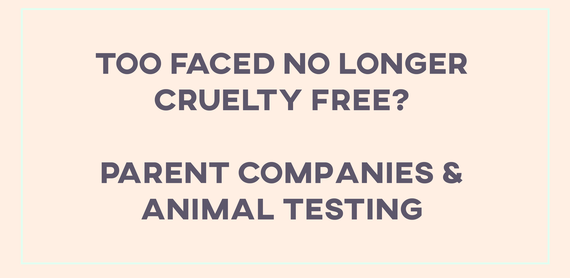 ARE TOO FACED CRUELTY FREE?
Too Faced have just been bought by Estee Lauder for around $1.45 billion. The brand has been a favourite of cruelty free consumers due to their high quality and cult cosmetics. Now that they have been bought by Estee Lauder there is controversy over whether they are still to be considered cruelty free.
Already, they have caused brand boycotts online in the cruelty free communities and the brand has since removed its Instagram posts, likely due to the mass 'feedback' from upset consumers.
The brand has always been confident and proud of their cruelty free status (note: not all products are vegan friendly - view my infographic on the difference between cruelty free and vegan products) as they do not test on animals, use ingredients tested on animals or sell in China. But they have entered the grey area by being owned by a parent company.
PARENT COMPANIES THAT TEST ON ANIMALS
Estee Lauder owns a large range of high end cosmetics companies, including its core Estee Lauder brand. As a company itself, it is not cruelty free and so animal testing is involved in their products. Through acquiring brands, they won't necessarily change the practices of that brand. If Too Faced doesn't test on animals, it doesn't mean that Estee Lauder will make them test. Too Faced has assured its consumers that it will remain this way. Despite this, money made through Too Faced purchases will go into the Estee Lauder brand, which helps to fund animal testing.
This means that by giving your money to Too Faced you are creating profit for a company that tests on animals indirectly. BUT the question is, where do we draw the line? If you buy vegan food from a supermarket you are creating profit for them and therefore funding their production of meat and dairy.
Supporting brands owned by parent companies that test on animals will ultimately come down to personal opinion and not from cruelty free labelling. They may still be considered cruelty free by practice, but consumers may choose not to have their money going towards a company that tests on animals.
Another argument is that by spending your money only on the 'cruelty free' brands, parent companies will acknowledge the shift in consumer purchasing and see the popularity of cruelty free brands. This may encourage the parent companies to move in a non-animal testing direction. If these parent companies are so motivated by money then perhaps this will show them what they need to do as people become more conscious of the ethics behind their products.
If you are unsure where you stand with parent companies or straight up want to boycott Too Faced, there are plenty more brands of similar to equal quality! I shall be following up this article with alternative cult favourites from non parent owned companies. Please follow on Facebook for updates.