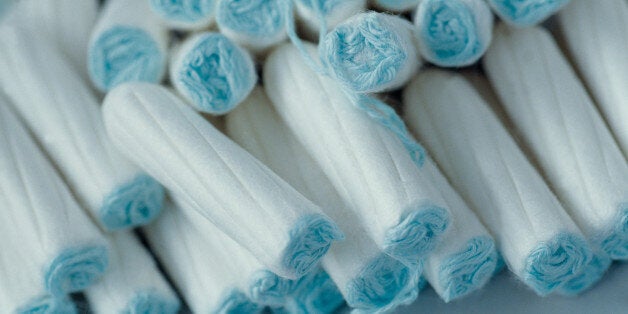 Having your period is a regular part of life for half the population, yet you would never know that from how the subject is discussed. It's discussed in whispers, with young girls often taken aside for their education on the matter, as if it is something to be ashamed of.
Fortunately, that is beginning to change in Scotland. We have had an open discussion in the Scottish Parliament and in the media about the need for change. And there are now a wide range of charities and campaigners backing my proposal, which would end period poverty in Scotland.
Periods do affect people differently but women, girls and trans people who experience menstruation, all have a common need for access to sanitary products.
If you are trying to survive on a low income, feeling the squeeze on your pay packet or have certain health conditions, talking about and managing your period isn't just awkward, it can be impossible and messy. That's why I've been using the platform I have as a Member of the Scottish Parliament to raise this issue since I was elected last year. Period poverty, which can lead to people not changing sanitary products frequently enough or improvising with rags, is both humiliating and unsafe.
That's why this week I've launched a consultation on a proposal for a Member's Bill to put a duty on Scottish Minister's to introduce a system of free universal access to sanitary products. I'm also proposing a duty on schools, colleges and universities to provide free sanitary products in their toilets.
The proposal has received the support of the largest teachers' trade union in Scotland and the Scottish Children's and Young People's Commissioner, as well as a host of charities and food banks who deal with the reality of period poverty on a daily basis.
There are many reasons organisations like the Educational Institute for Scotland have supported the plan to end period poverty. But most simple of all is that you just cannot have a world class education system if students are skipping class when they have their period. Pupils should be able to visit the toilet safe in the knowledge that sanitary products are freely available. In some schools, emergency sanitary products can be accessed from office staff. It's better than nothing, but it's hard to imagine pupils being expected to request toilet paper in this way.
In my own part of Scotland, South Lanarkshire College has recognised the impact on its students. The college has introduced free sanitary products in campus toilets as well as the option for extra supplies to be taken home from the college's Student Association. They have set an excellent example, and I hope the rest of the education sector follows suit.
Last summer, New York City became one of the first cities in the world to introduce free sanitary products in its schools, homeless shelters and prisons. Here in Scotland, only prisoners have the right to free sanitary products. If it possible to do this in the city of New York, it can be done in the country of Scotland.
When I quizzed the Scottish Government a year ago on what interest it was taking in the affordability and accessibility of sanitary products, Shona Robison, the SNP Health Secretary, confirmed there were no plans to examine this. For those struggling, the Scottish Health Secretary suggested that foodbanks may be able to help. That is unacceptable - those facing period poverty shouldn't have to rely on the ad-hoc kindness of strangers as a substitute for a state-funded safety net.
So in March, on International Women's Day, I announced I'd be introducing proposals for the right to access free sanitary products in Scotland.
In a breakthrough moment, I secured cross-party support to lead the first ever Member's debate on period poverty in the Scottish Parliament and I've taken every opportunity to press the Scottish Government to take action, including asking the First Minister directly. The Scottish Government recently announced a pilot-scheme to provide free sanitary products to people on low-income in Aberdeen, showing the pressure put on the government is bearing fruit, but further action is needed. While a select few in Aberdeen are being given assistance, there are still countless others continuing to suffer the indignity of period poverty.
That's why I am pressing on with my proposal. It has become commonplace in many parts of Scotland to have access to free condoms. If the NHS can offer a menu of free condoms, I don't see why sanitary protection needs can't be supported in a similar way.
In a welcome victory for campaigners, retailers like Tesco and Morrisons have announced they will pay the tampon tax, which considers tampons a 'luxury', so that customers don't have to. Now it's time for government to take responsibility too.
On the day of launching the period poverty consultation, experts, charities and people who have experienced period poverty first hand spoke out publicly in support of my proposal. From Members of the Scottish Youth Parliament, to volunteers who run food banks and the Scotland's Children and Young People's Commissioner, I believe we are building the broad base of support that means we can change the law in Scotland, and make period poverty history.
You can have your say on my proposed change in the law at periodpoverty.scot before 8 December 2017.
Monica Lennon is Labour MSP for Central Scotland
Related