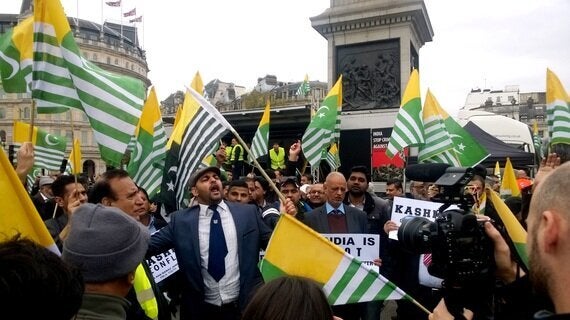 London's Trafalgar Square turned to a sea of green striped flags yesterday as 600 people took part in the "Million March", supporting independence for Kashmir.
Protesters marched from Nelson's Column to 10 Downing Street in an effort to raise awareness for the Kashmiri people who live under India's military rule. Banners read, "India Stop Crime Against Humanity" and "Kashmir Seeks Attention".
Several people were spattered with fake blood and tied in chains while their companions held signs reading, "India Stop State Terror in Kashmir".
In 1947 Kashmir was given its independence from Britain and the region was split between India and Pakistan. It has been an area of contention between the two countries ever since, causing several wars to break out.
Protester Shuja Butt from Putney said, "The people here want Kashmir to join Pakistan but if India doesn't want that, they will not be given independence. The Indian army are killing people in Kashmir - it's unbelievable. But you don't see it on TV because India is a huge economy and a global power. So it's all hush hush."
Mohammed Gulfam, a trustee of the Islamic Centre in Edgware, cited the recent Scottish referendum as inspiration for the march. He said, "The Kashmiri people want to decide whether they will be part of India or Pakistan. Under Indian occupation the Kashmiris have no freedom. There are people who have been kidnapped and taken away without trial."
The crowd chanted for freedom before speeches were made in English and Urdu.
However when Bilawal Bhutto Zardari, chairman of the Pakistan People's Party, addressed the crowd, he was met with shouts of "Go Bilawal Go". Demonstrators booed and threw water bottles at him until the London Metropolitan police escorted him from the stage.
The young politician, who has been vocal about wanting Kashmir to become a part of Pakistan, was criticised on Twitter for using the event to gain political mileage.
Many protesters were also angry about the role played by the UN in Kashmir. The United Nation's Military Observer Group in India and Pakistan (UNMOGIP) has been observing the ceasefire agreement between India and Pakistan since 1949.
However Gul Muwaz Khan, a councillor for the Reading Labour Party said, "The UN use their force to get behind Libya and Iraq but when it comes to the Kashmiri's who are suffering they haven't done anything. They're scared of India and they and they think they can't afford to offend them."
Last week, Sushma Swaraj, India's External Affairs Minister (EAM), met with Deputy Prime Minister Nick Clegg to object to the event. However Clegg insisted that the Million March could not be stopped according to British free speech laws.