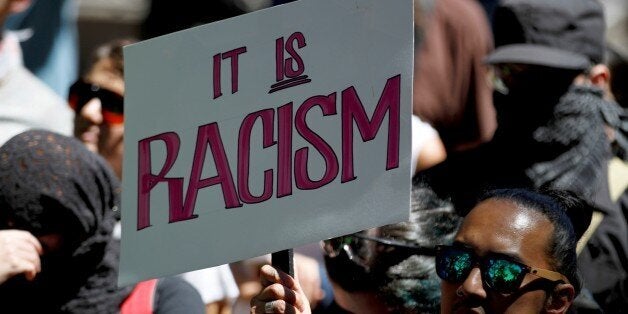 Britain has worked hard to enjoy better community relations compared to many fellow European countries, but sadly its Muslim citizens still suffer significantly from the notoriety of sensational media headlines about their community. The British media is partly responsible for the rise in Islamophobia in Britain, argued a Muslim leader recently and a quick review over the years confirms this sad reality.
The post-7/7 scrutiny of Muslims is complex and many, including sections in the Muslim community, are responsible for the unhealthy situation. But there is no denying the fact that some right wing news editors and politicians have directly contributed towards the so-called "Muslim Problem" in the country.
Trust in the community nosedives and ill-feelings jump every time a terrorist act or news of vile criminality by someone from the Muslim community becomes public. Sadly, similar acts by people from other communities are not 'racialised' or 'ethnicised' in the same way. This unfair treatment exacerbates prejudice and discrimination against ordinary Muslims; this is also dangerous for the cohesion of the society.
The recent saga of the Christian girl who was placed with Muslim foster carers has seen just one of many non-stop lurid headlines from a national broadsheet.
Whether the purpose is to "stoke fears of Muslims" in the wider society is debatable, but they weaken Muslim confidence in civic engagement. Tower Hamlets Council, at the heart of this foster care issue, protested at the 'inaccurate' media reports and a family court judge has ruled that there were no concerns about the welfare of a "Christian girl said to have been fostered by a Muslim family".
The cruel murder of fusilier Lee Rigby in 2013 gave rise to a spate of negative media news about Muslims; this has continued unabated. The most damaging saga was the so-called 'trojan horse' scandal, an alleged conspiracy or to 'Islamise' some Birmingham state schools in 2014. The unhealthy debate that it created put Muslim participation in state education into question, thanks to the ideological stand taken by the then Education Secretary Michael Gove. MPs in 2015 criticised a "worrying lack of coordination" between five overlapping official inquiries into the scandal, and cases against five senior teachers accused of professional misconduct were dropped in May 2017. But the scandal is still used by the Tory government to undermine the Muslim community.
For the already media-ostracised Muslims each wave of headlines brings more pressure and while sensible British people do not always buy into the rhetoric, the community is left reeling. In an age of divisive politics, cheap headlines are often swallowed by many; some self-righteous people feel a moral superiority by demonising the "others". There may be a feel-good factor in the short term, but the social cracks that they create have a long term effect on community relations.
A recent damning report Fear And Hope 2017 by the charity Hope not Hate has found that while England is becoming more open and tolerant, public attitudes towards Muslims and Islam have worsened. More than half of all respondents believe "the religion poses a threat to the West." This does not bode well for a pluralist Britain.
However, pessimism does not solve any problem. Britain has come a long way and majority of Britons including Muslims come together after each atrocity or calamity in any part of the country. An increasing number of morally upright mainstream journalists and many on social media are coming forward to challenge the ill-treatments of the minority communities in our midst.
Britain's vibrant civil society is also a strong pillar for the fight against bigotry and injustice. It is because of this sense of urgency that the premier citizens organising body, the Citizens UK, formed a Commission in September 2015 on Islam, Participation & Public Life with an independent group of influential leaders to help create a better space for Muslims in the public domain. It launched its report, The Missing Muslims - Unlocking British Muslim Potential for the Benefit of All, on 3rd July 2017 with a series of recommendations "to be actioned by community and faith institutions themselves, as well as a call on business to play its part, and some key areas for action by the Government".
However, the most effective challenge against outrageous media headlines should come from the Muslim community itself, particularly from its younger generation. At the heart of media bias is ignorance, a fear of others and, to some extent, lack of cultural and religious literacy. The community must multiply its efforts and improve upon its meagre 0.4% presence in mainstream journalism (compared with their population of 4.8%) with effective resource mobilisation plans. A community that has a higher proportion of charity workers and health professionals can definitely produce more journalists and politicians.
Muslim parents, particularly Asian, should encourage their children to choose from a wide range of careers such as social sciences, creative arts, sports and science subjects. Children who have natural interest in media and politics should be enthused to choose these career options to serve their community and the wider society.
The community needs to build its socio-economic infrastructure through better education and citizens organising as well as through broad-based civic engagement and bridge building with others. Well-resourced Muslim institutions should monitor the media bias against the community and also help the wider society in media literacy. Despite being late to start, it is positive to see this happening in recent years but the community needs to build on this momentum exponentially.
In this timely season of pilgrimage (Hajj) and the Festival of Sacrifice (Eid-ul-Adha), Muslims are reminded of the patience, fortitude and sacrifice of patriarch Abraham (Arabic: Ibrahim). These lessons are critical for them to gracefully endure the smears that have been and will continue to be thrown. However, no community can sustain their progress under a constant media onslaught and it is vital that they persistently challenge the bias with utmost efficiency and diligence. It is time they stand up and be counted!