It was foggy and busy in the commercial quarter of Bratislava after sunrise on Wednesday. We were walking down streets full of shops, restaurants, and people, searching for the forgotten mosque in Slovakia. It was not a simple task to do. It took us nearly two hours to situate the nondescript fawn building along the Obchodná street in the medium-class business district of Bratislava.
In the beginning, we planned to follow the GPS on our phone, which showed that the mosque was situated beside Prima Banka building. However, that appeared not to be the case. We figured we needed to ask around. We hence decided to ask a number of passersby along the Obchodná street. Many of them had no idea where the mosque was, some looked at us weirdly because perhaps that question is not a common question there, and others did not know that if it even exists. "Is there a mosque here? I don't think so," asked a middle-aged man to his friend. We figured we had to refer to the mosque as Mešita (Slovakian word for mosque). Yet, people seem to believe that there is no mosque in the city.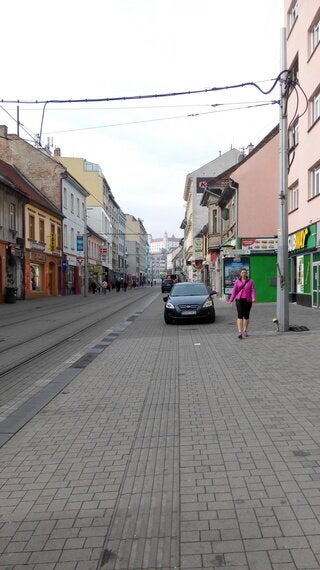 We decided to continue walking along the street until we reached at a small traditional market. At first, some shopkeepers there did not understand what we were searching for. But an old man told us that there is one mosque located behind a bar. We did not believe it. It is highly unlikely for a mosque to be situated close to what Muslims consider as an immoral place. Nevertheless, we decided to follow what the old man said.
As it turns out, the mosque, written as Kultúrne Centrum Córdoba (Islamic Center of Cordoba), is located down the Obchodná street and in between a book store and a gift shop. For many, it may be very difficult to recognise a building as a mosque as it has no sign or mark to identify as one. It is true that there is a bar written in the gate of the building. We decided to enter the building and we found a long corridor with no sign of mosque at all. What we found were a wine shop and a tattoo studio. This even strengthened our doubt that the mosque was located here. However, as we walked along towards the end of the corridor, we believed to have found the right place after finding an Arabic sign reads "the entrance is in the next door.''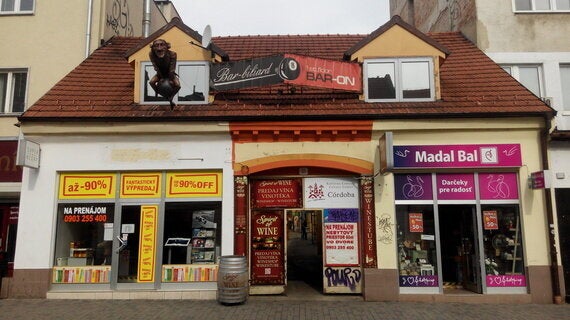 The mosque is not very big, but it is enough to hold congregation prayers of about 30 to 40 people. There is a wooden podium that is used for Friday sermons, but there is no decoration with elaborated patterns as found in common mosques. The mosque's floor is furnished with a red carpet and there is an Asmaul Husna (99 names of God) written on the black cloth hung on one of the walls. On the right side, we can find a number of Korans neatly arranged on a steel shelf.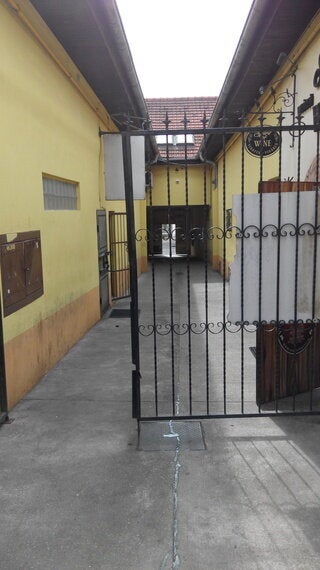 According to one man who works in the wine shop next to the mosque, the building has been there for a long time. The door is often closed and it is rarely visited. But he said that a large number of people come every Friday.
The Slovak Spectator reported that the centre's activities include regular prayers, exhibitions, and educational courses on Islam.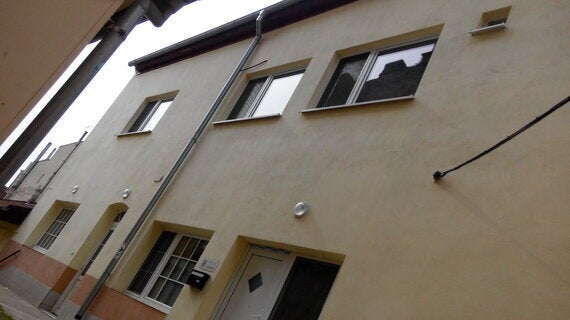 Although lack of publicity, Islam has relatively a long history in Slovakia. It was reported that Muslims had lived in Slovakia for a long time. According to some sources during the 17th century, a small part of the country was ruled by the Ottomans. Nonetheless, things shifted after the Turks lost the Battle of Vienna.
It is not easy to find out or even estimate the exact number of Muslims residing in Slovakia. According to 2010's report by Pew Research Center, there were close to 11,000 Muslims in the country, constituting about 0.2 of the total population. It is believed that the number has increased in recent years. But until today, Islam is still not registered by the state as a recognised religion in the country. The Muslims here constitute of both foreign and domestic communities. Many arrived from the former Czechoslovakia as students, and decided to stay on and now working here.
It is reported that the general opinion of Islam and Muslims in Slovakia are predominantly negative. Most of the people whom we talked to believed that the main reason for an unpleasant image of Islam in the country is a lack of knowledge and the commonly biased impression of Islam in the media.
Slovakia is the only European state without an official mosque. The Kultúrne Centrum Córdoba has tried to attain an official permit from the government, but had its proposal rejected.
The existence of a small mosque in the heart of Bratislava demonstrates that Muslims have long been part of the country and will continue to be an important segment of the Slovakian society. Hence, it is more than clear now that the absence of a single mosque recognised by the state should be of particular concern to the government of Slovakia. This is because a mosque with its all religious activities not only serves as a place of worship for Muslims, but it can also be a central point to seek information about Islam for the society in general.
This piece is co-authored with Muhammad Beni Saputra, a postgraduate student at the University of Manchester.
Related