One of the best parts of my job is meeting and hearing about the thousands of small businesses around the country who are going from strength to strength using our marketplace.
Believe it or not, becoming a successful small business on eBay isn't just the preserve of digital experts. In fact, some of our biggest success stories are small businesses who began as purely bricks and mortar enterprises, before they saw the potential of going online.
One such example is Bristol-based Bookbarn International, which specialises in second-hand and antiquarian books. The company launched as a physical book store back in 2000, but in 2008 started selling on a website and through eBay as well. Today, it has an annual turnover of £1.2m, with up to 85 per cent of this coming from its online business alone.
Director William Pryor, captures both the challenge and the opportunity so many small businesses face:
"Taking the business online seemed slightly daunting at first, due to the large volume of books we needed to create listings for. But the speed and volume of sales we started seeing straightaway quickly made it all worth it. We now have buyers in territories as far away as India, China and Japan who we simply would not be able to do business with if we weren't online."
Bookbarn still has its high street presence, with its café for local people to visit as a destination. But they've now developed a new, profitable part of the business. The potential audience for William's business is no longer just Bristol, but the entire globe.
For me William's story encapsulates the opportunity for businesses who haven't made the digital leap just yet, but there is also a huge opportunity for the UK as a whole. Research we've commissioned reveals that small businesses in Britain without key digital infrastructure - like a website, social media channels or a presence on an online marketplace - are missing out on £20.2 billion in revenue each and every year.
Worryingly, over half (57 per cent) of those we spoke to as part of our research, without even a website said they had no plans to change this in 2017, citing a lack of time and expertise to be able to develop it.
Last week a campaign launched - Do it Digital 2017 - which aims to put that right. It will share, signpost and celebrate all things that help small businesses get more out of digital, whatever their current level of skill and engagement may be. It aims to reach 1 million small businesses this year.
As part of our pledge to support Do it Digital (alongside Digital Minister Matt Hancock MP, pictured below), we are launching eBay for Business. This is our initiative to help British SMBs get online in 2017.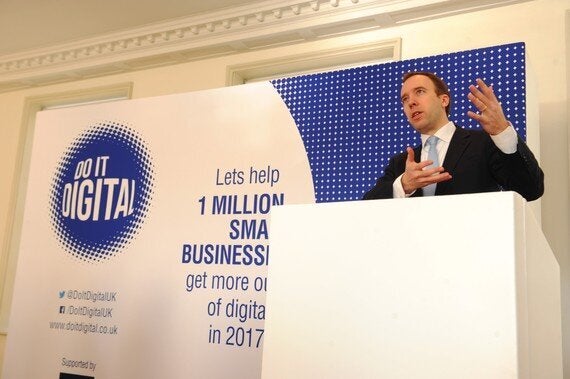 Photo Credit: Simon Jacobs
If small businesses bridged the digital gap we've identified it would equate to an average of £20,000 in increased revenue or efficiency savings per business every year, across all sectors from retail to manufacturing. Quite the prize, and one which shows just how important the work of the Do It Digital campaign is. Let's make 2017 the year to get online.
To prove just how simple it is to make the digital leap, here are my five tips for getting online:
Don't be afraid! While entering the online world may seem like a big step, there is plenty of help out there - from small business networks and the fantastic resources on the Do It Digital website, to younger employees or relatives who are more digitally savvy, willing to help you get started.
Use social media for free marketing. Social media is the perfect place for online marketing on a budget. Post pictures to spread the story and character of your businesses - people buy people after all. Theme this around seasonal calendar moments, especially if your product focus changes through the year.
Use big data. Use free analytical tools to review website traffic and social media reach. This will help you identify what is working well for you, and also what you may need to do differently.
Mobile is key. If and when it's right for you to set up a website, remember to make sure it is mobile compatible, as this will help you capitalise on the huge market of people shopping and searching on their phones.
Save money by starting up on an online marketplace. You don't need an expensive website to sell online. Set yourself up on an online marketplace like eBay to partner with on an established brand with millions of numbers of shoppers around the world.