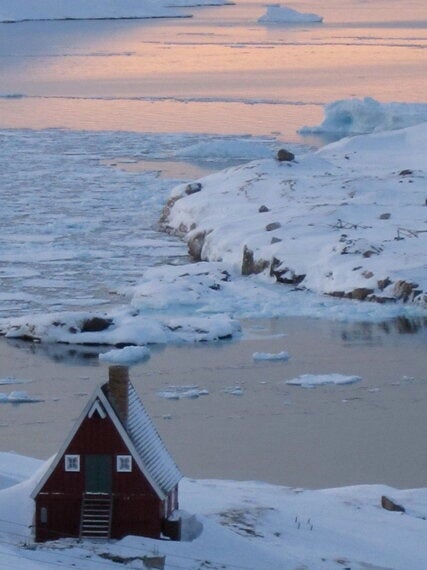 'Climate is culture.' So say ArtCOP21, a global festival of cultural activity on climate change which runs from September to December 2015. ArtCop21 launched ahead of the United Nations Conference on Climate Change (COP21) in Paris and will deliver, through partnerships, creativity and action, a positive vision for a sustainable future.
The climate talks are set in Paris but the decisions made will affect the whole world, so the ArtCOP21 programme features events located across the globe, as well as many in Paris.
To celebrate this dynamic cultural movement, I'll be attending several exhibitions and performances taking place in the UK, and I'm inviting audiences to join me at two London events: a reading from Disko Bay and an exhibition of artists' books on the Arctic at Conway Hall.
Disko Bay is, in the words of Poet Laureate Carol Ann Duffy, 'a beautiful debut from a deft, dangerous and dazzling new poet writing from the furthest reaches of both history and climate change.' The book draws on my experience of a winter spent living on the remote island of Upernavik, Greenland; it relates the struggle for existence in the harsh polar environment, and addresses tensions between modern life and traditional ways of subsistence.
More books will be on show at Conway Hall in the exhibition Nancy Campbell: Books and Printed Matter at the Small Publishers Fair, London. Works such as How To Say 'I Love You' In Greenlandic: An Arctic Alphabet, explore the disappearing languages and landscapes of the Arctic. The Small Publishers Fair was established in 2002 as a lively forum to celebrate independent publishing: a good place to debate these urgent environmental concerns.
Artists and writers, like politicians, have the potential to envision a sustainable future - after all, as Shelley wrote back in 1821, "poets are the unacknowledged legislators of the world". ArtCOP21 places an emphasis on positive action, with the organisation quoting Andy Warhol: "They always say time changes things, but you actually have to change them yourself."
For further information on ArtCOP21 see http://www.artcop21.com and #ArtCOP21 #FightForTheFuture
Nancy Campbell: Books and Printed Matter will be at the Small Publishers Fair, Conway Hall, Red Lion Square, London, WC1R 4RL (Holborn Tube) on Friday 6 and Saturday 7 November 2015, 11am to 7pm daily. Free admission to the fair, exhibition and readings.