A hand-stitched Big Berg (pictured) is one of many interpretations of polar ice in Imagining Antarctica. Meliors Simms, a New Zealand artist, has used a range of textile techniques to explore the history of Antarctica, as well as its present environment and the threats to its future.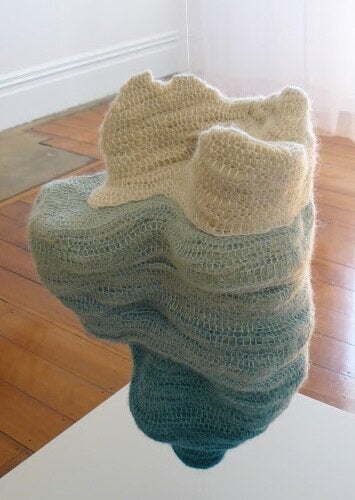 "New Zealand's proximity to Antarctica and significant activities there mean that Antarctica is a common theme for New Zealand artists," says Simms. With a background in Environmental Policy, Simms confesses that she turned to art as a result of "frustration with trying to effect change through policy channels."
Simms describes her work as "all about living in the Anthropocene." This unofficial geological term was recently coined to mark a period of human activity that has had a significant impact on the Earth's ecosystems. With her landscapes, mines and oil slicks, Simms reveals the force of this impact on different environments, and from various points of view - "a speculative future perspective, a deep-time perspective, and also from our present moment."
Simms' concern about climate change, pollution and over-consumption are not only demonstrated in the themes of her work, but also in the materials she uses. A Meliors Simms sculpture is likely to be composed of repurposed fabrics and offcuts. Likewise, her process entails a commitment to handwork rather than machining, in part to minimize the footprint of each work.
Simms has always enjoyed making things with her hands, but her identity as a visual artist emerged eight years ago while creating artist's books. Later, her working environment left her no choice but to make the bold move away from paper to alternative materials:
"Spending most of 2008 living in Australia's Daintree tropical rainforest put paid to my work with paper and I took up crochet and embroidery as a medium more compatible with that environment. Returning to New Zealand led to a transition where I was making books as well as stitching, but these days textile work is my main focus."
Simms has been considering how to represent the snow and ice textures of Antarctica for many years, and she found the perfect medium in textiles:
"I developed a new sculptural technique in order to realize my vision, cutting up old woven wool blankets along the contour lines of a map of Antarctica and embroidering them into a layered landscape relief. I began with a small representation of Ross Island and then started work on a large-scale map of the continent, My Antarctica, which ended up taking eight months of hand-stitching to complete."
But it's not just Antarctica that interests Simms. Her subsequent projects are concerned with extractive industries such mining and their impacts such as oil spills. An upcoming exhibition will feature a very large stitched work called Just a Little Spill which was made in response to an oil tanker spill off the Bay of Plenty coast (near Simms' home) in 2011. "Intensely black layers ooze across the gallery walls and floor. It's almost the antithesis of My (pristine, white) Antarctica. Another installation, exhibited in 2012, was made of delicate crocheted spheres suspended in a gallery window, representing the chemical dispersants used to clean up oil spills."
I asked Simms whether any particular artist or writer had influenced her Antarctic work. "My greatest inspiration is Kim Stanley Robinson's speculative novel, Antarctica. I turned to his writing again and again for the lyrical descriptions of snow and ice as I was attempting to make my own interpretations in wool. It's also a rip-roaring environmental thriller with a strong female lead character." A review in The New York Times is equally enthusiastic - this is one for every polar enthusiast to add to their reading list!
Picture credit: Meliors Simms, Big Berg, 2011.
Hand-stitched cotton on vintage blankets with wool roving