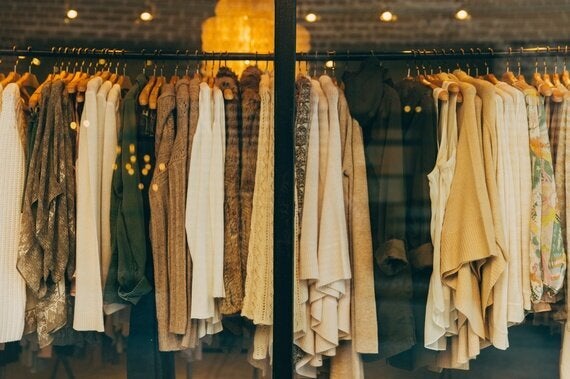 When searching through your wardrobe there are little objects which feel more personal, more you than that sweater. That fail-safe throw-on when you're having a bad day and just need a little TLC sweater. The one that is anointed with that special touch, that feel, that smell, that fit, that just no other sweater can attempt compare to. Where old-age is seen as a blessing and slight holes and loose threads are symbols of love rather than wear and tear and simply add to the charm.
And for that sweater, we have the entire knitwear genre to thank. Knitwear, whilst holding the potential of an ulterior fashion statement is also unique in that it holds the capability of also being a security blanket. It feels familiar, hides any lumps and bumps and acts as a protector- sheltering you from the wind and cold, wrapping its beautifully soft arms around you and holding you close. From a distance, the tough silhouettes of knitwear connote power, yet as you get closer you realise just how beautifully soft and somewhat fragile it is. This stark conflict of properties amounts to a versatile creation that can be dressed up or dressed down for any occasion.
Whether hand-knitted during a series of cosy afternoons by the fire or mass-produced for the market, knitwear always emits a sense of the emotional investment has gone into their creation. Perhaps it's the chunky yarn, the fact you can see each stitch carefully interwoven and tightly packed together, or perhaps it is the fact knitwear has stood the test of time as a durable, fail-safe option that we reach for again and again.
This time of year there is little better to do that to wear that sweater- if only we could do it day in day out- which is why I've put down three of my favourite knitwear brands for you to take a look at.
Needle Knits - I have a few jumpers from here now, including a beautiful chunky, navy cardigan. Each piece is made with love and the contemporary feel and easy navigation of their website makes the whole shopping experience thoroughly enjoyable. Delivery was also super quick!
Wool Overs- I have bought two cardigans and a jumper from here, the jumper is made from a Cashmere & Cotton blend and is the softest jumper I have ever worn. It's made even better by the fact it's machine washable, so there are no shrinking disasters!
Quiggleys - Aside from having one of the best names I've ever heard, Quiggleys jumpers are super soft and durable. Whilst this is a menswear brand, I have bought myself two jumpers from here. I ordered in a small and the shape makes it a great oversized piece to lose yourself in. Let me know where your favourite knitwear comes from!
Popular in the Community