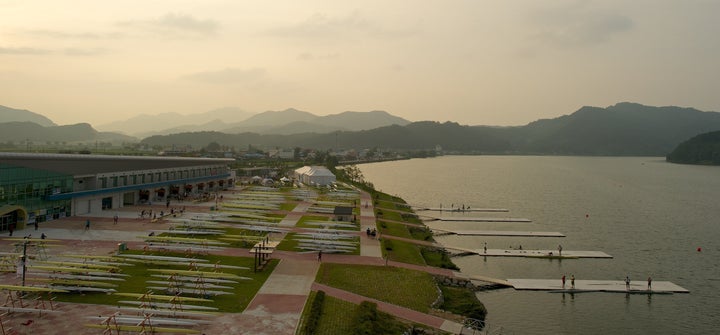 A year ago the Olympics was wrapping up and I was left to make decisions; get a proper job or put my iron back in the fire for GB selection. I gave myself options; within three weeks three contracts sat in front of me, there was no point hanging round. I spoke to lots of great people and tried to work out which was the best option to take. My dad's view is always important in all big decisions but it was two guys I didn't know so well that helped give detached perspectives that those close to you can't. If it wasn't for Graham Smith (ex-GB rower turned NY investment guy) and Alex Pearmain (founder of O2's social media team) I would probably have a reliable income, a lively social life and weekend plans. Instead I'm in South Korea preparing to race for the GB men's four at the World Champs.
I started this year with an aggressive intention to make or break. Four years in Jurgen Grobler's program is a long barrel to stare down, I have to make it happen or get out. This season I've PB'd in every area, I finished third in our national trials and completed the season with no illness and no serious injury (actually quite a unique thing). In ten days time the season will be over and I will be on a mate's stag do, it leaves me ten days to put another notch in my totem pole.
This year the World Championships are being held in Chungju [South Korea], the hometown to the current UN secretary-general Ban Ki-Moon. Our Korean hosts are well organised and unbelievably polite. It's a rural area dominated by farmed plains and forested hillside. The Olympic standard course is built on a dammed river bordered by a Korean Air Force base. It meant that this morning we were treated to a Red Arrows style stunt show and tinnitus.
Final preparations started on altitude camp in the Alps, followed by testing in the UK and a week of acclimatisation here in South Korea. With the temperatures at a steady mid-30's and high humidity during the day and night, I thought I might struggle with the transition more. Once over the jet lag the only thing I've struggled with has been the automated toilets. One false move and you get the jet wash and hairdryer treatment before you've had a chance to open up the Google Translate app to understand the bog remote. Ultimately all the hard work has been done and it's now a matter of fine tuning as we move into the racing come Sunday.
It's now an open secret that British Olympic class sport focuses upon marginal gains. Preparations are all about a tweak here and an effort there; it's not about looking for a single magical answer, it's about finding the extra speed (however small) in a number of areas which lead into an overall larger improvement. Our equipment is standard across the field, but we can make technical and tactical adjustments that reap good rewards. We work as a five, four athletes plus our coach Christian. That can start with five different views, five different set of experiences but as a season passes we accumulate shared experiences and coalesce around common perspectives. An open culture and straight talking honesty has helped cut out the bull and get on with shifting the boat forward. Christian is strong on challenging us to be accountable, we have our priorities in execution and those are the markers by which we should judge ourselves. It's not all perfect but I found it refreshing compared to the often crippling environment in the previous Olympic campaign.
The next few days are about training well, resting up and hitting YouTube with a vengeance. Feel free to send me stuff on Twitter to look at, just no smutty stuff - this is a family environment you know.
Popular in the Community