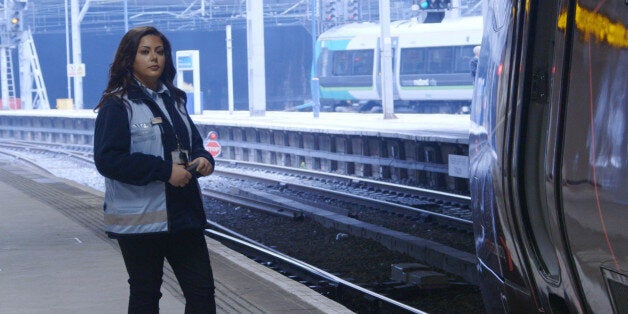 It seems like such a distant memory now, that feeling of numbness and fear. Who would have known that day that I was going to see something in her I once felt myself.
I was working on platforms 10 and 11 and my colleague Vicky and I were halfway through our shift. I looked left and saw the headlights of the next Longbridge service arriving onto platform 11b.
The train came to a standstill and I gave Vicky a wave, still laughing at our conversation.
In the distance, I saw someone moving close to the edge and alarm bells started ringing as a young female caught my eye.
My facial expression changed, my smile now gone and my mind was racing.
I looked at Vicky and, concerned, she looked back.
All of a sudden, I started thinking back to my Samaritans training and I told Vicky that I'm going to see if everything is ok. Vicky called the signaller to suspend train services, and I walked towards the girl on the edge of the platform.
My high visibility vest all of a sudden felt heavy so I took it off, and turned my radio down so as not to startle her.
With every step closer, the adrenaline pumped harder and the fear kicked in as I was unsure about how this was going to go.
"That was once me", I found myself thinking, but I had to remain focused to get her to safety. I analysed her expression and body language, she was looking down and seemed frightened and timid.
I remained at a safe distance as my Samaritans training had taught me this was important, and I tried to keep calm as I knew this was now vital.
Her eyes looked empty, glazed over and her breathing sounded shallow and she stared straight ahead.
I spoke to her, "Hi, how is today going?" I asked. I felt nervous because at that moment I recognised something familiar, as for many years I battled with depression myself.
There was no response, but I was determined that I wasn't going to give up on her because at that moment, all she had was me.
"I'm off out this weekend with the girls", words were just coming out of my mouth. I spoke about make-up and told her that her hair was lovely and that I wished mine was the same.
Again I asked, "what are you doing?"
It was at that point she looked at me and said "I don't know" and began crying, then sobbing.
At that moment my heart was pounding and I told her to focus on me, and that it was just me and her and no one else mattered.
"Let's move from here and go somewhere warm and get a cup of tea", I said.
She became alarmed at the crowd gathering and I knew she must have been terrified.
"Look at me, I'm here, it's just me and you. Let me take you to a safe place upstairs where we can ignore everyone and talk," I told her.
Tears began streaming down her face and her pain became so real at that point.
It all happened so quickly and I managed to guide her to a point of safety before the British Transport Police arrived and took control of the situation.
My legs went weak at that moment and the feeling of relief was overwhelming.
Nothing actually sank in until days later.
From the age of 13, I had dealt with my own mental health issues and at 18 I ended up having suicidal thoughts myself, but it was something I'd managed to put behind me. I'm just glad that I was there that day to be able to give something back following the help and support I'd received years earlier, and use the skills I'd learnt to help save someone's life.
Useful websites and helplines:
Related