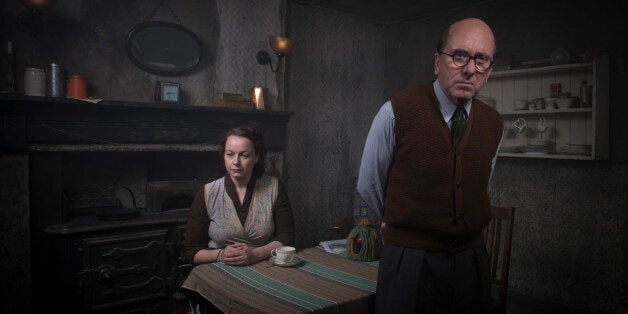 My TV-watching days are long gone, so I must admit I haven't been watching the BBC serial killer drama Rillington Place.
But nevertheless, I've heard a fair bit about it. I've liked some of Tim Roth's early stuff (especially Made In Britain, and Rosencrantz And Guildenstern Are Dead) and Samantha Morton was good in Control, so I'll assume Rillington Place is well-acted. Knowing the BBC's production values with its period dramas, I'll also assume it's very atmospheric - lots of attention to detail with its 1940-50s interiors, the clothing and the overall mood.
Fine. But why a three-part BBC drama on this at all? There's already a well-known, high-calibre film (Richard Attenborough, John Hurt). I'm guessing this ultra-grim true-life story was just too alluring to resist. The central character John Christie is a necrophiliac serial killer who traded on his "respectability" as a former special constable while collecting the pubic hair of the women he murdered and whose bodies he hid around his house and garden. Timothy Evans, who lodged at Christie's west London house, was a much younger man with learning difficulties bullied into a false murder confession (later recanted) by police officers who bungled the entire investigation.
The innocent Evans was hanged (aged 25) for the murder of his infant daughter Geraldine, partly on the false evidence of the actual killer, Christie, who had also murdered Evans' wife Beryl. It's a truly horrible turn of events and rightfully remembered as one of the UK's most infamous miscarriages of justice.
So Rillington Place is bleak (the bleakest of houses), and bleak is apparently in vogue these days. Scandi-thrillers (again, haven't seen any but you can hardly avoid hearing about them) are big. And so too are programmes and books about serial killers.
But there's probably something else going on with Rillington Place as well. I can't help thinking that British dramas about capital punishment during the past half century are partly driven by nostalgia for the "picturesque" brutality of executions. The judge's black cap, the condemned man or woman in their cell, the noose and the final drop: they're almost irresistibly "filmic". Many of the TV audience will remember those times. Others who don't will probably look on with a morbid fascination. On top of the Rillington make-overs, we've had Pierrepoint, Dance With A Stranger and Let Him Have It. With Britain having abolished the death penalty in 1965 (partly as a consequence of the Rillington case), film-makers have since revelled in the shabby horror of it all.
(Another aspect with Rillington Place is the fascination and almost fetishisation of location. The decaying Notting Hill house as crime scene. The BBC's trailer calls it the "most notorious address in British crime history". The Radio Times has run a feature-cum-puff piece called "Does Rillington Place still exist?" - it doesn't - while, rather more interestingly, the Independent's Max Benwell has visited the present-day location and met a Norwegian man who lives in a new house on the spot and, believe it or not, likes to dress up as an 18th Century composer. See Benwell's piece for the excellent Rillington Place-period photos).
To be clear, with the BBC's Rillington Place I'm not suggesting director Craig Viveiros and his colleagues are pro-death penalty. It's probably the opposite. The executive producer Philippa Giles says the programme is a "passion piece" involving "close relationships with the surviving family members". Nevertheless, I think filmmakers know that audiences are likely to get a horrified, vicarious thrill from the topic. The Daily Mirrorreports that some viewers were so "disturbed" by the second instalment of Rillington Place that they switched off, but not before tweeting about being "creeped out" by it - itself a powerful recommendation for some people.
Creepy it may be, but Rillington Place's slow-burn horror is essentially a slice of good old-fashioned British macabre - think Jack the Ripper, Brighton Rock, The Elephant Man, Burke & Hare. Far more frightening than these dark historical dramas are the real-life death penalty cases unfolding around the world right now. For example, the chilling execution of three people in Belarus last month. Siarhei Khmialeuski, Ivan Kulesh and a third person (possibly Hyanadz Yakavitski, it's not even clear if it was him) were shot in the back of the head in a prison cell in Minsk. Belarus, the last country in Europe to still judicially kill its prisoners, smothers its execution process in secrecy, not even informing families that their relatives have even been killed until afterwards (see this very sad short film about this). In Saudi Arabia (a country we're again today assured is a key ally of the UK's) 15 people have just been sentenced to death after grossly unfair trials. In the USA, a man with a severe delusional disorder has only narrowly avoided being executed this week.
In other words, the death penalty might be a gory relic of the past in Britain, but it's not history around the world. (if you want to take action on behalf of two people currently at risk of being executed - the intellectually-disabled Matsumoto Kenji in Japan, the photojournalist Mahmoud Abu Zeid (aka "Shawkan") in Egypt - go here and here).
One exception to the costuming of the death penalty represented by Rillington Place and its ilk was the 2009 Channel 4 drama, The Execution of Gary Glitter. To me this was far more frightening than things like Rillington Place because it envisaged the reintroduction of capital punishment in the UK, and even did this for a non-lethal case - Glitter is seen being sentenced to death in a future hard-line Britain which has reinstated capital punishment for child sex offences.
The frightening potency of the Glitter programme lay in its believability. Sex crimes against children are a lightning rod issue for those who would seriously consider turning the clock back and re-erecting the gallows in Britain (Ukip leadership candidates have openly called for this).
The death penalty is a cruel relic of the past, appealing to our most unpleasant vengeful emotions. Wherever it's still used there are horrific examples of racial, ethnic and political bias. Unfair trials and capital punishment go together like ... well, like a black cap and hangman's rope. And the history of capital punishment is littered with terrifying examples of innocent people like Timothy Evans going to their deaths.
It couldn't happen again here, could it? I doubt it. But in this era of violent political mood swings, we shouldn't rule anything out.
Popular in the Community