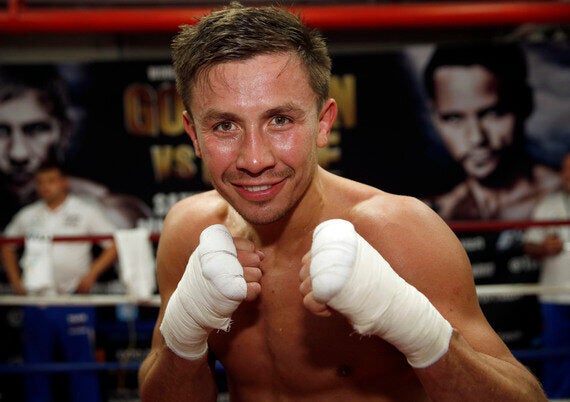 He's the man of the hour in world boxing at the moment, and is arguably becoming the new face of the sport following a certain Floyd Mayweather's recent 'retirement'.
His sledgehammer fists have inspired terror in middleweights the world over, but here's ten things about the nuclear-fist'ed middleweight champ you might not know:
Currently Riding 21 Fight KO Streak
That's right, 21 fights in a row.
21 of Gennady Golovkin's last opponents have not heard the final bell, David Lemieux in Madison Square Garden been the latest victim.
This incredible run stretches back over seven years as it stands, to 2008.
Never Been Knocked Down/Stopped
Not only can he dish it out, he can take it as well. His granite chin and almost subhuman toughness has been tested over the course of a lengthy amateur career, and indeed professional career.
Out of 350 amateur fights and 34 professional prize fights not only has he never been stopped, he's never even been knocked down. Not once.
For a large part of his professional boxing career he was based in Stuttgart Germany, but late in 2014 he made the move to go full-time to the USA, where he now regularly trains in Big Bear, California.
He also brought his family over to the US to live with him on a full-time basis in 2014.
Despite his brutal ferocity in the ring, he's quite the scholar outside of it.
Golovkin speaks four languages to either a fluent or very respectable level, which are (his native) Kazakh, English, German and Russian.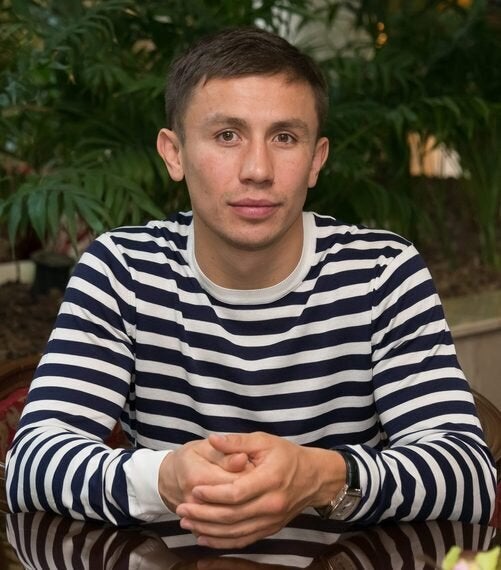 Growing up his older brothers Sergey and Vadim were instrumental in getting a young Gennady into boxing, and indeed teaching him how to defend himself.
Tragically however, both of his older brothers were killed very young while serving in the army for Russia.
This would have broken most young men, not Golovkin. This pain and suffering is said to motivate and drive him to this day.
Lost In Olympic Final To A Fighter Who Never Turned Pro
GGG had a fantastic amateur career, with 345 victories and only five losses, quite remarkable when you look at it.
One of these losses however, came on the grandest stage of them all in the amateurs in the 2004 Athens Olympics when he was outpointed by Russian middleweight Gaydarbek Gaydarbekov, 28-18 in the Olympic final.
Despite the success GGG has achieved since turning pro, the same can't be said for the man who beat him on his biggest day in the amateurs, Gaydarbeko never turned over as a professional.
It just goes to show what a difference the pro game really is.
Everyone knows what Golovkin has done inside the ring, which is a little bit scary on it's own merits.
But his legendary power doesn't just go for his in ring performances, his preparation and sparring exploits are said to be far more intimidating.
He struggles to find sparring partners anywhere near his own size, due to boxers not wanting to risk their health in training.
He's said to have broken many a rib of sparring partners over the years, who in some cases, even opt to wear body padding as protection from his ferocity.
Not many know, but Gennady is actually one half of a twin sibling pairing at home.
His brother Maxim was a decent amateur fighter himself, and made the decision to join his hugely successful brother's boxing team and camp back in 2012.
Highest Knockout Percentage In Middleweight History
Since stopping David Lemieux in the 8th round in a 160lbs unification fight at Madison Square Garden in New York, Gennady Golovkin has now stopped 31 of his 34 opponents faced as a professional (all of whom he has beaten).
This gives him the crazy stat of being the hardest hitting middleweight in history (and champion) with an astonishing overall KO percentage of 91.12% - as things stand currently.
Since turning professional back in May 2006, Gennady Golovkin has never been Olympic style randomly drug tested in over 9 years. By no means am I insinuating anything by this fact, merely simply pointing out.
I believe GGG to be an entirely clean athlete, but this was an interesting fact dug up during research.