With my inevitable post-Christmas return to work looming large on the horizon, I decided that a quick family getaway was in order, one last hurrah with my wife and daughter before I had to go back to the daily commuter grind.
Brighton would be a good shout, I thought, with it being just less than an hour's drive away and what with there being plenty to see and do. My friends and family seemed a little perplexed. "You're going to the seaside," they asked, "it's the middle of winter, and, err, have you seen the weather forecast?"
Ignoring their 'concern' we decided to go ahead with our plan. Being British, I wasn't about to let a bit of bad weather dampen my spirits. "Nothing beats a good lung full of sea air to lift your soul and clear your mind", I assured myself.
Fortunately there was plenty of fresh air to go around, as winds gusting up to 70mph battered the South Coast. As we made our way down the M23 we were bombarded by a growing number of stories of flooding and gales, with news reporters warning of the 'worst storms in years'. "Hmm, perhaps this wasn't the best idea I've ever had?"
I needn't have worried. It might have been cold and wet, but a warm welcome awaited us. Brighton has to be one of the most family friendly cities in the country.
The best thing about visiting these busy seaside resorts during the winter months is that you will avoid the heaving crowds. You should also be able to pick up a bargain rate at one of the town's more interesting hotels - such as Drakes of Brighton, where we were booked in to stay.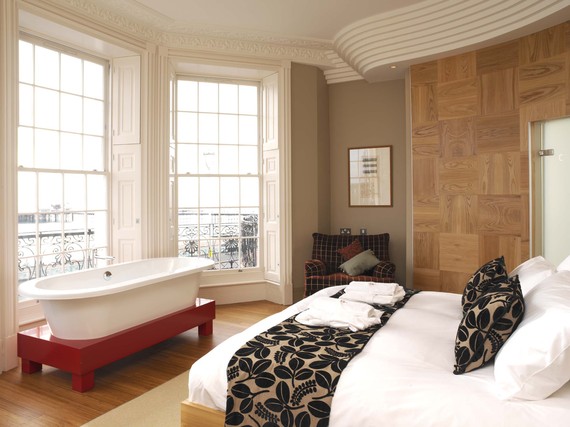 This quirky boutique hotel is a Georgian-era townhouse which has been successfully modernised without losing its original features. The stylishly designed rooms offer great views over the Brighton promenade. Not to mention deep baths set right beside the large sash windows - to sink into whilst you watch the sparkling lights of Brighton Pier, just a few hundred yards away. And, with some parking spots allocated on a first come serve basis included (again, far easier to get your hands on in the colder months), there's really no better place to stay in terms of location for access to all the town's many attractions.
A short break in the horrific weather provided us with a window of opportunity to get out and do some activities. With most people still holed up inside fearful of the winter onslaught, we found ourselves with no queues to negotiate and a chance to do some things we'd never previously done before in town.
Undeterred by the conditions we arrived at the Brighton Wheel ready for our ride. Alone in our bravery, we ventured skywards and negotiated four revolutions around the Wheel - bizarrely featuring Steve Coogan, aka Alan Partridge, as narrator on the audio guide - before calling time on our voyage as the winds became a little too blustery for comfort.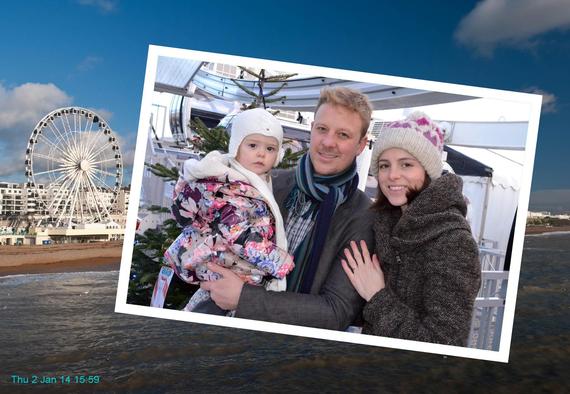 Neither my wife nor I are entirely happy with heights, and with the wind rocking our carriage in an increasingly more alarming manner, she decided that enough was enough as we went round for our 5th rotation and hit the emergency button. It was a suitably dramatic conclusion. Later that evening, both the Wheel and Brighton Pier were closed down completely because the storm had become too fierce.
Fortunately we didn't have to spend too much time outside, there's lots more to do indoors. You can check out Sealife (important tip: it's a very good idea to book tickets online for good savings) the world's oldest operating aquarium, tour the Brighton Pavilion for a quick history lesson, or head down to The Lanes for a spot of shopping, all relatively safe from the incumbent climate.
There are plenty of options for lunch and dinner too - and it's not all about the fish and chips, Brighton is awash with good family friendly restaurants. Check out the fabulous Terre a Terre on East Street for some fantastic vegetarian food. If you've decided to give up or cut down on meat as part of your post-Christmas purge, you certainly won't miss it when you're eating here.
Try the bumper sharing plate of mixed tapas and the churros with chocolate salted caramel dipping sauce for dessert. The kids menu is first rate as well. It's so nice to be able to eat some interesting, high quality food in a restaurant where the children are welcome too. All too often in London - and elsewhere - when you have children you're limited to the omnipresent, yet reliable, pizza chains. Not so in bohemian Brighton.
After dinner, the rain was picking up and the news channel reporters started relaying more severe weather warnings for the evening - but it didn't matter because we had made it back to the warmth of our hotel room. With the wind howling, the sea crashing in and the rain lashing down against the windows, we battened down the hatches, ran a hot bath and watched the storm ride in from the comfort of our luxurious vantage point. I've never enjoyed the British weather more.