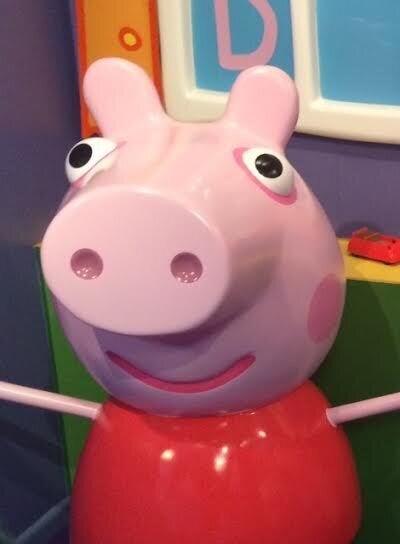 Every parent you ask about Peppa Pig World reacts in a similar way. They offer a withered smile, and explain wearily about how "you've got to do it" and that the "kids loved it", but you know by the tired expressions that Peppa has left her pink mark on them. She may snort cheerily and really, truly love jumping in muddy puddles, but that's not going to help you when you're trying to explain to your hysterical children why they have to wait for another half an hour before it's their turn on the ride.
However, that doesn't stop people coming, in their droves, from all around the world, every year - it's one of busiest theme parks in Europe - testimony to the enduring popularity of the pig herself... her little brother George and his 'dine-saw'... not to mention the slightly incompetent and rotund daddy pig. A trip to Paultons Park, the home of Peppa Pig World, has become a kind of rite of passage for young families. No, we may not have to worry about typhoid or smallpox these days, but modern parenting isn't without its own challenges.
It was with this, and the fatigued expressions of my fellow parents in mind, that I resolved to come up with a cunning plan to make our first visit to see the eponymous pig a lot less stressful. I came up with a simple two-point strategy to avoid the madness and make this a trip that the whole family would definitely enjoy - with as few tears and tantrums as possible.
Firstly, I decided we'd go out of season. There's no doubt that if you can, it's a very good idea to avoid the school holiday rush - where the park reaches maximum capacity. This way, you escape the lengthy queues and traffic jams, cutting down the chances of a toddler meltdown.
This is all very well, but what you may also find, as we did, is that you can get caught out by the seasonal weather.
With the November rain lashing down, I certainly didn't feel too smug about my cunning plan, sat on Peppa's helicopter ride, with a pink umbrella borrowed from my daughter doing very little to protect me from the elements.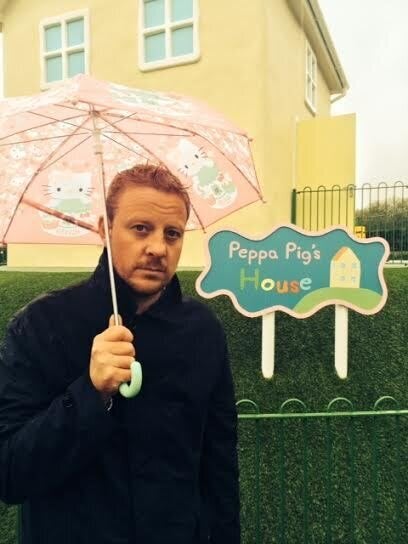 However, thankfully the rain soon cleared and we had a fantastic time. It is a lot quieter at this time of year, although there were still plenty of people braving the weather - most of whom who were considerably better prepared than I, with cagoules and golf umbrellas galore.
Unlike many theme parks, if you've got younger kids there's plenty of rides to go on - which is one the great attractions of Paultons Park. It meant that my little girl and I got to go on our first (mini) roller coaster ride together - the 'Flying Frog'. She enjoyed it so much that we went on four times in a row, and we didn't have to wait around because there were no queues - nice one daddy.
I thought the food was fairly reasonably priced too, certainly compared to several other children's parks and zoos - 85p for a children's size ham sandwich, for example, is entirely sensible.
After a damp but enjoyable day out, the last thing we wanted to do was head back up the motorway, and join the inevitable M3/M25 traffic jams - it was a good job then that dad's plan was about to really come into its own.
The best tip for an enjoyable day-out to Peppa Pig World is... don't go home afterwards!
Instead find yourself an idyllic spot, tucked away in one of the UK's most beautiful locations and make a short break of it. The New Forest, with its stunning landscapes, roaming wild horses and clean country air, is just a stone's throw from Paultons Park's gates.
Booking us in for a midweek break at a luxury cottage in the picture-book village of Beaulieu was a real stroke of genius... even if I do say so myself.
Again, by avoiding the summer, you can get a good deal on accommodation - and there are some stunning properties to enjoy in this part of the world, giving you the chance to experience real village life, with a touch of luxury.
The Saddlery, which we made home for a few nights, is a great example. Right in the heart of Beaulieu, this beautifully restored old cottage, built on an ancient site, is the perfect place to stay at any time of year. However, during the colder month's you also get to enjoy the cosiness of the house, replete with log fires, a stunning country kitchen, 'melt-into-me' beds and squidgy sofas. Not to mention the fact that (to quote Peter Kay) you really do feel the benefit of a hot bubble bath during the colder months. These are the kind of creature comforts that truly can be enjoyed by the whole family.
In this modern technology driven age, there's something quite heartening about watching your kids get as much excitement out of meeting a real, wild pig (of which the New Forest has plenty) as they do out of an audience with Peppa. And the sense of wonderment that the ubiquitous wild horses (often found blocking the roads or wandering up driveways, as they have right of way in these parts) offer isn't just something that's just felt by the children.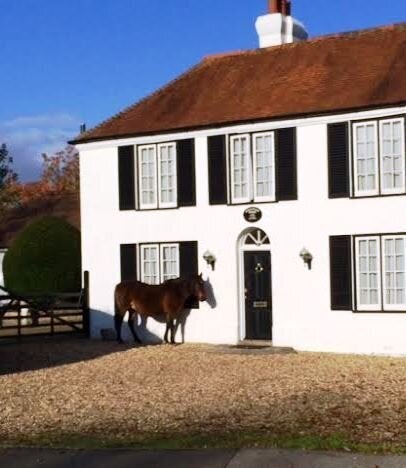 Everyone, including me, always bangs on about 'The Fall' in New England, but it's easy to forget that the Autumn is equally, if not more spectacular in certain parts of 'little old England' herself. The browns and greens of the tree-lined roads in the New Forest are as perfect-a-display of the changing seasons as you can find anywhere in the world.
It is a fabulous place to take a drive and if there are any motoring enthusiasts in the family - or kids who are obsessed with Lightening McQueen from the Disney film franchise 'Cars', like I have - you might also want to check out Beaulieu Motor Museum, with its remarkable collection of cars from through the ages. And for a bit more history, the perfectly preserved ship-building village of Buckler's Hard - where many of Admiral Nelson's fleet were constructed, using the timber from the New Forest, before setting off for war - is certainly worth a look.
In my experience, the food in these parts can be mixed, some of it overpriced, some of it like a throw-back to the dark days of the 1970s and 80s (crispy, deep fried sausages in a giant Yorkshire pudding anyone?) but there are some also some great pub lunches and plenty of fabulous cream teas to be found, if you know where to look.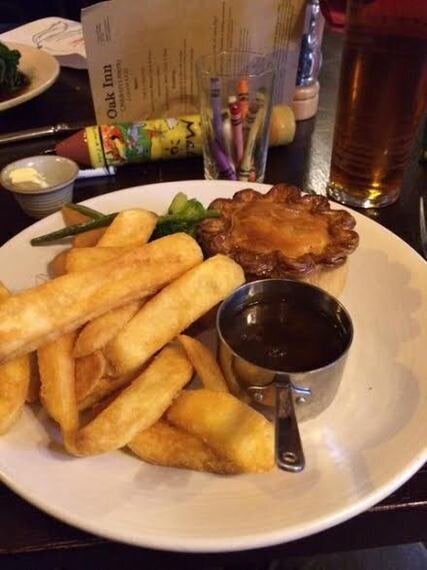 Check out The Oak Inn, in Bank, for a warm welcome and some great food made from local produce. We ate a fabulous lunch there - watched closely by several ponies and deer from outside the pub window. And for the best cup of tea in a town full of tea shops, head to Tea Total in Lyndhurst and order a cup of the 'Kenya-believe-it'. I hardly could, it was that good.
It was a glorious week in this special part of the country and we left for home feeling relaxed and ready for reality -without a weary expression between us. It only goes to show that surviving Peppa Pig World is easy, as long as you have a plan.