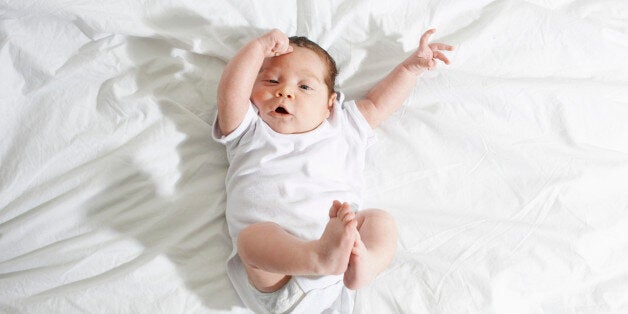 Here at the ONS, we measure how our society is changing, whether that's changes in the labour market or in the names we give our children. It all helps to inform our understanding of the world around us. We have been tracking all the names given to babies in England and Wales since 1996. And we also know what the top 100 baby names were in each decade since the 1900's. This rich back series of data allows me to have a peek at change through the lens of baby names.
Our names are often a giveaway to how old we are. My grandparents were called Wilfred, Elizabeth, Raymond and Monica. Grandad Wilf, the 5th of 9 children, hated his name. Whilst Grandad Ray, with a twinkle in his eye, always claimed he was named as a ray of sunshine passed over the bed he was first nursed in. What can be said for certain, is that all of those names were at their most popular in the first decades of the last century. Elizabeth has remained a popular name ever since, but the others soon fell from favour. You'd probably guess that Wilf, Lila, Ray and Mona, as they were known, would now be about 100 years old.
It's the same for my parents, Robin and Christine, both born in the 1940's. And for myself (Nicholas) and my sister Jennifer, both born in the 1970's. Even my boys, Conor and Daniel, just starting their final 'A' level year at school, are still surrounded by the names of their own generation. Probably oblivious to how much those names have waned in popularity over the last two decades.
Like most of us, the millennial generation, just reaching adulthood now, will be fixed in their own era by their given names. If you've got kids around the same age as mine, you'll be familiar with the cast list of names that have traipsed into your home to play on the Playstation, or to have a sleepover. As well as Conor and Daniel, we've had Matthew, Jack, James, Thomas, Samuel, Joshua, Callum, Jordan, Ryan, Liam and Luke, all battling for supremacy on the latest incarnation of Fifa. And since the boys have got older, we've increasingly had Hannah, Rebecca, Lauren, Chloe, Amy, Shannon, Sophie, Megan, Jessica, Katie and Bethany round for tea too. These names are the ones that have fallen the most in popularity in the last 20 years. A few of them are still hanging on in the top 20 baby names today, but many have completely dropped away. Old skool!
So what's going on now? Well, looking at it the other way round shows the names that have risen most in popularity over the past 20 years. This is the current baby and toddler era. It's not much of a surprise to learn that the highest risers generally reflect the top end of the lists we published today. In terms of numbers, the biggest risers for girls are: Amelia, Isla, Ava, Olivia, Evie, Isabella, Mia, Sophia, Lily and Poppy. Whilst for boys it's: Noah, Oscar, Muhammad, Leo, Freddie, Alfie, Oliver, Archie, Henry and Charlie. All of these names were given to over 2,000 more babies last year than they were in 1996. And all are currently in the top 20 names for girls and boys. They are the names on tomorrow's school pegs.
But I know what you really want are some pointers for your next baby. So I'll get my crystal ball out...
With a bit of statistical jiggery pokery, the top of the charts in 2026 is starting to reveal itself to me. Below are names that have had notable increases in popularity over recent years. Some are established, others have plotted a meteoric rise into the top 100, whilst a few are still relatively uncommon.
In the year 2026, start getting used to girls called: Charlotte, Harper, Aria, Alice, Penelope, Ivy, Aurora, Luna, Paisley, Hallie and Margot.
Whilst for boys, I give you: George, Arlo, Jaxon, Grayson, Hunter, Ezra, Albie, Arthur, Reggie and Louie. You heard it here first.
And finally, like Lazarus before him, Wilf is back. A name I thought had gone for ever, but it turns out we just had to be patient. At number 183 in the boys' list, there were 306 baby Wilfreds born last year. An increase of 2000% in the last 20 years! Dear old grandad would be amazed.
Related